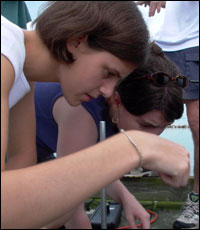 What is your current job?
I am a public policy associate for a scientific society. I do government relations and public affairs, which in plain English means that I track what Congress and the federal government are doing and communicate this information to scientists. I also advocate for funding for scientific research and the use of science to inform policy decisions.
What is a typical day like for you? Do you use any special tools or equipment?
Every day is different for me. I might be attending a Congressional hearing on climate change, analyzing legislation to determine its effects on science funding, or writing an action alert to engage scientists in a federal policy debate. I am constantly checking the news to find out what is going on in Congress. I do a lot of writing which includes summaries of Congressional hearings or bills, letters to members of Congress or a federal agency commenting on a particular issue, or writing a news article on a science policy issue. My job is mostly being informed about what's going on at the moment that relates to science policy and being prepared to respond to the situation.
I use several special software programs in my job, as a lot of what I do is posted online. I didn't have very much web experience before this job, but it's not hard to learn. One of the most interesting software programs I use lets me look up information about any member of Congress, such as contact information, staff names, committee assignments, etc.
What do you like most about your job?
I love that every day I get to learn something new. As issues crop up, like a new piece of legislation, I get to dig into that issue. I am always learning.
What do you like least about your job?
I haven't been doing this long enough to dislike anything. One that has surprised me is how quick the turnaround time is before you see a result from your action. At my last job I was sometimes frustrated with how slow Congress moves.
What was your previous job?
Prior to my current position, I was a marine policy advisor for a U.S. Senator. I got that position through the Sea Grant Knauss Fellowship, which is open to any current or recent graduate student pursuing a degree in an ocean science, such as oceanography, marine biology, geology, etc. I advised the Senator on all issues related to the ocean, including fisheries management, ocean acidification, endangered species, marine mammals, and pollution. I also oversaw two federal agencies, the Coast Guard and the National Oceanic and Atmospheric Administration. A lot of my job was meeting with environmental groups or business owners about various oceans issues, and writing memos for the Senator. I also prepared the Senator for hearings and advised her how to vote on ocean-related legislation.
How can I do what you do? What classes do I need to take?
I was able to get my job because of my experience working for a member of Congress, which I got through Sea Grant's Knauss Fellowship. This program provides the opportunity for recent or current graduate students (M.S. or Ph.D.) to work in Washington, D.C. for one year on ocean issues. Some Knauss fellows work for members of Congress, but most work in a federal agency. The Knauss Fellowship is definitely the easiest way to get your foot in the door on Capitol Hill, but there are other ways. If you are still in college and policy interests you, volunteer to be an intern for a member of Congress for a summer. You won't get paid but you will have the chance to get some real world experience.
Where are the hot spots for this kind of field?
Washington, D.C., as you might expect. Besides working for Congress, all sorts of environmental and scientific non-profits are based in D.C. and they usually have a team of people who work on policy and government relations.

What still inspires you about your work?
I haven't been at my current position long enough to fully answer this question, but I will answer this question in regards to my former job: the Senator. She is driven and passionate and really cares about the environment and her constituents. Working for her re-inspired my faith in the government. Although making legislation has been correctly likened to making sausage (you don't want to see how it's made), my time in her office showed me that all members of Congress, even the ones that I may not agree with, are doing what they do because they care about this country and they believe they are doing what is right for this country.
What is the salary range for your type of position?
As a public policy associate, you could expect to make anywhere from $30,000 to $60,000, depending on your level of education, whether you have worked for a member of Congress, and your experience working with organizations engaged in public policy.