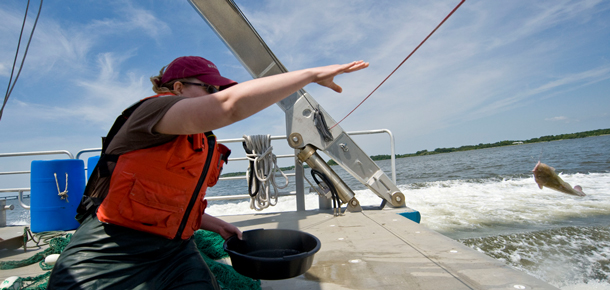 Support for sound scientific research and those who undertake it is at core of Maryland Sea Grant's mission. With a special focus on the Chesapeake Bay, Maryland Sea Grant has a tradition of fostering innovative scientific inquiry and analysis. We emphasize projects that offer practical applications for the protection and restoration of Maryland's coastal resources. This work promotes the sustainability of Maryland's environment and economy.
Our funding opportunities: Every two years, we award scientists approximately $1 million in research grants using a rigorous, competitive peer review process. Smaller Program Development grants are often available between biennial cycles to address urgent or emerging needs with high relevance to society.

Our research focuses: We choose priority research topics through a collaborative strategic-planning process that engages scientists, our advisory board, our partners, and the public. Currently these topics are:
Resilient Ecosystem Processes and Responses 
Sustainable Fisheries and Aquaculture 
Resilient Communities and Economies 
Questions? Contact Michael Allen, Ph.D., Assistant Director for Research,  (301) 405-6372 or mallen@mdsg.umd.edu.