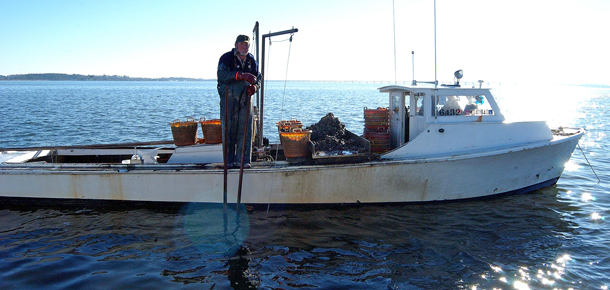 For centuries, the Chesapeake Bay has provided a livelihood to many Marylanders. People have tonged for oysters and worked in the tourism and recreation industries. Many businesses depend on the Bay's natural resources.
Economists at Maryland Sea Grant Extension provide expert analyses and recommendations to policy makers, companies, and the public. The goal is to help businesses increase their profits in ways that are both environmentally and economically sustainable.
---
Maryland Sea Grant Extension Personnel

 

Fisheries Economics Specialist

 

 
---
Examples of our work:
Blue Crab License "Buy Back"
We collaborated with the Maryland Department of Natural Resources (DNR) to help design a state program to buy unused commercial fishing licenses for blue crabs.
Aided by our analyses about license prices, DNR purchased several hundred licenses from Marylanders who had not fished for crabs in years. The goal was to help sustain the blue crab's fragile recovery in the Bay. And to help stabilize prices that working watermen earn for their catches.
Read more about the project in "The Value of Crabbing," an article in Chesapeake Quarterly, Maryland Sea Grant's magazine.
Economic Valuation of Natural Resources
To inform policymakers and others involved in environmental regulation, Extension specialists helped to author an information booklet, Economic Valuation of Natural Resources: A Guidebook for Coastal Resources Policymakers.
The authors describe how local governments and agencies can analyze the costs and benefits of environmental decisions and regulations. It describes tools that have helped decision makers across the country. Some of the book's contents include:
An introduction to incorporating cost-benefit analyses in environmental decision making.
Tools to evaluate the economic benefits of nonmarket goods and services, such as recreational fishing or wildlife viewing.
Case studies, including oyster restoration in the Bay.
Recreational Boating in Maryland
Extension specialists worked to quantify the impacts of recreational boating on Maryland's economy. They found that boaters within the state, or just visiting, generate $1 billion annually. But that influx creates trade-offs, potentially affecting local water quality.
Maryland Sea Grant reports on recreational boating can be found here: