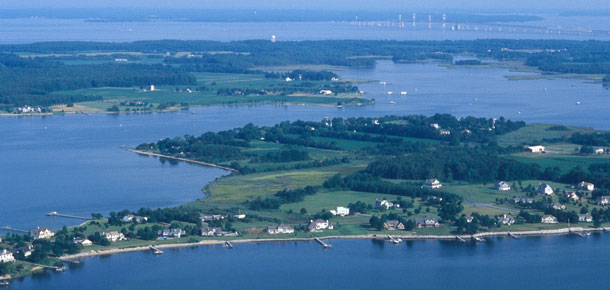 The Chesapeake Bay is a productive and unique ecosystem, home to complex networks of animals, plants, and other organisms that have lived here for millennia. Woven into this tapestry are human communities, some of which can trace back their histories hundreds of years.
Intricate interactions among species, their environments, and people determine the long-term success of this estuary. But in recent decades, the ecosystem has deteriorated, and much of the decline is associated with human activities and population growth.
Science to Understand the Ecosystem
Maryland Sea Grant supports scientific research to advance knowledge that can help conserve the Bay's sensitive ecosystem and preserve sustainable uses by humans, such as fishing. We fund research about a variety of ecosystem dynamics relevant to restoring the Bay:
Science to Inform Management of Natural Resources
Ecosystem-based fisheries management: A new approach to fisheries management considers the entire ecosystem, not one fish species at a time.

TMDL process: A multi-state effort is underway to clean up the Bay. Find resources to help your community meet its water-quality standards (called 'Total Maximum Daily Loads' or TMDLs.)

Land-use planning: Smart planning can help your community live sustainably within the Bay watershed.
Maryland Sea Grant Extension specialists and agents are actively working with communities, industry, and watermen on many of these issues.
YouTube playlist:
View these videos by Maryland Sea Grant
Breathing Lessons for the Chesapeake Bay
Three decades ago, scientists working on Maryland's Patuxent River showed how sewage discharges robbed the river of oxygen, creating dead zones that can kill fish and crabs. Their discoveries set the stage for the current campaign to clean up the Chesapeake Bay.
The Corsica River: Taking on the Challenges of Restoration
The Corsica River on Maryland's Eastern Shore is a little waterway with big problems. But it also has been the site of one of the most intensive restoration efforts ever mounted in the Chesapeake watershed. Take a tour with some of the Corsica's champions to learn about efforts on the ground.