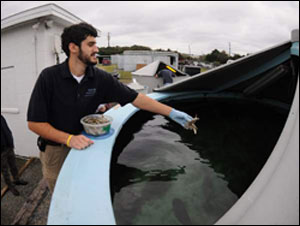 What is your current job?
I am currently a Marine Biologist for JHT, Inc. at the National Oceanic and Atmospheric Administration-National Ocean Services, Beaufort, NC Laboratory. More specially, I am a lab manager overseeing the day-to-day operations of an analytical lab, live feed cultures, and roughly 60,000 liters of seawater systems that contain 100,000 larvae, 3,000 juvenile, and 40 adult broodstock red porgy. I also design and implement experiments aimed at the environmental impacts of aquaculture.
What is a typical day like for you? Do you use any special tools or equipment?
A typical day of work usually includes daily care of larval and juvenile red porgy (feeding, water quality, tank maintenance, and live feed production), red porgy broodstock care, egg production assessments, facility seawater system checks, and designing and running experiments. I typically use colorimeters, water quality assessment meters, and microscopes on a daily basis. In addition to those, I also use SAS, Image Pro Plus, and Sigma plot to analyze my data.
What do you like most about your job?
The ability to work as a technician, design and run experiments, analyze data and write at any point in a single day. I also enjoy that rarely are two days alike. Working outside is also a big plus.
What was your previous job?
Research Technician for UNC-Wilmington's Aquaculture program overseeing the red porgy broodstock and assisting associates with statistical analyses.
How can I do what you do? What classes do I need to take?
Start volunteering at any type of fish/marine facility. I began volunteering at a public aquarium at 16 that has lead to many other opportunities, both paid and unpaid, that have allowed me priceless experiences and education. Contact a university professor and offer to help in their lab, as it can lead to a research project or other contacts. Take as many marine related courses as possible such as Marine Biology, Ichthyology, Invertebrate Zoology, and Fisheries Science. A strong knowledge of Chemistry and Basic Statistics are also practical.
Where are the hot spots for this kind of field?
Marine aquaculture takes place anywhere along the coast, while fresh water aquaculture takes place anywhere.
What is the salary range for your type of position?
The salary ranges from $35,000-60,000.
Anything else you'd like to mention?
While this line of work usually takes place in remote locations and under harsh conditions, it is extremely rewarding to see progress of the fish you have raised and other projects.