School:
Windsor Knolls Middle School / Urbana Middle School
Lesson Summary
North America's largest estuary was known as "cheesepiook" in the early 17th century. The Algonquian Indian name, meaning The Great Shellfish Bay, simply noted the dominance of the Eastern oyster (Crassostrea virginica) and its importance to the health and productivity of the Bay. Today, we still call this water body the Chesapeake Bay, but nearly all the oysters are gone. Scientists are now engaged in intensive research to understand the natural history of the oyster and find ways to expand its population. A major center for this research is the University of Maryland's Horn Point Laboratory, located along the banks of the Choptank River in Cambridge, Maryland.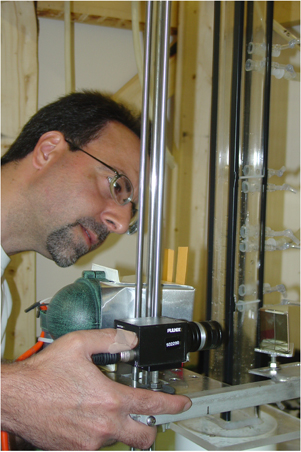 In the picture above Mr. Schulman works with a video camera to film oyster larvae in a water column.
Scientists hope that the results of these studies will guide an effective approach to the restoration of the Chesapeake Bay oyster population. In these lessons on Oyster Behavior in the Larval Stage, students have the opportunity to analyze actual video data from this research. The most dynamic time of an oyster's life is during its first few weeks of life. Although microscopic in size (~0.1 mm), larvae move in complex ways. Using research video data, students will employ their observational abilities to identify distinctive patterns of behavior, calculate swimming speeds, and determine whether varying ecological conditions (like temperature and salinity) affect behavior.
This unit is appropriate for grades 7 through 12. Lessons can be implemented individually or as a coherent unit.
Research Experience:
Mr. Schulman worked with Roger Newell and Victor Kennedy of the Horn Point Laboratory as part of the Chesapeake Teacher Research Fellowship. Laura Murray served as the CTRF advisor, Horn Point Laboratory, University of Maryland Center for Environmental Science, Cambridge, Maryland.Mr. Schulman is currently a science teacher at Urbana Middle School in Frederick County, MD.