School:
Maryland Sea Grant
Lesson Summary
Omega-3 fatty acids, popularly known as "fish oil" are fats commonly found as a key component of the marine food chain. Marine sources (fatty fish like salmon, mackerel and sardines and other organisms such as krill) contain Omega-3's called eicosapentaenoic acid (EPA) and docosahexaenoic acid (DHA).  "Where do these natural compounds come from?"
The answer, as well as the impact on the environment, may be surprising.  For more information see the content primer.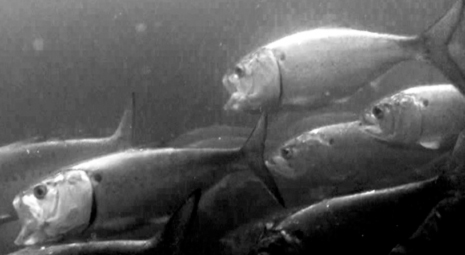 Menhaden feeding on algae in Baltimore Inner Harbor.  Photo by J. Adam Frederick
Research Experience:
This 5e Lesson Plan and Content Primer was developed with assistance from Baltimore County Public School teachers at Sudbrook Magnet Middle School, Allen R. Place (Institute of Marine and Environmental Technology) and Cathy Liu (Maryland Sea Grant Extension Program) to promote awareness and provide hands on experience related to the complexities associated with understanding omega 3 fatty acids and their relationship to the marine ecosystem, sustainable fisheries, and human health.