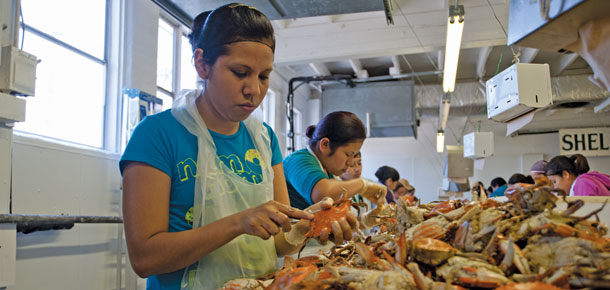 Now Available
New guidance document from the FDA for the seafood industry:
Guidance for Industry: Seafood HACCP and the FDA Food Safety Modernization Act
This guidance explains requirements for seafood processors issued by the Food and Drug Administration under the federal Food Safety Modernization Act (FSMA). The document describes which parts of the FSMA rules apply to seafood processors, how the rules may affect the processors' operations, and which parts of the FSMA rules exempt seafood products.
A major selling point of Maryland seafood is its quality. People buy jumbo lump crabmeat and fresh oysters, harvested and processed in the Chesapeake Bay region, because they expect to get high-quality, flavorful seafood.
But food safety is key to that quality. Several different bacteria that cause diseases in people (pathogens) can be transmitted through seafood. One of the most dangerous is Listeria monocytogenes. This bacterium causes listeriosis, an infection that can prove fatal. But proper sanitation and storage at seafood processing plants greatly lowers the risk of spreading Listeria to consumers.
With that in mind, Maryland Sea Grant Extension works with the Maryland seafood industry to insure the safety of local products. Our staff helps to train seafood processors and develop new techniques for improving the handling and storage of crabmeat and other Bay delicacies. Our work protects Maryland consumers, but it also helps local seafood processors to market their products as meeting the highest quality standards.
Hazard Analysis Critical Control Point
Much of Maryland Sea Grant Extension's seafood safety work focuses on HACCP, which stands for Hazard Analysis and Critical Control Point. HACCP is a food safety program that all seafood processors are required to institute. In Maryland, this program is enforced by the U.S. Food and Drug Administration and the Maryland Department of Health and Mental Hygiene. Among other things, HACCP requires seafood processors to:
Identify "critical control points" or steps in the production process where contamination of seafood can occur.
Establish preventative measures to keep contamination from happening at those points.
Set up ways to monitor if those procedures are working.
The FDA provides detailed guidance on seafood safety and how to develop HACCP plans. See FDA HACCP Resources.
HACCP Training Opportunities
Our Extension seafood technology specialist works within a national network called the Seafood HACCP Alliance. The alliance holds training sessions to educate workers on HACCP procedures. Attendees also receive a certificate showing that they've completed such a course, a requirement for many jobs in the seafood industry. View the alliance's website for more information and to see a schedule of training courses in your area.  Maryland Sea Grant Extension Seafood Technology Specialist Cathy Liu serves as an instructor for seafood HACCP training courses that follow the standardized training curriculum recognized by the FDA. Maryland Sea Grant helps to provide HACCP training opportunities periodically throughout the year, including a course created especially for Maryland shellfish shippers.
Note: A Seafood HACCP Segment Two Course will be offered October 26, 2017; registration deadline is October 20.
Maryland Crabmeat Quality Assurance Program
Crabmeat processors that join the voluntary Maryland Crabmeat Quality Assurance Program (MCQAP) agree to meet food safety standards and undergo safety inspections and testing. Companies receive an extra level of sanitary inspection and education through Maryland Sea Grant Extension. Participation in MCQAP can help Maryland crabmeat processors to remain competitive in a global market. Learn more from this publication, Keeping Crab Plants Clean: Sanitary Standards for Maryland Crabmeat Quality Assurance Program.
For more information about HACCP regulations and HACCP training, contact our Extension seafood technology specialist:
---
Maryland Sea Grant Extension Personnel

 

Seafood Technology Specialist

 
---
Other Resources
Maryland Sea Grant Extension provides a wealth of information about seafood safety to help the seafood industry: 
Staphylococcus aureus: A Common Cause of Foodborne Illness Associated with Improper Food Handling. The Food and Agriculture Organization of the United Nations (FAO) reported that Staph was isolated from 98.5 percent of crab meat, 73.5 percent of prawns, and 66.7 percent of fish. This guide describes way to prevent staph food poisoning. A Spanish language version of this guide is also available.
Controlling Listeria in Crab Processing Plants:​ Information for crab processors on how to prevent Listeria contamination. Since beginning our work, rates of Listeria contamination in Maryland seafood have dropped by a large margin. In some years, no incidences of contamination have been found.
Safe Food Depends on You: Training for Food Handlers: Download a written guide, educational videos in English and Spanish, and educational workplace posters that teach new employees how to limit the spread of food-borne pathogens in a seafood facility and help seafood processors meet HACCP standards. These materials were developed by the University of Delaware in cooperation with Extension Specialists at the Sea Grant colleges of Delaware and Maryland.