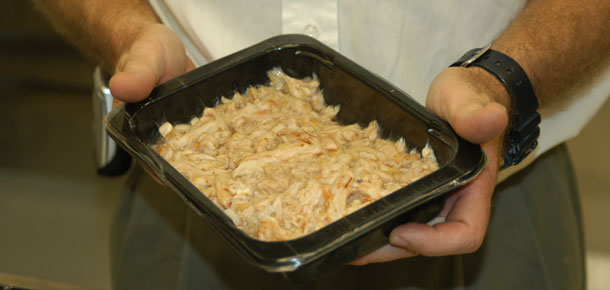 Ask a fan of Maryland seafood, and they'll tell you that Chesapeake Bay blue crabs are the best, sweetest crabs out there. A big reason: cold winter water encourages crabs to pack on the fat.
But despite this superiority in taste, many of Maryland's crab and other seafood processors struggle to make a profit. That's due in large part to the globalization of the seafood industry and competition from imported seafood, especially Asian swimming crabs.
Maryland Sea Grant Extension works to support the state's historic seafood industry. Our seafood technology specialist helps crab and other seafood processors to develop new ways of marketing and packaging their products — without losing the taste that makes the seafood produced in Maryland special. That means helping processors to design, purchase, and use new technologies.
For more information, contact our Extension seafood technology specialist:
---
Maryland Sea Grant Extension Personnel

 

Seafood Technology Specialist
---
Some of our recent successes include:
Flash freezing: Our Extension staff helped several crab processing companies across Maryland to take advantage of new flash freezing technology for preserving crabmeat. Such freezers help to keep crabmeat fresh for months, allowing processors to sell their jumbo lump and other products throughout the winter — and they don't sacrifice taste. We helped these companies to obtain grants to help them buy the freezers. We also did scientific testing to determine the temperatures at which crabmeat should be cooled and for how long.
To learn more about this project, read "Crab Processors Get High Tech," a feature article in Chesapeake Quarterly, Maryland Sea Grant's magazine.
Crab soup: When Maryland's Beach to Bay Seafood Company needed help figuring out how to produce and sell their famed crab soup commercially, Sea Grant Extension stepped up. We developed protocols for pasteurizing and packaging the company's famous recipe. This will help the family-owned business to sell its soup to supermarkets with the same great flavor. The company's new commercial enterprise, however, won't just spread good food. It will also create jobs.
Lump meat: The most sought-after meat from Chesapeake crabs are the jumbo lumps, the large pieces taken from the crab's main body cavity. But "special" crabmeat, which is picked from around where the legs meet the body, tastes just as sweet, although it looks stringier. Our Extension seafood specialist developed a new, all-natural method for binding special crabmeat together. The product looks and tastes like jumbo lump meat, helping local companies to better market their seafood. 
To read more about this project, check out "Food Scientist Works to Sharpen Crab's Competitive Edge," a feature story in Chesapeake Quarterly, Maryland Sea Grant's magazine.