Brendan Campbell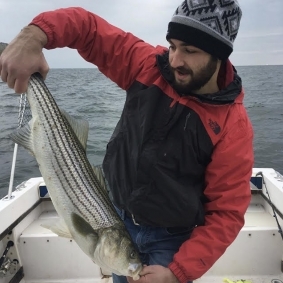 Fellowship institution:
Horn Point Laboratory, University of Maryland Center for Environmental Science
Advisor:
Matthew Gray
Brendan Campbell is a M.S. student at the University of Maryland Center for Environmental Science  in the Marine Estuarine Environmental Science (MEES) program. Working under Matthew Gray at the Horn Point Laboratory, Brendan is looking at novel ways of understanding the physical environment associated with shellfish aquaculture gear and its relation to growth and production of shellfish. The goal of this work is to create a methodology which can be used by researchers and the aquaculture industry to refine day-to-day operations of commercial farmers and promote more efficient shellfish production. Brendan received a Bachelor of Science degree in Biological Oceanography from Rutgers University in 2017 and worked on various clam and oyster farms during and after his matriculation at Rutgers. Aside from work, Brendan can be found hiking, fishing, or cooking.
The Blue Crab: Callinectes Sapidus
An essential resource for researchers, students, and managers.  Get your copy today!