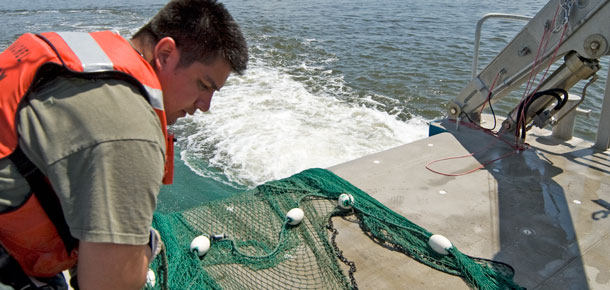 Maryland Sea Grant invites researchers who have already received notice of a pending award from the program to apply for funding to support a graduate student as a Research Fellow.
Students cannot apply directly to Maryland Sea Grant for a Research Fellowship; interested candidates should contact a principal investigator with whom they wish to study.
The application process begins in October of odd years (e.g., 2019) to support Research Fellows beginning February 1 of the following, even year (e.g., 2020.)
Research Fellowships awarded as part of the 2020-2022 Maryland Sea Grant biennial funding cycle will provide two years of funding support, contingent on Maryland Sea Grant's receiving funding from NOAA. Because of funding constraints, it may not be possible to award fellowships to all funded projects.
To apply for money to support a Research Fellow, principal investigators are required to submit the following:
Statement (two to three pages) that outlines the role of the student in the project as well as preliminary plans for integrating the student into the project's outreach efforts.
A resume, transcript, or short narrative description of the student's academic credentials, if the principal investigator has already designated a student who would receive the fellowship.
Deadline: These application materials should be submitted as a PDF to Dr. Michael Allen at Maryland Sea Grant by October 28, 2019.
Applications are evaluated by a panel comprising Sea Grant staff, outside faculty members who are not part of the current grant competition, and members of Sea Grant's Academic Advisory Committee. Students and principal investigators are to be notified of the outcome of their application in late December 2019.
Ideally new Research Fellows will begin their appointment in February 2020, the start date of the research award. Students awarded a Research Fellow appointment will be asked to visit the Maryland Sea Grant office in College Park several weeks prior to their start date to complete the necessary administrative documents for the award. 
Fellowship Terms
Maryland Sea Grant Research Fellows receive the administrative designation of graduate research assistant (or the institutional equivalent.)
Fellows receive salary and benefits based upon degree candidacy status. Additionally, they receive up to 10 credits of tuition remission during the spring and fall semesters. Fellows must follow all relevant guidelines set by Maryland Sea Grant.
We look to support a graduate fellow for a maximum of four years, as long as the student continues to be affiliated with a Maryland Sea Grant-funded research project. However, a fellowship can only be guaranteed for one year at a time. Renewal is based upon adequate progress and the availability of funds.