Did You Know…What's That Glow?
Rona Kobell
•
May 4, 2018
Maryland Sea Grant and the University of Maryland Center for Environmental Science are working with researchers in Puerto Rico to determine what is causing the coastal lagoons to glow.
It's a fascinating project, and the devastation of Hurricane Maria has made the work all the more challenging.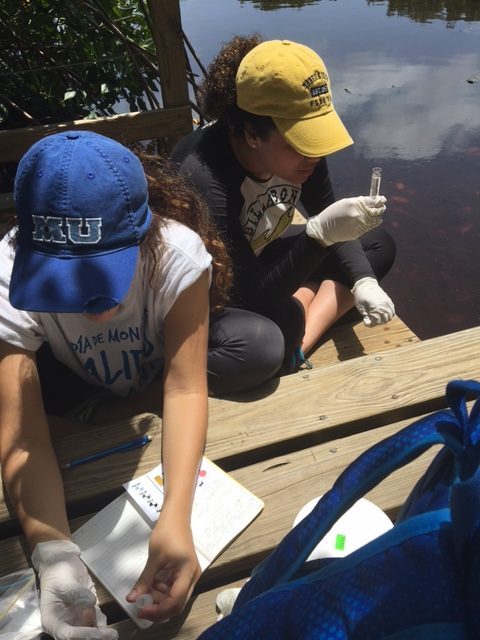 Centro Tortuga students doing research. Photo courtesy of Maria F. Barberena-Arias​
The project is part of a broader partnership between Maryland Sea Grant, the University of Maryland Center for Environmental Science (UMCES), Universidad del Turabo (UT), and Universidad Metropolitana (UMET) in Puerto Rico.
Read more about the program and ongoing research:
Chasing the Mystery Behind Bioluminescence
in Puerto Rico
Our efforts to start the program.
Hurricane Maria Potential Game-changer for
Horn Point Student's Research
UMCES' digital coordinator Kristi Moore tells the story of one researcher in Puerto Rico and his quest to solve the mystery behind the light.
Centro Tortuga
Website for the Centro Tortuga program.
Puerto Rico Undergraduate Education Initiative
Website covering the outcomes, benefits, student achievements, and research focus of the Puerto Rico initiative.
Photo, top: Juan Alvarez examines water in Puerto Rico's bays. Photo courtesy of Juan Alvarez
Sign up to receive email alerts about new posts to the On the Bay blog.
See all posts to the On the Bay blog.
The Blue Crab: Callinectes Sapidus
An essential resource for researchers, students, and managers.  Get your copy today!