Battling Hydrilla: Maryland's complicated relationship with an invasive species
Rona Kobell
•
November 13, 2019
When we think of invasive species, we think of exotic invaders that have found their way to our shores and disrupted our ecosystems in short order. Zebra mussels in the Great Lakes fouling discharge pipes. Nutria in the Chesapeake Bay munching their way through protective marshes. The European green crab eating its way up the food web on the Maine coast. And the spotted lanternfly that is endangering crops in Pennsylvania and has Maryland officials worried, too.
Hydrilla verticillata doesn't fit that mold. The spindly underwater grass is native to Southeast Asia and came to Florida in the 1950s from India as an ornamental plant. It first appeared the D.C. region by the early 80s, and then spread throughout the Chesapeake Bay watershed as other native grasses declined due to diminished water quality and over-sedimentation in those waters. 
At Maryland Department of Natural Resources (DNR), biologist Brooke Landry, who chairs the Chesapeake Bay Program's Submerged Aquatic Vegetation Workgroup, spends a lot of time educating homeowners about hydrilla. Sometimes, she said, they have heard it is invasive. But, she said, an invasive plant is not necessarily one that should be automatically ripped out. Patches of hydrilla can provide some ecological benefits in the Chesapeake, where its long strands can provide habitat for crabs and help clear the water. 
It's a different story in lakes, though, where it can overwhelm native plants, clog boat propellers, and create navigation hazards. 
"In lakes, it's bad—really bad—and it grows very quickly," said Landry's colleague Mark Lewandowski, a natural resources biologist at DNR who represents the Chesapeake Bay on the Aquatic Nuisance Species Task Force, a national group funded by several federal agencies. 
Boats are a main vector for spreading invasive species worldwide, and Deep Creek Lake has more than its share of vessels moving from the Western Maryland resort to the Chesapeake Bay and its rivers. So when hydrilla turned up in one of Maryland's top tourist attractions, it prompted the state legislature to pass a law making it illegal for an owner of a Maryland vessel to launch in state lakes, rivers, or streams unless they have cleaned it.
How does one species produce two different results, and approaches, within the same agency?
One way hydrilla causes problems in lakes is in the way it reproduces. One of its methods of propagation is through fragmentation, meaning any pieces that break off can be carried off by water currents to settle and grow elsewhere. It doesn't need much light to thrive, and its tubers—shell-like root systems—can grow as much as a foot under the sediment. In a vast space, such as the Chesapeake Bay or Potomac River, such growth is beneficial habitat. But in one of Maryland's top boating destinations, which generates millions of dollars in tourism, it's far more problematic.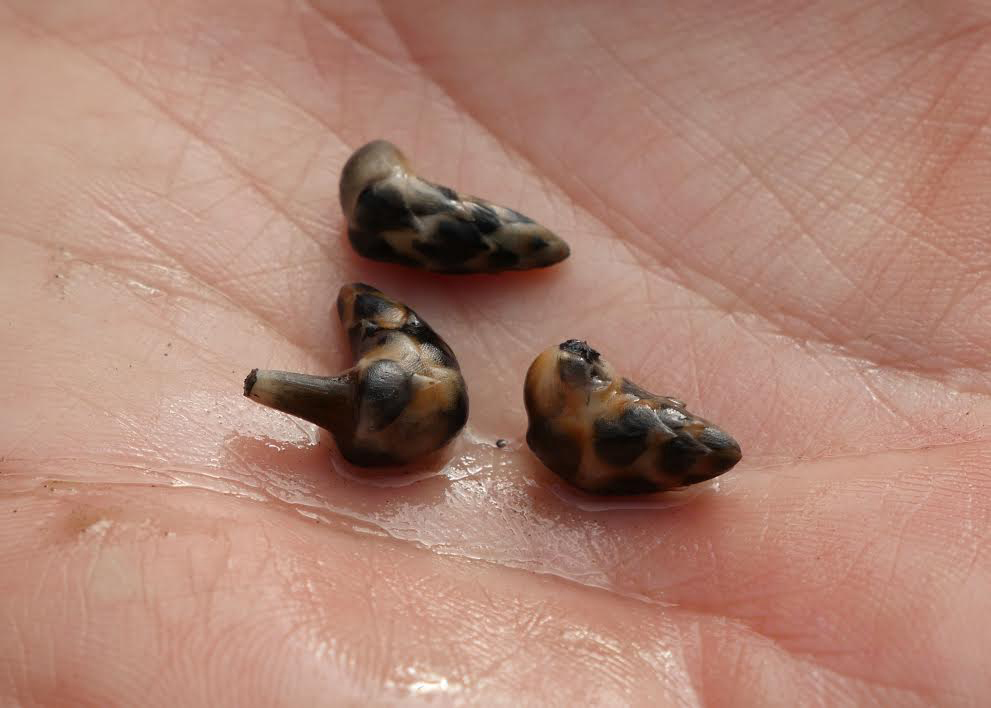 ​
Hydrilla tubers bore into the sediment, making the plant difficult to eradicate in lakes. Photo credit: Mark Lewandowski/DNR
In 2014, during a routine scuba dive to assess submerged aquatic vegetation, or SAV, statewide, Lewandowski's team found what looked like a small patch of hydrilla in Deep Creek Lake. They returned two weeks later and found it in 13 spots. It went from one square meter in one spot to five acres in another, demonstrating how quickly it could grow and how challenging it was to manage.
DNR divers had never seen hydrilla there before, and they'd been surveying the lake since the 1950s. The grass may have entered Deep Creek on the hull of a boat that had been used in waters where hydrilla was present, so when the team at DNR reported their findings, Lewandowski said, state leaders endorsed an aggressive control plan.
The DNR team consulted with a panel of experts that included Lyn Gettys, a wetlands scientist at the University of Florida's Center for Aquatic and Invasive Plants and one of the country's leading experts on hydrilla. As a result, they treated the hydrilla in Deep Creek with herbicides. That action was followed closely by passage of House Bill 860 legislation that created a working group outside of the agency to tackle invasive species, which in turn led to the State Lakes Invasive Species Act of 2015, making it illegal to launch unless they have cleaned the boat. A DNR survey found that, of the 16 Maryland lakes that had a boat launch, 11 had invasive plant species. So the state set aside $1 million for state lake managers to tackle invasive species.
The money is available, and county parks managers could be eligible for it not just to help eradicate invasive species, but to control sediment, improve water quality, or enhance recreation. 
At Deep Creek Lake State Park, the state hires college students to oversee the boat ramp and inspect boats. There is a wash station nearby to clean the vessels. Lewandowski said once people understand the reason, there is near-universal compliance. However, the state does not have the staff to monitor other sites in the park, or private property surrounding the 3,900-acre lake. 
Other lakes have helped to mitigate the spread of invasive species with rules that prohibit boats from being moved elsewhere—mostly over concerns related to zebra mussels, not hydrilla.  Boaters who wish to use Prettyboy, Loch Raven, or Liberty reservoirs cannot use their boats anywhere besides those three reservoirs.
Lewandowski believes the law is a good first step in controlling invasive hydrilla and whatever invasive species that comes next. Though he says an effective control program for hydrilla needs five to seven years to ensure complete eradication, he said signs are positive. Hydrilla remains in the Chesapeake, doing the job of underwater grasses. And on their last dive in Deep Creek Lake, the team didn't find new hydrilla beds. Possibly, it is a sign that the state can have the species where it's beneficial, and keep it out of places where it's not.
Photo, top left: Hydrilla verticillata is a non-native underwater grass. It can have some positive ecological impacts in the Bay and its tributaries, but it can also cause serious problems in lakes. Photo, Brooke Landry/DNR
Sign up to receive email alerts about new posts to the On the Bay blog.
See all posts to the On the Bay blog.
The Blue Crab: Callinectes Sapidus
An essential resource for researchers, students, and managers.  Get your copy today!