Sea Ice, Sea Cucumbers, Sea Stars: My Summer Research off Alaska
Sophie Caradine-Taber
•
July 18, 2016
This is the second of two dispatches by Sophie Caradine-Taber, who joined an Arctic research cruise through the Research Experiences for Undergraduates program run by Maryland Sea Grant.
Today we encountered sea ice! There was talk that we might not see much sea ice this year, because sea ice melt has been high in recent years, so I am glad to see it.
The ice floes are small but large enough to support large marine mammals, and today we saw seven walruses! Polar bear sightings are rarer, but I am hoping to see one. I have also seen two puffins, eiders (sea ducks), and a seal. And by bringing up mud grabs from the sea floor, we saw sand dollars, some beautiful sea stars, and a sea cucumber. The sun never really sets here in the summer (sunset and sunrise are only a few hours apart), which allows for viewing Arctic animals clearly around the clock. It's also becoming much colder outside as we move northward! It's a little bit above freezing outside now. I'm definitely glad that I'm doing research here during the summertime and not during the winter!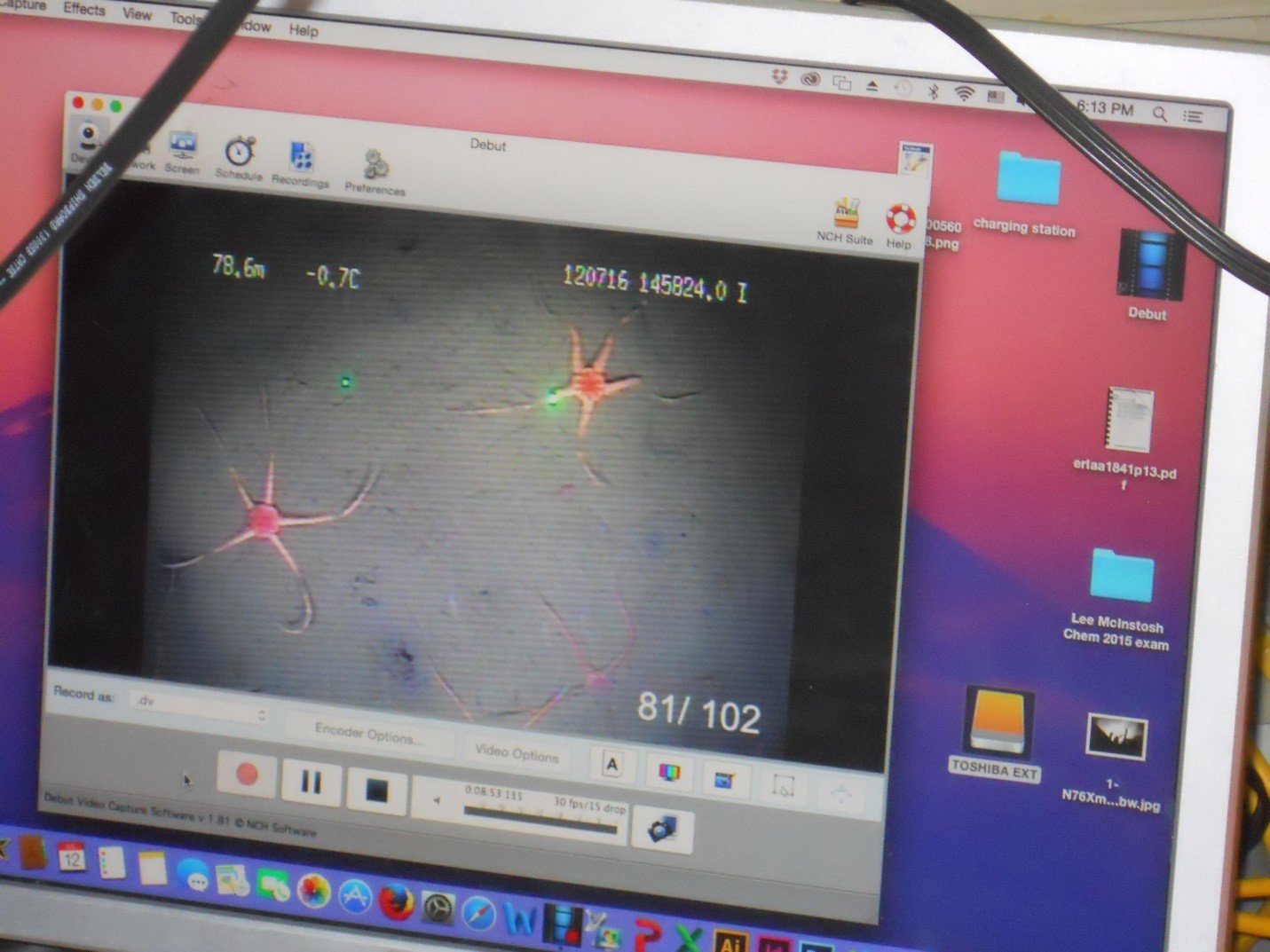 Looking at two brittle stars on the seafloor of the Bering Sea, as seen by a benthic camera lowered over the ship's edge. Credit: Sophie Caradine-Taber
We only have about 10 research stations left to visit now, out of the 62 total. However, we are not able to collect samples at some of these upcoming stations because of the sea ice cover and problems with one of the three ship's engines; additional power is needed to get us out of the ice. With some extra time, I was able to catch up on blog posts while the rest of the team did data entry and continued analyzing water column chlorophyll samples. We also began packing up all the gear and samples. We all did take some time for relaxing to celebrate crossing the Arctic Circle, including a barbeque on the back deck of the ship.
Now that I am getting to reflect on my experience aboard the Laurier, I realize that the cruise has taught me a lot about the dedication, hard work, and fun involved in doing research. I have also learned a lot about working at sea. Conducting research on a ship is like working in a floating lab where time and space are limited, and you are at the mercy of the weather conditions outside. You have to prepare before the research cruise as much as possible; data analysis occurs both at sea and afterwards back in the home laboratory so that you can maximize your time on the ship collecting samples. My mentor, Dr. Grebmeier, participates in a few research cruises a year, and the rest of her year is spent sorting through the benthic samples, identifying the different organisms, analyzing data, preparing papers, and making presentations.
Overall, I have had a great time during my first research cruise on the Sir Wilfrid Laurier! Huge thanks to my mentor and to Maryland Sea Grant for giving me this opportunity! Being able to work hands-on with climate change research has been an amazing opportunity. Now it's time for me to finish up the last few days of the cruise, fly back to Maryland, and then return to Chesapeake Biological Laboratory where I can continue sorting through benthic mud samples from the Laurier.
Photo, top left: Rinsing the mud from benthic samples collected from a Van Veen grab deployed over the ship's edge. The animals from the samples are rinsed, put in formalin (a preservative), and then sent back to Chesapeake Biological Laboratory for analysis. Credit: Dr. Lee Cooper
Read Sophie's previous dispatch from this research cruise to the Arctic.
Learn more about Maryland Sea Grant's Research Experiences for Undergraduates program, including how to apply.
Sign up to receive email alerts about new posts to the Fellowship Experiences blog
See all posts to the Fellowship Experiences blog
The Blue Crab: Callinectes Sapidus
An essential resource for researchers, students, and managers.  Get your copy today!