I stayed open to opportunity, and it led to me meeting a childhood hero
Melanie Jackson Osborn
•
February 28, 2020
I couldn't stop smiling when I saw my colleague's question in an email. "Would you be available to staff a 24-hour Ocean Exploration STEM event with Admiral Gallaudet, Dr. Ballard, and Senator Moran next week?"
Would I? She was talking about Rear Admiral Timothy Gallaudet, deputy administrator of the National Oceanic and Atmospheric Administration (NOAA), where I had been working in the Office of Legislative and Government Affairs, along with Sen. Jerry Moran (R-Kan.), and Robert Ballard, the famous underwater explorer best known for his discovery of the final resting place RMS Titanic wreck.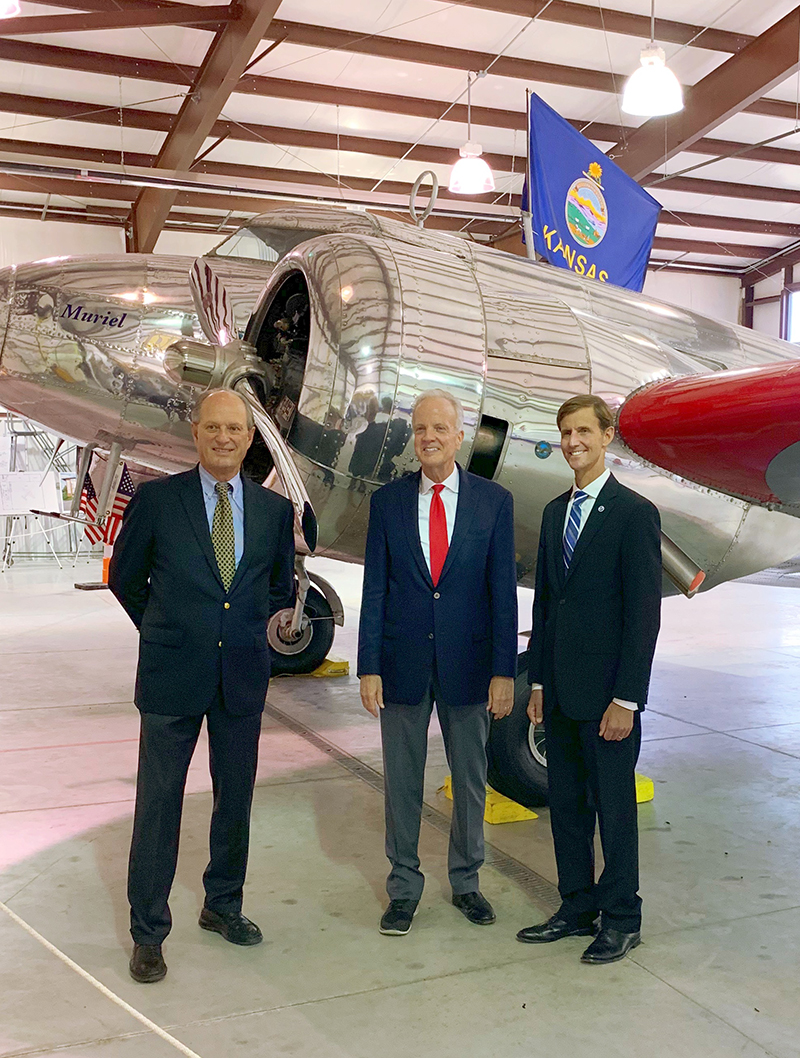 Dr. Bob Ballard, U.S. Senator Jerry Moran, and Admiral Timothy Gallaudet (from left) standing in front of Muriel. Photo credit: Melanie Jackson Osborn
I composed a professional response to indicate I was both honored to be asked and ready for the task. But on the inside, I was giddy. Robert Ballard was my childhood hero and inspiration to pursue a career in marine science.
When I was in second grade, I spent many weekends watching the movie Titanic (don't worry, my parents made me close my eyes during a certain scene) and listening to Ballard's voice narrate all of the related National Geographic television specials that were available. With minimal marine science knowledge at the time, I thought the bottom of the ocean was a lifeless desert. I was awed to see the wreck teeming with life in the video footage. My fascination with the Titanic and life in the deep ocean played a role in my growing interest in all things marine-related and ultimately my Ph.D. in earth and ocean systems.
That same year, my teacher assigned a project where each student read a biography and dressed up as a notable historic figure to present to the class. I chose Amelia Earhart, the first female aviator to fly solo across the Atlantic Ocean. Dressed up in an oversized brown bomber jacket, scarf, and aviator goggles that my mom helped me find in the local thrift store, I relished the opportunity to present on the pioneering pilot woman and her mysterious disappearance during her quest to be the first woman to fly around the world.
And now, 22 years later, I would have the chance to stand in a high school gymnasium in Earhart's hometown, listening to Ballard talk about his mission to find out what happened to Amelia and discover her missing plane.
We only had two days to plan the trip to that town: Atchison, Kansas. When I received the email from my colleague asking me to staff the trip, there was a moment of doubt in my mind when I wondered how could I possibly pull together an itinerary, talking points, and travel logistics within 48 hours. Fortunately, Knauss Fellowship mentors set you up to succeed.
As soon as I said yes, I was put in contact with a couple of NOAA program coordination officers, who had lots of resources and tips to share with me. After 24 hours, I had a rough outline for the trip and all of the background materials I needed to prepare myself—and the admiral—on NOAA's ocean exploration priorities in case anyone asked questions when we met with the senator and his staff.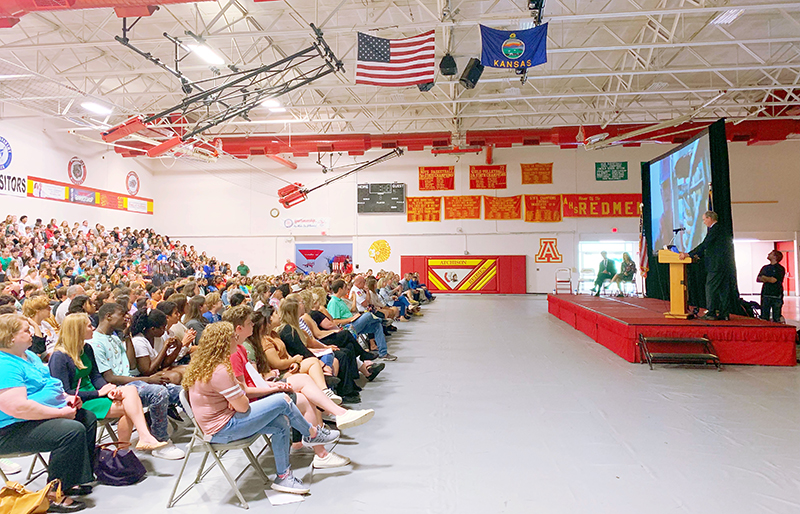 Dr. Bob Ballard speaking to a gymnasium of high school students about his expedition to the remote Pacific in an effort to discover Amelia Earhart's missing airplane. Photo credit: Melanie Jackson Osborn
Despite my early interests, ocean exploration was not part of my doctorate work. For my doctorate, which I'd completed at the start of my Knauss Fellowship, I focused on how oysters remove nitrogen pollution from coastal waters. But I felt comfortable staffing this trip in large part because NOAA leadership reviewed the documents I prepared for the trip. I studied the documents as if I was studying for my PhD comprehensive exam and recited the information for the admiral on the drive to the event. As I stood in the auditorium, anxious to hear what questions the 200 high school students had, I was relieved they were fairly simple, asking things like: "How deep was the Titanic?"
I could go home knowing my first staffing job went smoothly and that I got to tell one of my childhood heroes how he inspired my marine science career. If I wasn't flexible and spontaneous, I would have missed an opportunity to prove to my host office that I was adaptable to the fast-paced work environment. The success of this trip led to me preparing and staffing a number of other amazing opportunities later on during my Knauss Fellowship—experiences that made me giddy all over again and make me smile still.
Photo, top left: Melanie Jackson standing in front of Muriel, one of only 14 Lockheed Electra L-10E airplanes ever made—in 1935—and the last surviving one. The airplane is identical to the plane Amelia Earhart flew on her fateful journey around the world. Photo credit: Admiral Timothy Gallaudet, Deputy NOAA Administrator
Sign up to receive email alerts about new posts to the Fellowship Experiences blog
See all posts to the Fellowship Experiences blog
The Blue Crab: Callinectes Sapidus
An essential resource for researchers, students, and managers.  Get your copy today!