How Pharmaceuticals and Personal Care Products Led Me to a Puppy Named Winston
Tammy Newcomer Johnson
•
January 13, 2015
Life is full of surprises. I'm going to tell you how supporting a Sea Grant project — the Pharmaceuticals and Personal Care Products (PPCPs) Working Group — led me to a six-week-old mixed boxer puppy named Winston.
It is my highly biased opinion that his blue eyes, pink nose, and wrinkles make him an exceptionally cute puppy! Lately, I've been looking at a lot of puppies.  (Tough, I know!) Most people check their Facebook news feed to see what's going on with their fellow humans. My Facebook news feed is currently a little different… All I see are canine and feline friends!
I accidentally broke my Facebook feed because I'm really excited about the National Pet Well-Being and the Environment Survey! The goal of this survey, which is sponsored by a group of state Sea Grant College programs, is to learn about pet owners' awareness of their pets' well-being and its relationship to the environment, how pet owners choose and dispose of pet medicines and care products, and the sources they trust best for advice.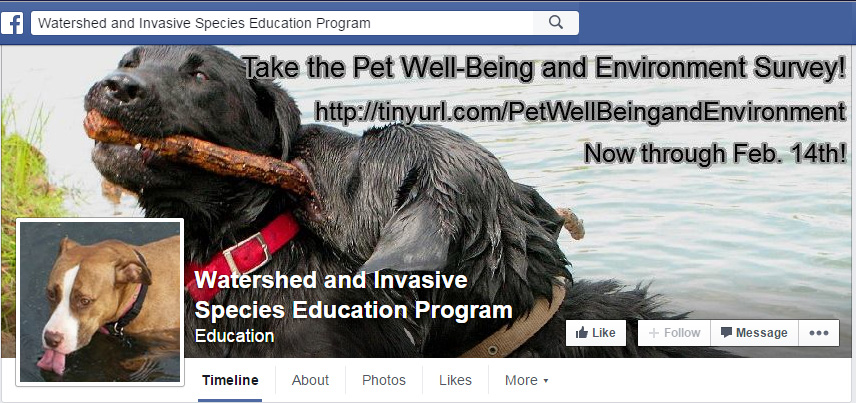 Credit: Watershed and Invasive Species Education Program, Facebook.com
These are important questions to ask because these substances have been found in unexpected places like rivers, lakes, groundwater, treated drinking water, and even plant and animal tissue.
The federal government currently does not regulate these products in water. It is important to note that these substances do not pose an acute health threat to people because their concentrations are way lower than a typical prescription dose. However, there are unanswered questions about the effects of chronic exposure on people and their pets. Additionally, wildlife can be negatively affected by endocrine disrupters, hormones, and other substances. Much of the public has heard about male fish feminization linked to birth control. Fewer people have heard about female fish masculinization from cattle growth steroids. Antidepressants like Prozac can reduce predator avoidance in fish and shrimp, change mussel spawning, and delay tadpole development. Additionally, there are concerns about antibiotic resistance.
This is scary stuff, and often the media sensationalizes these findings with fear-based, attention-grabbing headlines. Extension professionals like Pollution Prevention Program Specialist Laura Kammin of Illinois-Indiana Sea Grant serve as honest brokers of information and translate the science behind this issue so that people can make informed decisions (UnwantedMeds.org). Illinois-Indiana Sea Grant has been teaming up with the American Veterinary Medical Association (AVMA) and leading a nation-wide partnership of Sea Grant programs to reduce pollution from pharmaceuticals and personal care products. Regionally the "Undo the Great Lakes Chemical Brew" team has collected over 2.5 million pills and educated over a million anglers, educators, students, 4-H youth, medical professionals, and community members (story here).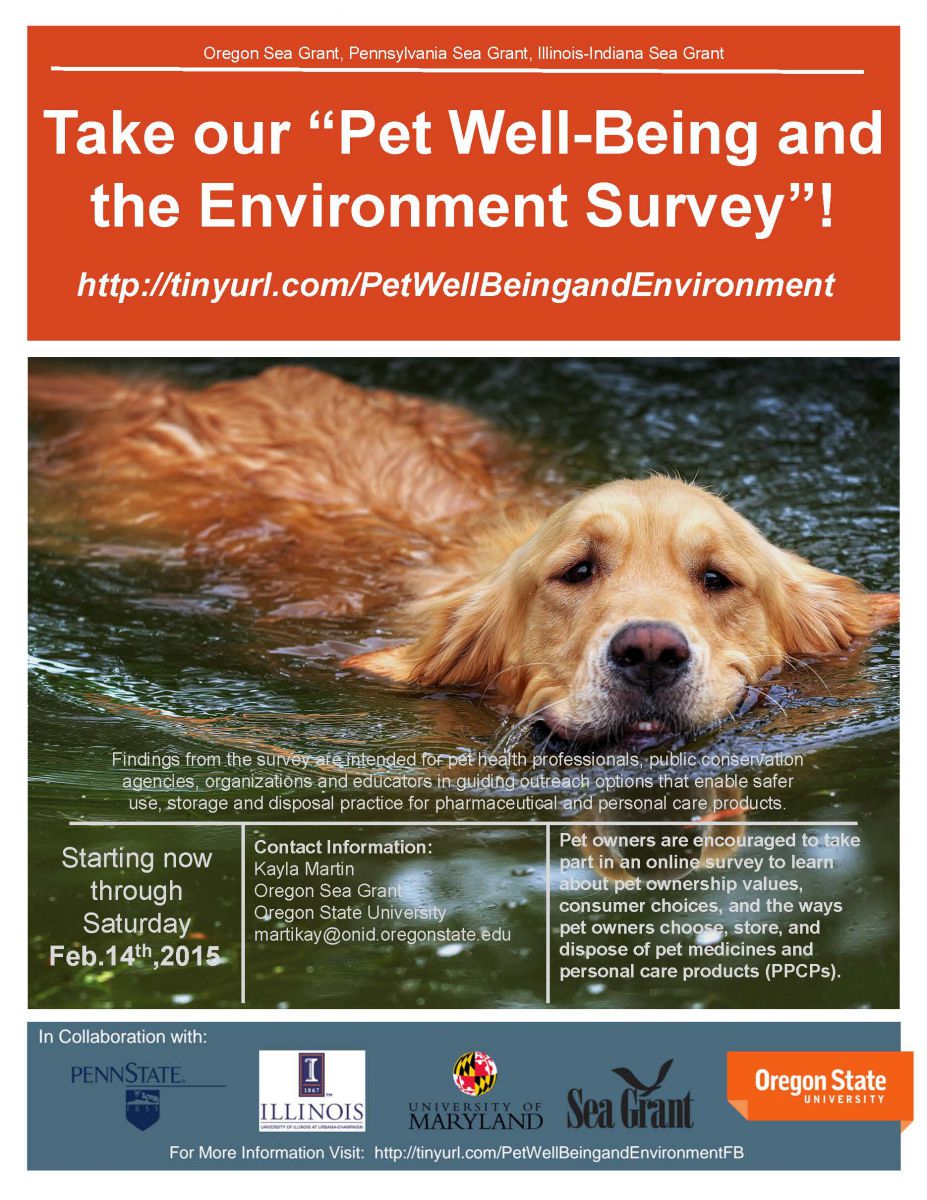 Click ad to print full page image. Source: Kayla Martin, Oregon Sea Grant
I'm really excited about this survey because it will provide information to guide future Sea Grant education efforts!  This survey is led by Watershed Health and Aquatic Invasive Species Specialist Sam Chan of Oregon Sea Grant and his student, Kayla-Maria Martin.  Other Sea Grant collaborators include California, Connecticut, Illinois-Indiana, MIT, Minnesota, Pennsylvania, Rhode Island, Washington, and the Woods Hole Oceanographic Institution.  Our goal is to have 2,000 survey responses from across the nation by February 14th and so far we have close to 750.
So here is how I broke my Facebook feed: I really want this to be a nationally representative survey, which means we need to increase participation. I brainstormed some strategies with friends who suggested that people who join animal-rescue groups and dog and cat clubs are likely to be passionate about their pets and willing to take our survey. About a week ago, I contacted every rescue group and breed-specific club I could think of on Facebook to ask if they would help spread the word to their members.
Then I looked at my Facebook Feed and laughed because all I saw was pets. Somehow the social media algorithms decided that was all I wanted to see. In response, I started sharing the cutest of the puppy pictures with my wonderful husband, Mike. Mike already wanted a puppy, and now I was telling him every cute thing I saw. Then I saw a listing for a free puppy near me!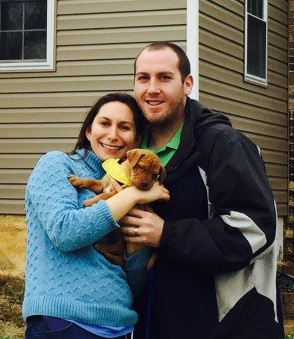 Mike and I pose with our new puppy, Winston. Credit: Tammy Newcomer Johnson
I sent that one to Mike too … and to my surprise he called the foster mom and brought Winston home the next day!!!
So now I'm filled with total puppy love for little Winston! I'm looking forward to asking our vet and the staff at the pet supplies stores for advice on purchasing environmentally friendly products. I'm also really curious to see what they will recommend for how to dispose of pharmaceuticals and personal care products!
There is much to learn about balancing the benefits of products we use to stay healthy, clean, and smelling nice with the risks posed to the environment, wildlife, and our favorite pets.
Photo (top left): Winston on one of his first days at home. Credit: Tammy Newcomer Johnson
Sign up to receive email alerts about new posts to the Fellowship Experiences blog
See all posts to the Fellowship Experiences blog
The Blue Crab: Callinectes Sapidus
An essential resource for researchers, students, and managers.  Get your copy today!