Maryland Sponsors Four Knauss Fellows for 2016
April 14, 2016
Four graduate students supported by Maryland Sea Grant have begun their terms as 2016 Knauss Marine Policy Fellows. They are working for one year for the National Oceanic and Atmospheric Administration (NOAA) on habitat conservation, environmental policy, international affairs, and fishery ecosystem science.
Alexandra Atkinson will be working with NOAA's Habitat Conservation Department as a habitat focus area program specialist. She will help NOAA coordinate and implement their Habitat Focus Area project, in which 10 sites across the country will be restored to create healthy, sustainable habitats for fish and wildlife.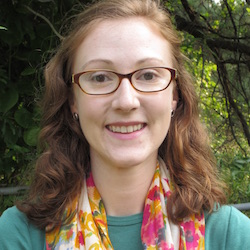 Her past research has involved studying a variety of marine species, including mysids (small shrimps), Atlantic menhaden, and gray whales. Atkinson also worked to restore local wetlands in Illinois, her home state.
Atkinson completed a B.S. in ecology and evolutionary biology at the University of Rochester and an M.S. in fisheries science at the Chesapeake Biological Laboratory, part of the University of Maryland Center for Environmental Science (UMCES). While working on her master's, she was president of the student subunit of the American Fisheries Society's Tidewater Chapter. Atkinson hopes that working with NOAA will allow her to gain an appreciation for the inner workings of the agency.
Shanie Gal-Edd is joining NOAA's Oceanic and Atmospheric Research (OAR) Office of Policy, Planning, and Evaluation as a research planning and policy analyst.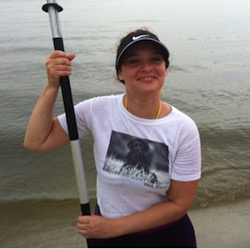 Her past research involved studying the genetics and greenhouse competition of a species of submerged seagrass (Vallisneria americana). She also worked with the USDA Agricultural Research Station in Beltsville studying the invasive brown marmorated stink bug (Halyomorpha halys). Gal-Edd was also a fellow with the U.S. Fish and Wildlife Service, where she performed population and habitat assessment of migratory birds.
Gal-Edd received a B.A. in psychology and a B.S. in biology and ecology. She is currently pursuing an M.S. in conservation and restoration ecology of the Chesapeake Bay at the University of Maryland, College Park.
Efeturi Oghenekaro will be working in the NOAA Research Office of International Affairs. She will contribute to NOAA's research in the Arctic and support the agency's efforts with the Transatlantic Ocean Research Alliance, a cooperative effort between the U.S., Canada, and the European Union.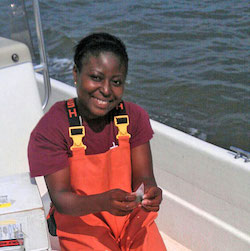 Oghenekaro completed her undergraduate degree in fisheries science at the University of Benin, in Nigeria. She earned her doctoral degree from University of Maryland, Eastern Shore in marine, estuarine, and environmental sciences. Her doctoral research documented spatial and seasonal patterns of abundance in mesozooplankton. She also documented five species of marine cladocerans, which are small crustaceans.
Oghenekaro, who is enthusiastic about international affairs, hopes that this fellowship will introduce her to the process of planning and implementing international collaborative research in ocean science. She also enjoys participating in outreach activities, where she can help educate people about environmental science, conservation, and sustainability.
Wencheng Slater will be working as a fishery ecosystem science and management specialist in the NOAA National Marine Fisheries Service's Office of Science and Technology. She will be applying her experience in food-web dynamics and zooplankton ecology to ecosystem-based fisheries management.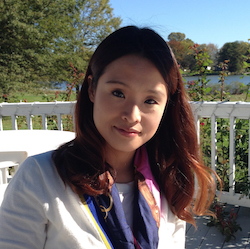 Slater is a doctoral student in biological oceanography in the University of Maryland Marine Estuarine Environmental Sciences Graduate Program. She is working at UMCES' Horn Point Laboratory, studying predator-prey interactions between marine species in low-oxygen ecosystems in Chesapeake Bay. Slater has a M.S. in marine science from National Sun Yat-sen University in Taiwan, where she is from.
​Slater's previous research included studying climate change and jellyfish blooms in Taiwan. She also worked with the Office of International and Tribal Affairs in the U.S. Environmental Protection Agency, assisting the International Environmental Partnership between the U.S. and Taiwan. Slater has a passion for public outreach and communication involving environmental science.
The Knauss Marine Policy Fellowship, begun in 1979, is designed to let outstanding graduate students spend a year working on science policy in Washington, D.C. The program, coordinated by the National Sea Grant Office, places fellows in legislative or executive branch offices in the federal government that work on ocean, coastal, and Great Lakes policy issues. Fellowships run from February 1 to January 31 and pay a yearly stipend plus an allowance for health insurance, moving, and travel. Students can apply through the Sea Grant program in their state. For more information, visit:
You can learn more about current and past Knauss fellows on National Sea Grant's 50th Anniversary Stories webpage.
The National Sea Grant College Program is celebrating its 50th anniversary this year. #seagrant50
The Blue Crab: Callinectes Sapidus
An essential resource for researchers, students, and managers.  Get your copy today!