Federal Panel Reviewing Maryland Sea Grant Seeks Public Comments
December 8, 2014
The National Oceanic and Atmospheric Administration will conduct its quadrennial administrative review of the Maryland Sea Grant College program in January 2015. The public is invited to submit comments by January 14 to inform this evaluation.
The review is being convened by the director of the National Sea Grant College Program to fulfill a Congressional mandate that state Sea Grant programs be regularly reviewed. A team of experts called a Site Review Team will visit and evaluate Maryland Sea Grant on January 21st and 22nd, 2015. The most recent such review was conducted in 2011.
The National Sea Grant Office will review the following aspects of Maryland Sea Grant's operations:
Program Management and Organization (organization, program team approach, and support)
Stakeholder Engagement (relevance, advisory services, and education and training)
Collaborative Activities (relationships and coordination)
The public may offer comments about these aspects for consideration by the reviewers. Comments should be emailed to oar.sg.feedback@noaa.gov by 5:00 p.m. EST on January 14, 2015.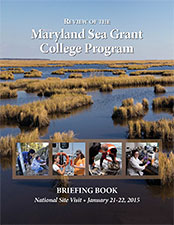 Maryland Sea Grant is a federal-state partnership that funds research, education, and outreach related to the Chesapeake and coastal bays. The program, which receives funding from NOAA and the state of Maryland, is part of the University System of Maryland and is administered by the University of Maryland Center for Environmental Science. Learn more about Maryland Sea Grant's mission and accomplishments or download our Site Review Team Briefing Book.
The Blue Crab: Callinectes Sapidus
An essential resource for researchers, students, and managers.  Get your copy today!