Business Specialist Teaches Aquaculture Farmers in Myanmar
September 18, 2014
Maryland Sea Grant Extension's Matt Parker Discusses His Recent Visit to Local Farmers in Myanmar
Matt Parker, an expert in starting and running aquaculture businesses, recently got the opportunity to bring lessons that he learned in Maryland to entrepreneurs in another country: Myanmar (formerly known as Burma). In August 2014 Parker, who works for the Maryland Sea Grant Extension program, conducted a series of workshops in the Southeast Asian country on managing fish and shellfish farms -- and turning a profit doing it.
The series was part of an international collaboration to help members of the aquaculture industry in the United States and Myanmar to work together to promote shellfish and finfish farming. Recent political changes in Myanmar, which had been ruled by a military junta for decades, have opened up new avenues for international trade in the country.
Parker's trip stemmed from a request by the Myanmar Fisheries Federation, a trade group, and was organized by a non-profit organization called Winrock International. Funding was provided by the Farmer-to-Farmer program at the U.S. Agency for International Development (USAID). He spent more than two weeks in Myanmar and oversaw two sets of workshops, one in the city of Yangon and the other in the Ayeyarwady Delta, a wet region on the Bay of Bengal. Myanmar aquaculture farmers take advantage of the country's ample rivers to grow fish and shrimp in ponds and lakes. The aquaculture industry is also crucial to the nation's economy, ranking third in foreign trade behind agriculture and forestry.
Parker talked with Daniel Strain about his trip, sharing some of his favorite sights and discussing one of the most important parts of running an aquaculture business -- whether it's in Myanmar or Maryland.
Q: How did this trip come about?
Parker: The Myanmar Fisheries Federation had asked USAID to bring someone over to help farmers there to start thinking of aquaculture as a business. They didn't keep the best records. They thought they were making money, but they didn't really know how much or how little they were making.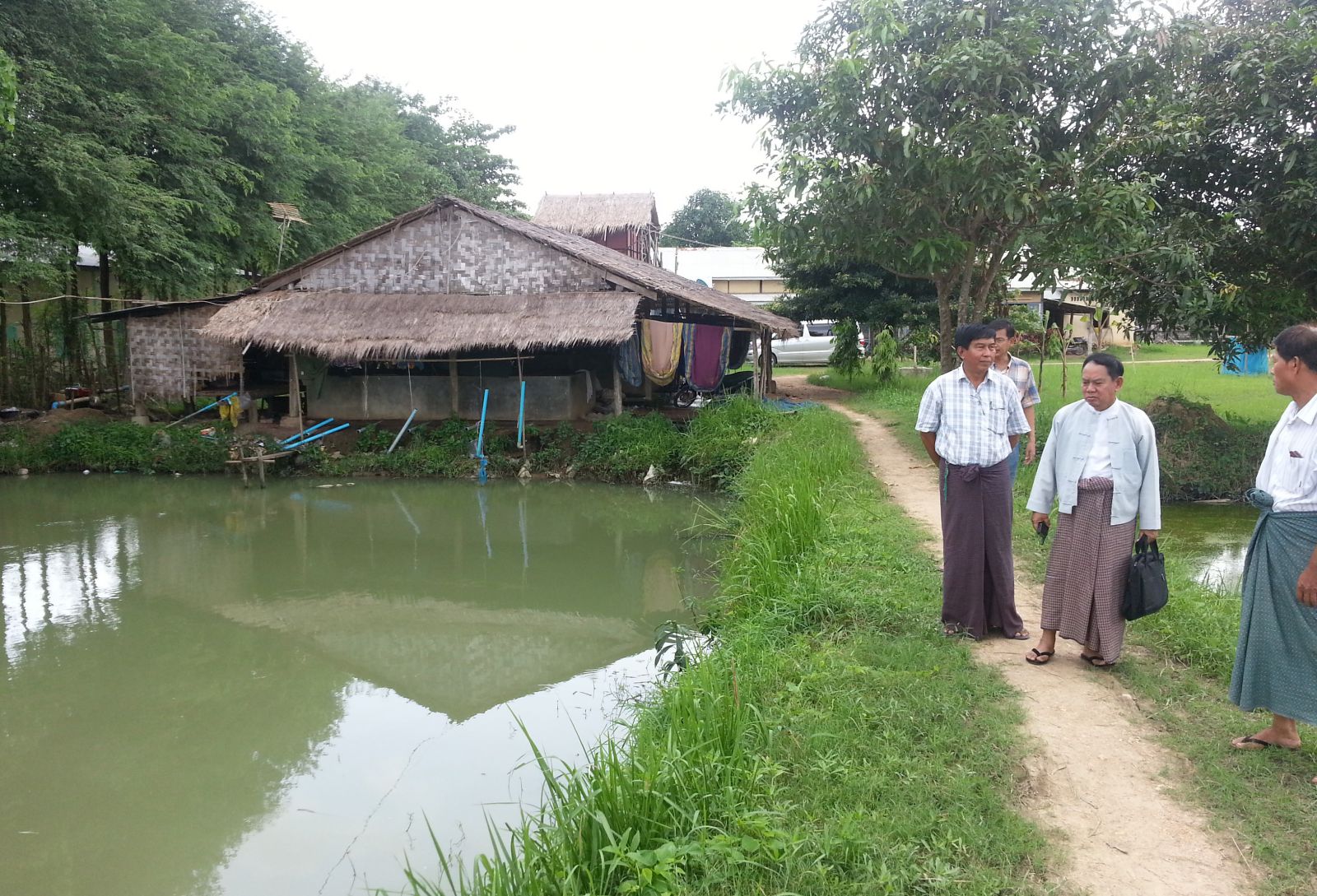 Aquaculture farmers in Myanmar often raise their fish in small ponds like this one, a hatchery for rohu carp located in a farming coop near the town of Pyay. Credit: Matt Parker.
Q: Can you describe the aquaculture industry in Myanmar? It's mainly based around finfish, as opposed to Maryland, where you work with farmers growing shellfish.
Parker: The people that I dealt with were primarily finfish farmers, and they grew rohu carp. A few of them had some tilapia that they were growing also. One group of farmers I met with had tilapia stocked [in] their rice paddies, so they were growing rice and tilapia in the same farm.
Q: What is the benefit of growing tilapia that way?
Parker: I think it was to have a second crop -- to produce more on the same amount of land.
Q: Which seems like it would be beneficial, since rice paddies are flooded for a large portion of the year.
Parker: A bunch of folks were harvesting rice when I was there which was interesting to see, riding down the road. They were draining their paddies and pulling up the rice.
Q: So how important is seafood to the culture and diet of Myanmar?
Parker: It seems like they ate quite a bit. I think every restaurant that I went to had some form of seafood on the menu. There were restaurants that specialized in seafood from certain areas in Myanmar. The Rakhine State is known for having lots of seafood and being kind of spicy. I went to a Rakhine State-style restaurant one night and had some grilled prawns and noodles.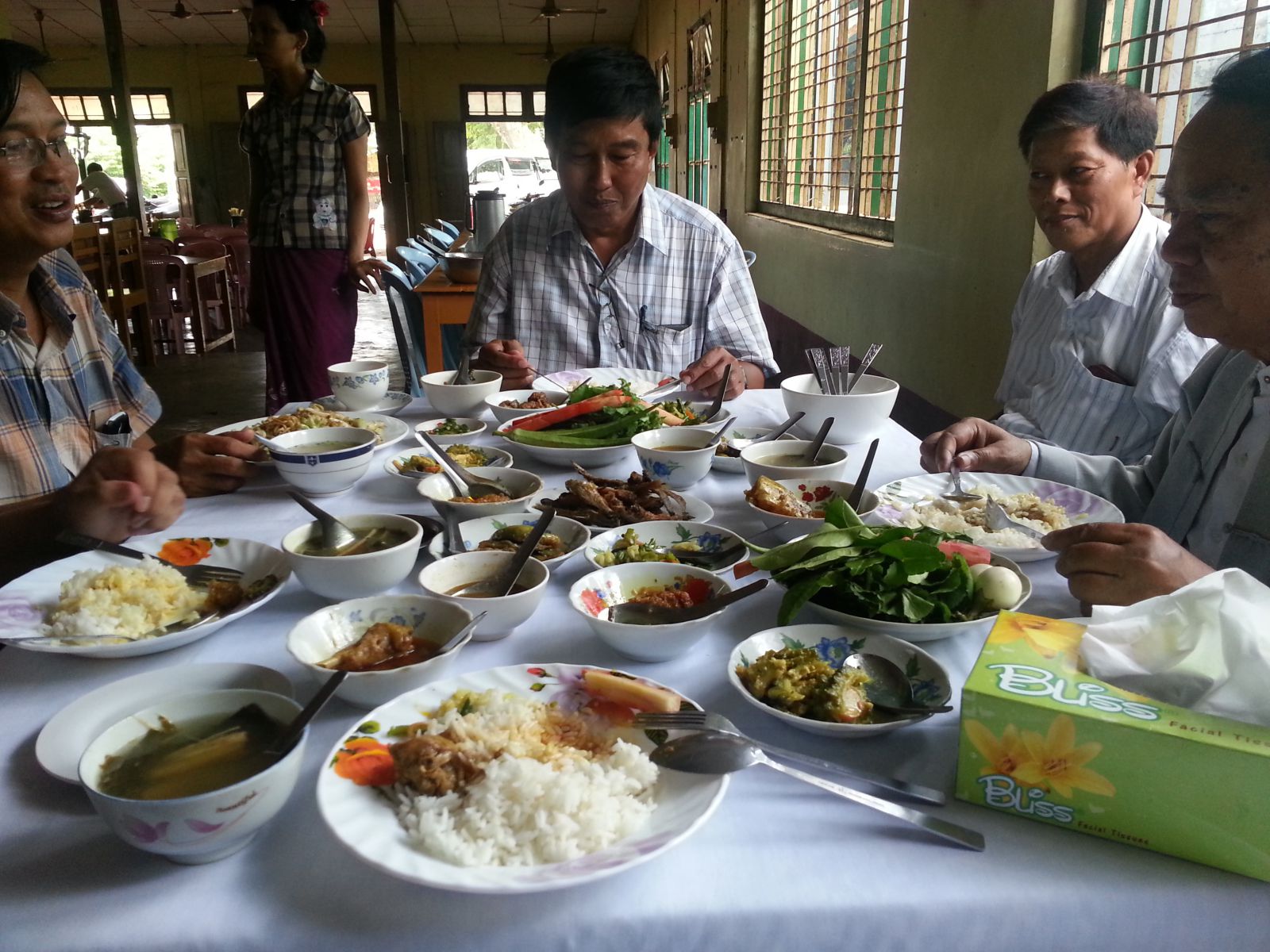 Coop farmers take in a traditional Myanmar lunch. Credit: Matt Parker.
Q: What topics did you cover when talking to the farmers from Myanmar?
Parker: I talked about the importance of record keeping. I talked about how if they keep good sales records, they can look back to see if there's any seasonality or trends in their market that they can take advantage of for planning their production to get a better price. I went over the basic concepts of supply and demand with them and how prices change with demand.
And I did a little bit on sales and marketing and trying to establish a brand -- things to set their product apart so they can maybe move out of a commodities market and into a specialized market.
Q: Like watermen selling oysters directly to restaurants?
Parker: Yeah. In Myanmar, there were lots and lots of little roadside stands selling bananas, coffee, and all kinds of things all up and down the road. So I said if you're on a road that lots of people travel and you're harvesting that day, maybe you put up a sign saying "fish will be harvested and for sale this day."
It's the same thing that we tell our guys here. If they do the work for the direct-to- customer sales, then they can charge more and get a better price.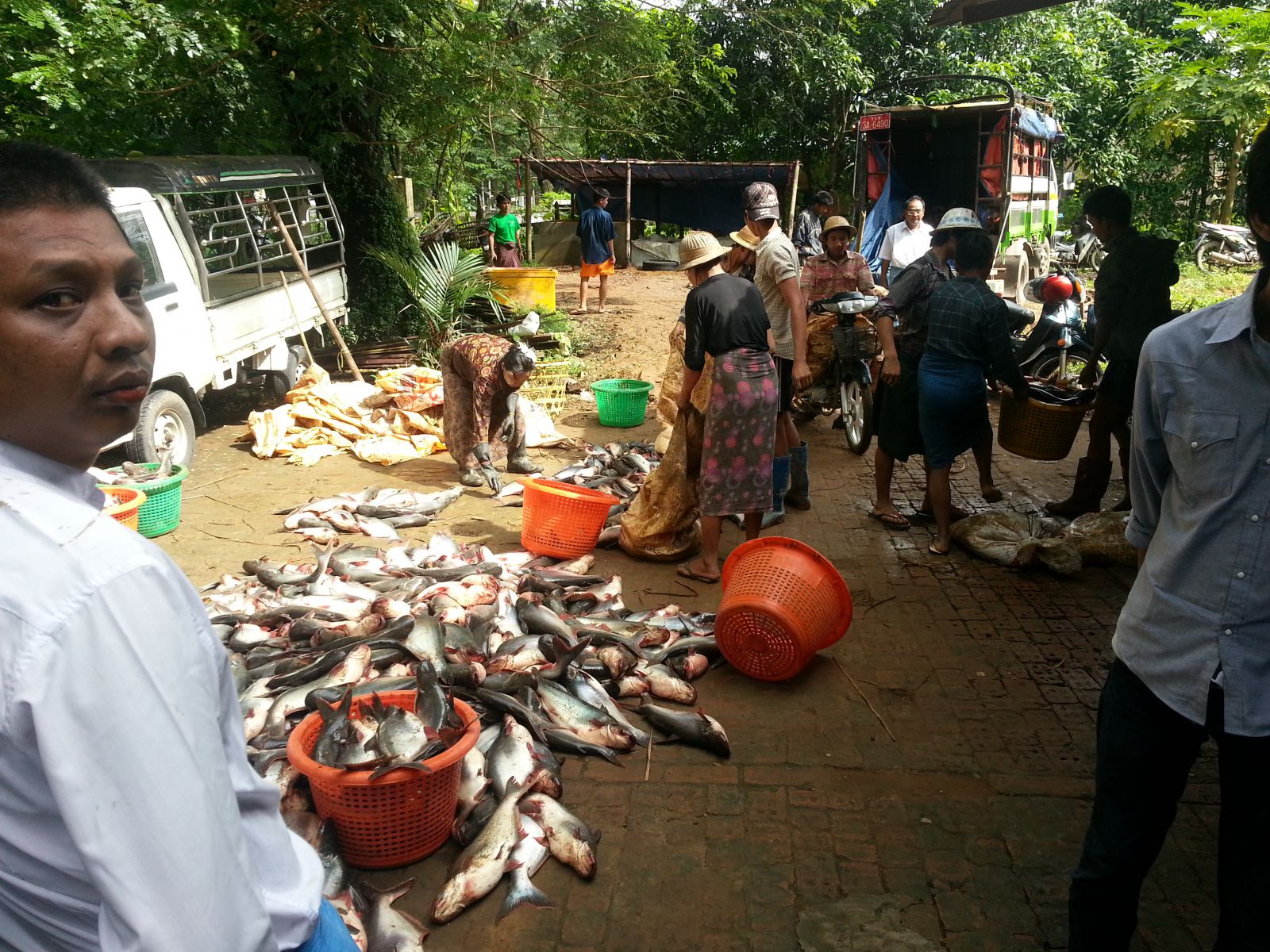 Piles of pangasius, or basa fish, are being readied for sale just north of the city of Yangon. Credit: Matt Parker.
Q: It does seem like a lot of what you covered is the same thing that you would tell folks in Maryland who are looking to break into aquaculture.
Parker: Don Webster [Eastern Shore Agent with the Maryland Sea Grant Extension program] and I are planning on taking the presentations that I developed for Myanmar and adapting them for the oyster industry here. We'll try to do a couple little workshops around the Bay.
Q: A lot of what you talk about seems to come back to good record keeping.
Parker: In all my years of aquaculture, I have noticed that record keeping is one thing that almost every farmer could probably do a little better on.
Q: It seems like a productive trip. Did you get any time to see the sights?
Parker: One morning I went to Schwedagon Pagoda in Yangon which is about 326 feet tall. It's about 2,600 years old and supposedly has eight hairs from Buddha deep inside. I went and saw that, which was pretty amazing. Then I saw it lit up at night, which was even more amazing because it's covered in gold leaf, and there are Buddha statues everywhere.
Learn more about Matt Parker's work and the support that Maryland Sea Grant Extension provides to local oyster growers.
Photo top left: Representatives of the Myanmar Fisheries Federation present Matt Parker with artwork to commemorate his visit in August 2014. Credit: Matt Parker.
-- Daniel Strain
The Blue Crab: Callinectes Sapidus
An essential resource for researchers, students, and managers.  Get your copy today!