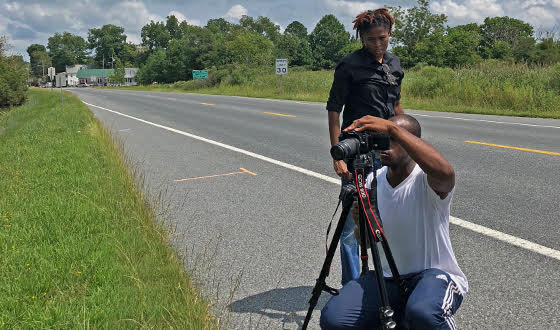 Summary
: This 10-week summer internship will offer science communication and multimedia production training with our communications team at Maryland Sea Grant. We are seeking student applicants who are excited about helping to translate scientific topics related to the Chesapeake and Maryland Coastal Bays, and their watersheds.
This internship is part of the National Sea Grant Community-Engaged Undergraduate Internship Program.
Applications will be accepted through Friday, April 3, 2020. Apply now >
National Sea Grant College Program's Community-Engaged Undergraduate Internship Program
Increasing diversity, equity, and inclusion in coastal and marine science research is an important programmatic priority for Maryland Sea Grant and the National Sea Grant College Program. To further this priority, the National Sea Grant Diversity, Equity and Inclusion (DEI) and Traditional and Local Knowledge (TLK) communities of practice are implementing the Sea Grant Community-Engaged Internship (CEI) program for undergraduate students in summer 2020. CEI is designed to specifically engage students from underrepresented and indigenous communities.
The overarching goal of this internship program is to broaden participation in marine and coastal professions by providing training and mentorship to the next generation of scientists, decision makers, and citizens. The program will do so by recruiting, retaining, and engaging diverse students in place-based research, extension, education, and/or communication that respects and integrates local ways of knowing. As such, we encourage applications from students from underrepresented racial and ethnic groups, individuals with disabilities, individuals from minority serving institutions, and individuals from economically or educationally disadvantaged backgrounds that have inhibited their ability to pursue a career in STEM.
CEI Program at Maryland Sea Grant
The Maryland Sea Grant intern will be mentored by the program's assistant director for communications, Lisa Tossey, and will assist the communications team with the planning, production, and posting of multimedia assets for use on the program's website, social media platforms, and online version of Chesapeake Quarterly magazine. They will also have the opportunity to work on the production of one full multimedia story, which may take the form of a video, animated short, or ArcGIS StoryMap. The topic of the stories will be co-developed by the intern and mentor.
Location, Stipend, and Support
The internship will start after Memorial Day and is located at the Maryland Sea Grant offices in College Park, Maryland. The 10-week internship includes a stipend of $5,000. Additionally, we will provide reimbursement for travel costs for a professional development workshop and a $1,200 housing allowance.
Eligibility
You must be a current undergraduate from a Maryland or District of Columbia college or university seeking a degree in natural, social, or environmental sciences, environmental policy, or science communication. You should have a demonstrated interest in science communication.
Networking and Professional Development
The intern will join a network of students participating in similar programs across the country. The intern will be connected to professional development opportunities through Maryland Sea Grant and other Sea Grant programs. In addition, the intern will have the opportunity to attend a professional development workshop to be held in Silver Spring, Maryland, from August 3-6, 2020. The purpose of the in-person workshop is to provide an opportunity for students to present their Sea Grant work, connect with other students in their cohort, and network with leaders in the D.C metro area. The workshop will also expose the participants to career opportunities in Sea Grant and NOAA, and provide them with professional development to enhance their knowledge, skills, and abilities in ocean, coastal, and marine science disciplines.
How to Apply
To apply, please send your application as one PDF document with Multimedia Internship in the subject line to employment@mdsg.umd.edu by Friday, April 3, 2020. The application should include: 
A one page personal and career goal statement that describes what you will bring to the internship and how this internship will help you achieve your long-term career goals. 
A 200 words or less response to each of the following: 


What aspect of storytelling do you think is most important for engaging a reader/listener/viewer, and why? 
The internship program seeks to broaden participation and increase access to STEM opportunities for underrepresented groups. How might you contribute to this program vision?

One example of your work from school, a job, or an internship that would be relevant to a science communication internship (written, multimedia, social media, etc.). This could be included in the PDF or a link to the example.
A resume.
An undergraduate transcript (released to student acceptable). 
A list of two references. 
Applications will be evaluated during April and students will be notified by Friday, May 1, 2020.
Previous Student Projects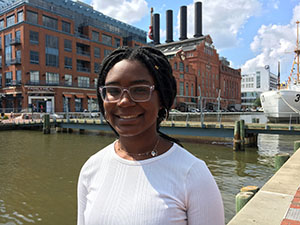 Alexandra Grayson, an undergraduate from Howard University, interned with Maryland Sea Grant during 2018-2019 and researched and wrote a series on mussels in the Anacostia River.
Wyman Jones, an intern from Morgan State University, produced a video with Jalysa Mayo about the community of Smithville on Maryland's Eastern Shore.
Contact Information
For more information about the program, please contact:
Lisa Tossey, Assistant Director for Communications
Maryland Sea Grant College
5825 University Research Court, Suite 1350
College Park, MD 20740
Phone: (301) 405-7500
---
Maryland Sea Grant, located in College Park, is a federal-state partnership that supports scientific research, education, and outreach focused on restoring and preserving the Chesapeake Bay and Maryland's Coastal Bays and watershed resources. We serve as a bridge between scientific expertise and the needs of people who manage, conserve, enjoy, and make their living from the Chesapeake Bay, America's largest and most productive estuary.
The University of Maryland Center for Environmental Science, a research institution, is comprised of four laboratories, the Integration and Application Network, and Maryland Sea Grant, which are located in different regions throughout the state.