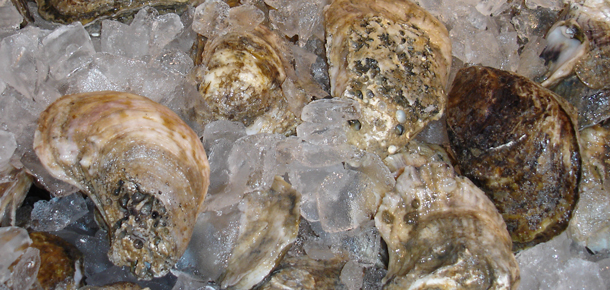 Upcoming workshop: Seafood HACCP Segment Two Course, October 29, 2014. Details
---
The bounty of Chesapeake Bay seafood isn't just delicious — it's also an economic driver. The estuary's crabs, oysters, and fish are at the heart of Maryland's seafood-processing industry. Each year, this sector contributes several hundred million dollars to Maryland's economy.
But our seafood industry has also changed significantly since the turn of the century when watermen pulled oysters out of the Bay by the boatload. In the 1980s, roughly 50 crab processing businesses operated out of the state. By the 2000s, nearly half of those businesses had closed, due in part to a rise in imported crab meat.
Some of the most persistent challenges facing Maryland seafood processors today are:
Competing against the flood of imported seafood coming in from overseas.
Using modern methods and sanitation to keep seafood safe to eat without compromising taste.
Adding economic value to Maryland seafood products, giving consumers more for their money, and garnering better profits for local businesses.
What Extension Can Do For You
Maryland Sea Grant Extension's specialist works with Maryland's seafood processors and other businesses to help them confront those challenges. Many still process crab meat, oysters, and other Bay delicacies like they've done for decades. But new technologies can also help to keep these traditional businesses competitive in a global marketplace.
Our Extension expert works across several fields:
Seafood technology: Developing new tools to improve the efficiency of seafood processing and new ways to market Maryland products.
Seafood safety: Sharing resources on food safety training and decreasing bacterial contamination in Maryland seafood.
Seafood HACCP Segment Two Course — October 29, 2014, 8:00 a.m. to 4:30 p.m.
Horn Point Laboratory Main Lecture Hall, 2020 Horns Point Road, Cambridge, Maryland.
The Seafood HACCP Segment 2 Course is a one-day practical course developed by the Seafood HACCP Alliance (SHA) in cooperation with the Association of Food and Drug Officials (AFDO). This course provides a "standardized curriculum" recognized by the FDA and is taught by trained instructors. Participants must complete the Internet Seafood HACCP Segment One Course to attend this course. Attendees will be able to ask questions, get assistance, and apply what they have learned in the Segment One course. By completing this accredited course, participants will receive a certificate of course completion from AFDO that satisfies the FDA Seafood HACCP Regulation training requirements. The course fee is $120 per person and the registration deadline is October 22. To register, contact Dr. Catherine Chengchu Liu at (410) 651-6636. For more information, download the flyer.
---
Maryland Sea Grant Extension Personnel

Seafood Technology Specialist
---