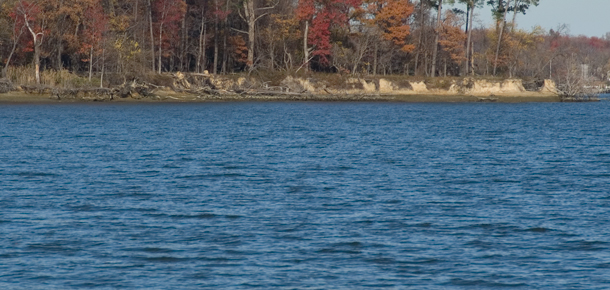 Funding Opportunity
Request for proposals: 2016-2017 Watershed Assistance Grant Program
Deadline: September 28, 2016
The Chesapeake Bay Trust and the Maryland Departments of Natural Resources and Environment are accepting requests from local governments and non-profit organizations for funding for the earliest phases of watershed restoration projects including watershed planning and programmatic development. Full details.
Maryland Sea Grant Extension's Watershed Restoration Specialists are available to help identify potential service providers and community partners.
Clean water is one of the Chesapeake Bay region's most important resources. The Bay watershed's many freshwater rivers and streams provide drinking water for people and habitats for animals and plants.
But many of those same waterways suffer from reduced water quality from a variety of causes — like excess nutrients like nitrogen and phosphorus. Erosion. Harmful algal blooms. Heavy metals and other toxins from human activities.
What Extension Can Do For You
Maryland Sea Grant Extension's specialists work with local governments, community groups, and citizens to help improve water quality on the local level and in the Bay. Click on the links below to learn more about our projects regarding watershed restoration and stormwater management ponds.
Watershed Restoration: Managing Stormwater, Restoring Natural Habitats
Our staff of five watershed restoration specialists help Marylanders install green design projects — like stream restoration projects and rain gardens — that are based on sound practices.
These measures can manage the flow of stormwater locally by soaking up water (to limit flooding) and treating it (to remove pollutants).
We also work to help groups and communities restore natural habitats that can help to improve water quality Bay-wide. Those include wetlands, streams, and forest buffers, which are trees planted along a waterway.
Our specialists assist five Watershed Stewards Academies around Maryland to train volunteers to lead and find funding for community-based watershed restoration projects.
We help communities and individuals find technical assistance and funding to support their watershed restoration activities. For more information on sources of funding for water quality improvement projects, check out our Maryland Watershed Restoration Assistance Directory.
For more information, contact the watershed restoration specialist in your region and learn more about their work:

Northern Maryland
(Baltimore, Carroll, and Harford Counties and Baltimore City)

Central Maryland
(Frederick, Howard, and Montgomery Counties)

Southern Maryland
(Anne Arundel, Calvert, Charles, Prince George's, and St. Mary's Counties)

Mid and Upper Eastern Shore
(Caroline, Cecil, Kent, Queen Anne's, and Talbot Counties)

Lower Eastern Shore
(Dorchester, Somerset, Wicomico, and Worcester Counties)
---
Water Quality Improvement: Native Plants, Stormwater Management