Learning About Menhaden: A Journey to Reedville
Emily Liljestrand
•
January 24, 2017
We had been driving for about four hours down the Atlantic coast, across fields and under wide skies, when we finally pulled off the road to a little café called Newsome's Restaurant in Burgess, Virginia. I ordered some menu items that I had never heard of before – a "seadog" (a hot dog facsimile containing what I thought might be catfish, though the menu did not say and I didn't care to ask) and a Northern Neck Ginger Ale – and that's when a sense of otherness really began to set in.
Though neighbors, Maryland and Virginia are each famous for different fish and fisheries, which was reflected in my lunch. And seeing one of these Virginia fishery operations was the purpose of our lengthy field trip that October morning.
Our diverse group of nine, spread across three cars, had made the trek from our home campus of the Chesapeake Biological Laboratory in Solomons, Maryland, to Reedville, Virginia, the self-proclaimed "town that fish built." Unlike many other coastal communities that profit from tourism or sports fishing, Reedville is unique for its key industry that centers on the Atlantic menhaden – a fish species nearly nobody has heard of but nearly everybody uses in one form or another.
For me, menhaden were no strangers. I have been studying this species for my master's thesis research and had my own motivations for helping to organize this trip. This was an exciting educational opportunity, a chance to learn a bit more about the fish upon which I'd been building my mathematical models for the past two years. I was incredibly grateful to get behind the scenes at the Omega Protein menhaden processing plant, the last of its kind on the entire Atlantic coast.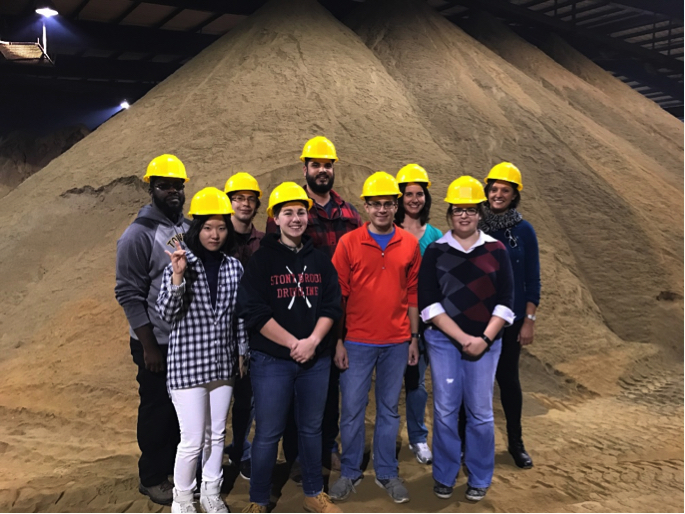 Author pictured second from the right, and as advised, wearing clothes she wouldn't mind disposing of afterwards. Credit: Bill Purcell​
Atlantic menhaden have gotten more attention in the past few years because of concerns about whether Omega is overharvesting them. The company says evidence indicates its harvests are sustainable. (Read more about this discussion here in Chesapeake Quarterly, Maryland Sea Grant's magazine.) This small forage fish, though completely unpalatable to all but the most desperate diners, can be found in many commercial products. They are processed into omega-3, fatty-acid-rich nutritional supplements as well as aquaculture feed and fertilizer. People have utilized them for hundreds of years. The name "menhaden" even comes from the Native American word "munnawhatteaug," which means "that which fertilizes."
To get from this one-foot-long, oily, bug-eyed creature to the myriad of products we use them for requires several steps of fishing and processing. Most of which we got to witness first-hand on our trip to Reedville.
We were welcomed by the Omega Protein staff who guided us to a cozy conference room where we watched a video that demonstrated the fishing operation. Delightful as it might have been, having nine students and faculty go out on a fishing vessel that can often spend days offshore is a bit impractical.
But in the video we got to see the whole fishing process. Spotter planes take off across the Chesapeake Bay and nearshore Atlantic waters, looking for the telltale sign of a menhaden school – darkened bubbling waters where menhaden were being targeted by predatory fish and sea birds. Pilots can estimate with a high degree of accuracy not only the size of a school but also the average size of menhaden within that school.
The fishing vessel charges onto the scene and once in position, deploys two smaller seine boats that together use a single net to rope up as much of the school as they can. Once the bottom "purse string" gets pulled, it's only a matter of hauling everything up onto the larger vessel and/or vacuuming menhaden into the hold. If done efficiently, the whole process may take no longer than half an hour.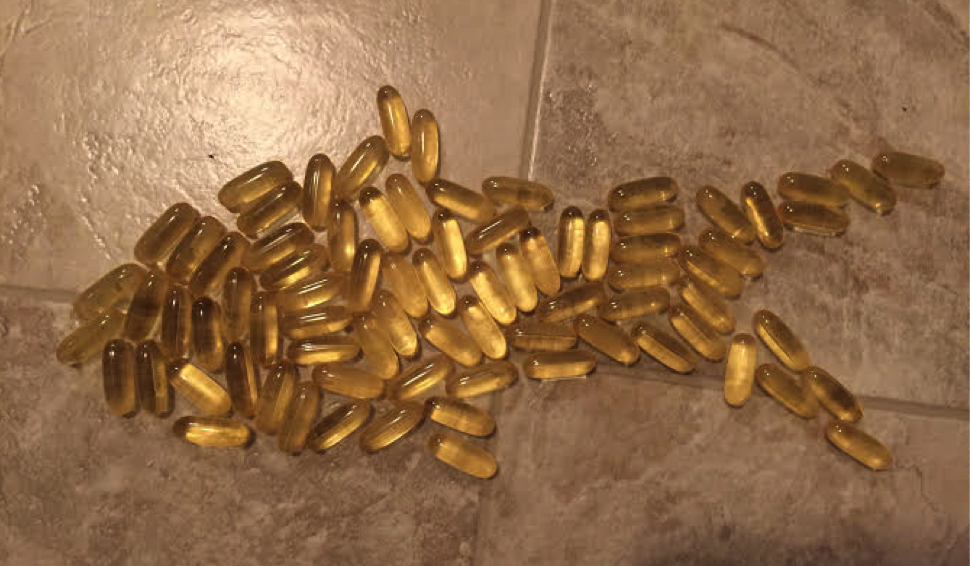 My approximation of a menhaden, made from a menhaden byproduct: nutritional pills containing omega-3. Credit: Emily Liljestrand
Our guided tour around the on-shore facility in Reedville showed us how the processing continues onshore. The school of menhaden (or multiple schools, collected over several days) are deposited into a large holding vat and cooked at extreme temperatures. This procedure breaks down the fish and creates a sort of menhaden "slurry." Through a series of heating, cooling, and further chemical processing, the lighter liquid oil gets separated from the harder, denser meal.
Omega Protein told us about its efforts to make its processing operations sustainable. It uses recycled/reclaimed water extracted from the menhaden themselves as a cooling agent, which has saved about 18 million gallons of water annually, and safely disposes of nitrogen byproducts. Omega's fossil fuel consumption has dropped by 80 percent since 2012 thanks to several plant renovations.
The final stop of the tour was a one-of-a-kind if not completely unexpected sight: actual mountains of fishmeal in a storage warehouse. Imagine sticking your nose right into a bottle of fish food, and you might have some idea of what that room was like. 
Learning about Omega's fascinating industrial operations and the company's efforts to make them sustainable helped me to understand my own research a little bit better.
My research is intended to provide data and understanding that can help maintain the long-term sustainability of the menhaden population. To do this, I'm currently using a "mark-recapture" data set to estimate menhaden migration and death rates, both from fishing and natural causes. If we have good estimates of these metrics, we will know how much of the population we could safely fish while still avoiding large changes to the population size and minimizing overall impact.
During a mark-recapture study conducted from 1966 to 1969, researchers marked more than a million menhaden with individual metallic tags to track them in coastal waters. To recapture this abundance of tags, a little ingenuity was necessary. Instead of trying to catch the tagged fish individually, researchers arranged for large magnets to be installed in multiple fish-processing plants around the Mid-Atlantic, including at Omega. These magnets attracted the tags as the fish were processed.
The tagging study is long over, but some of these magnets remain at the Omega plant. Seeing how these magnets were designed and placed will give me a better sense of how I should incorporate this collection technique into my mathematical models. You can find out more about the Sea Grant-funded research project involving these tags run by my adviser Michael Wilberg here.
As a modeler, I rarely if ever get a chance to venture away from my computer and experience fisheries science in the "real world." Every time I do, it becomes the subject of a new blog post! (See here and here.) I love my project and my deskwork and wouldn't ever trade it for fieldwork-heavy research. But I do treasure the few times I get my hands dirty, not to mention my clothes, which tenaciously carried the fish food odor from Omega for days. I am thankful to be in a graduate program that affords me these opportunities. Ultimately, they make me better at my own research and a better scientist overall. Not to mention the chance to be a little adventurous with my lunch choices.
Photo, top left: Two seine vessels cooperatively netting a school of menhaden. Source: oceansart.us
Sign up to receive email alerts about new posts to the Fellowship Experiences blog
See all posts to the Fellowship Experiences blog
The Blue Crab: Callinectes Sapidus
An essential resource for researchers, students, and managers.  Get your copy today!