Getting the Most Out of Scientific Conferences – Professionally and Personally
Emily Liljestrand
•
October 13, 2015
As the child of academics, I've been attending scientific conferences before I could walk. The principal appeal at the time was the hotel swimming pools and the unlimited Skittles at every table in the lecture hall (thanks again, American Society for Neuroscience!). As my interests shifted from candy and "Marco Polo" to my own future in science, I've finally gotten the chance to start attending conferences on my own and within my field of fisheries sciences. By attending domestic meetings earlier this year, I learned about an exciting international conference from which I have just returned — the ICES (International Conference and Exploration of the Seas) meeting in stunningly chilly Copenhagen, Denmark.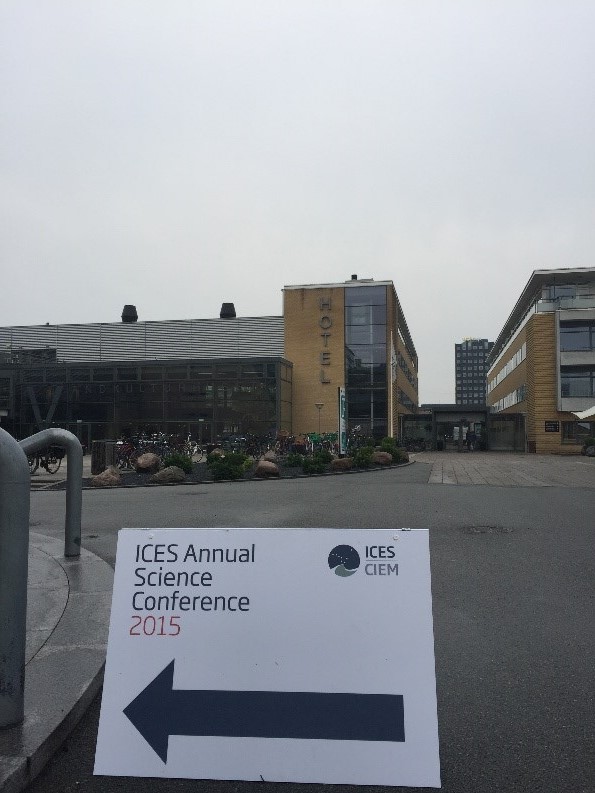 ICES Annual Science Conference, Copenhagen, Denmark, 2015
There I attended some highly engaging discussions about the interplay between industry, science, and government in regards to fisheries management. I walked away (well, took a series of trains and planes away) with greater specific knowledge of certain fisheries, including Mediterranean artisanal cephalopods and Australian velvet belly lanternsharks. But I also gained a better, broad understanding of how my role as a scientist, even a burgeoning one at that, fits in among all of these policy makers, business owners, and fishers. And though I am in no way an expert after only these three meetings, I wanted to give some suggestions about how to prepare for and conduct yourself at scientific conferences. I've acquired at least a modicum of experience over the past year at such events. Aimed primarily to graduate students and/or young professionals, the following are my tips on what to do before you leave for the conference, while you're there, and once you return to your home institution.
Before You Leave
Research the city. What's the best food in the city/region? In Portland we found several artisanal bakeries and vegan restaurants where we were happy to spend our per diems. We made sure to visit the famous Voodoo Doughnut and Powell's Books, both of which turned me into a glutton in different ways! No matter where and for what purpose you travel, there will be time to venture out for lunches and dinners. You want to make the most of this time by sampling the city's wares.
My haul from Voodoo Doughnut and Powell's Books
Research the conference/venue. Who are the plenary speakers going to be (if any)? Figure out which "big wigs" from your field will attend. If your advisor is not going to be there, ask him or her whom you should make sure to meet at the conference. Research the city's public transit system and figure out how far away from your hotel you'll be (and consequently, how you will get to the venue each day).
Pack: Umbrella, business cards, posters/presentation. The former, because I personally tend to forget, and it would be terrible to be completely drenched while attending a talk (and particularly uncomfortable if presenting said talk). Trust me, I learned this one the hard way in the notoriously drizzly Pacific Northwest. Business cards make you more professional and memorable to the other attendees who, like you, meet dozens of other researchers during a conference. Reach out to your company or university because there are usually resources, or at the very least templates, for designing and printing business cards. If you have a strategy for printing your poster at your destination, clearly you don't need to worry about forgetting it.  But if you have it pre-printed, make double-triple sure you don't leave it by the door on your way to the airport.
Look up poster/presentation requirements. Before you even make your PowerPoint presentation or poster, familiarize yourself with the requirements. How much room will you have to display your poster? How long are the presentations? Allow about one minute per PowerPoint slide. If you will be presenting in a lit room, make the background light or white. If the lights will be dimmed during your talk, a darker background for your slides might be more appropriate.
If international, bring passport and research visa requirements. Picture yourself, a month away from a big fancy global conference in China, a place you've been thinking about your whole life. The Great Wall, the Forbidden City are stopping points on your trip. You call your cousin who was there last year for some recommendations on places to go, and he gives you a whole list. He remembers how arduous the visa application process was, though. Wait — what visa application? Suddenly you're in a flurry, trying to learn the difference between a diplomatic visa, courtesy visa, service visa, and ordinary visa. Don't let it happen to you. I was once stranded for three days in Edinburgh waiting for a friend to get her visa back from the U.K. consulate so she could join me for our Scottish backpacking trip. Be particularly aware of the requirements if you are not a U.S. citizen.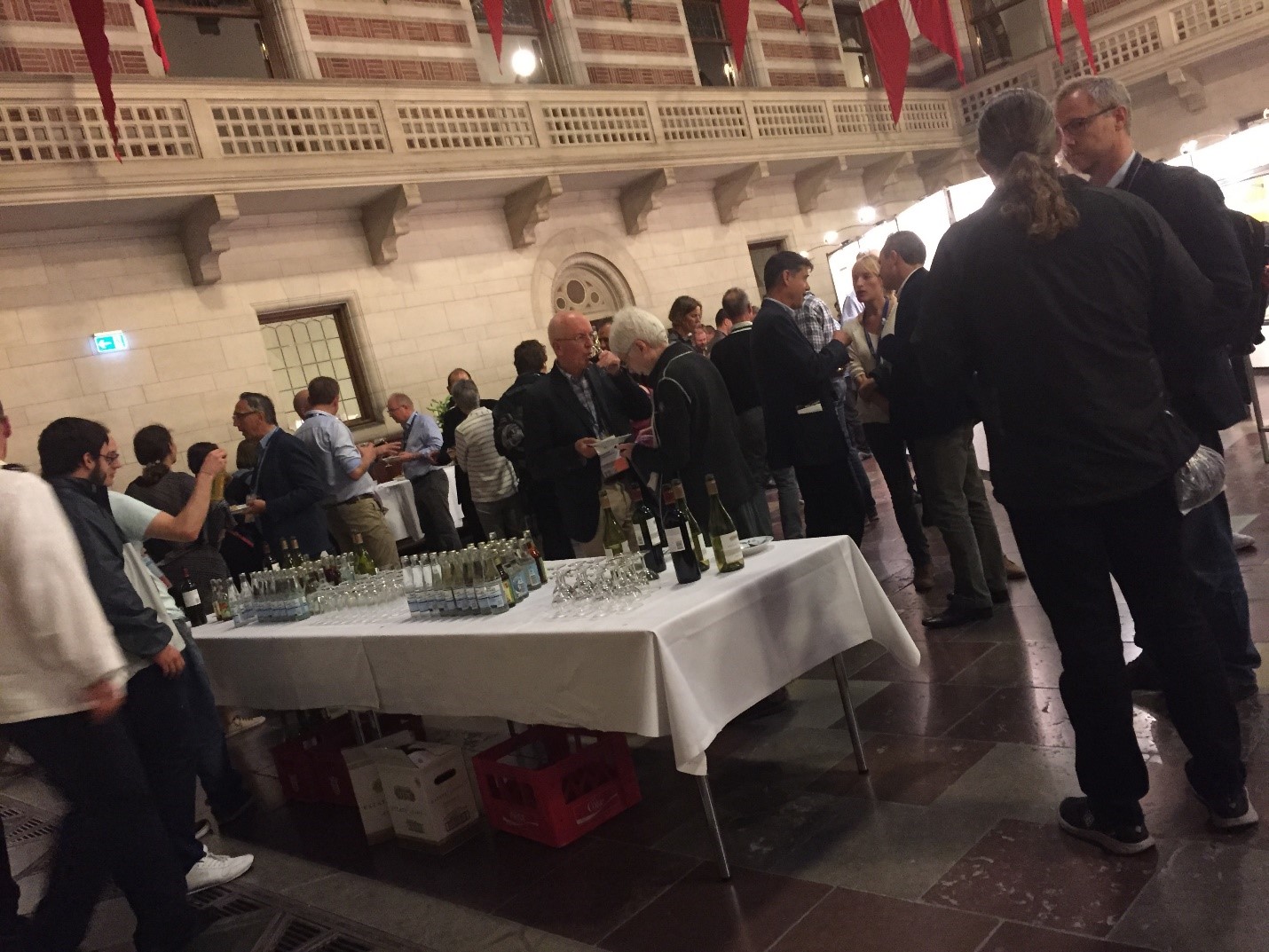 Social event at Copenhagen City Hall
At the Conference
Leave shyness at the door. As an introvert, I know the appeal of staying at the periphery. But shying away from conversations also keeps you from meeting potential collaborators and advisors. Don't be afraid to introduce yourself to those "big wigs" or people who have authored papers you've read and appreciated. Those people are also at the conference to present their work and to network. I often get it in my head that I'm too "unimportant" (i.e. "unpublished") and that approaching tenured faculty would be met with haughty indignation. But even the most widely cited scientists are usually glad to meet an up-and-comer. They were there once, too. It might help to ask them questions about themselves and their work.  Scientists are usually happy to talk about the former and are definitely ecstatic to discuss the latter.
If you have trouble, have a friend or mentor introduce you. If neither of you knows the person you want to talk to, approach him or her together. Your advisor (if he or she is there) will definitely know people.  Ask your advisor to introduce you and bring you into the circle of conversation.
Attend as much of the conference as you can – but choose deliberately. Conferences are a marathon. And not just because sometimes you literally have to race someone to get at the free coffee and croissants provided at 10:00 a.m. SHARP. All 20 hours of waking moments are usually devoted to a talk, a meeting, a lunch meeting, a workshop, beers with that rival lab from across the country, film screenings, lab demonstrations, or exploring the city and feeling guilty that you're not doing one of those other things. Realize that the quality of your engagement with conference activities should take precedence over the quantity. If you know you're just going to fall asleep in your chair at a presentation, don't go.  If you want to spend an hour catching up with an old undergraduate buddy instead of sitting through four genomics talks, do that. Think about what use of your time is best for you and your career.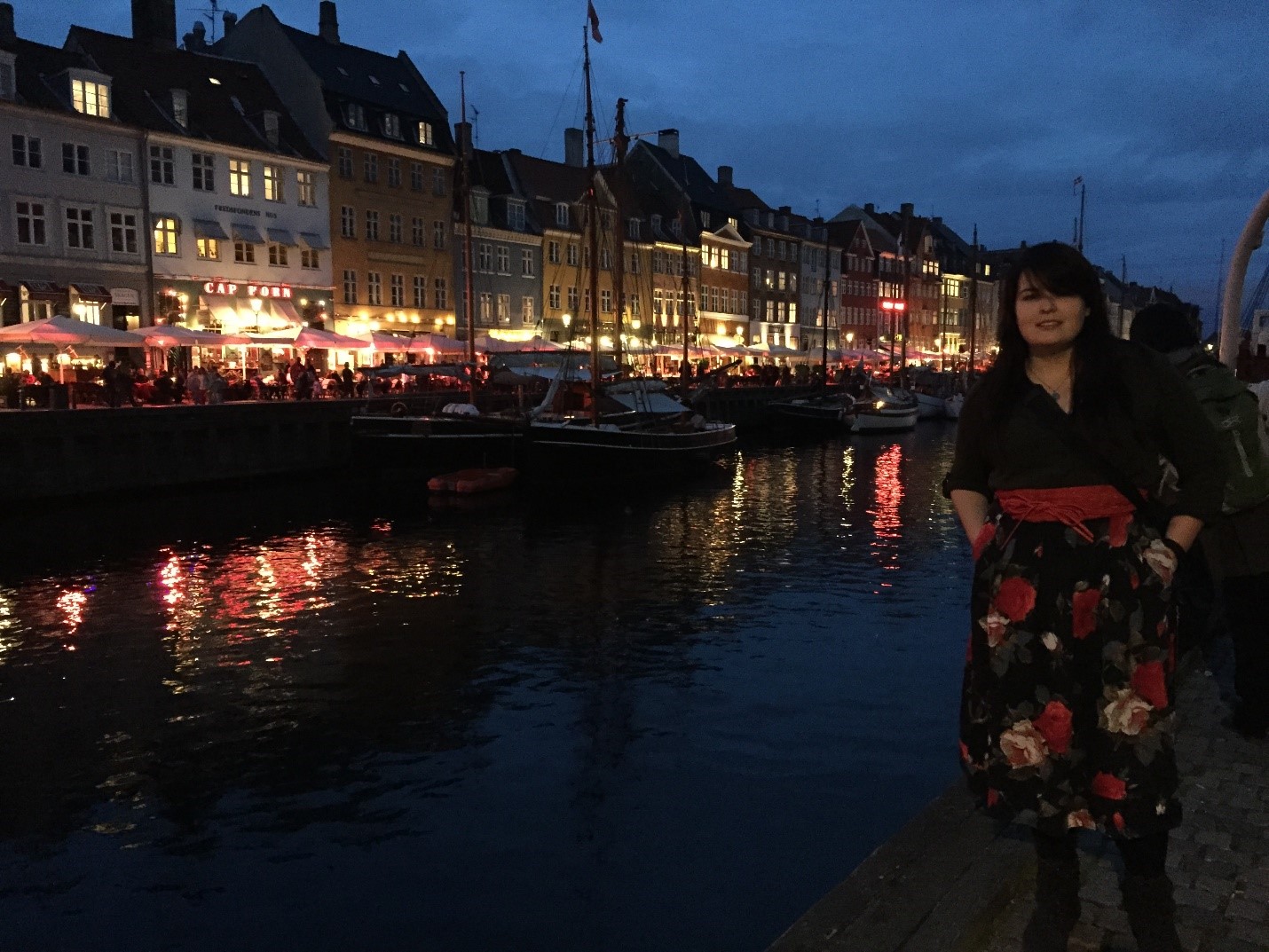 The author being a tourist in Copenhagen​
Collect your receipts. Easy to forget. Gonna need those for reimbursement. 
Put aside time to explore the city. Believe it or not, but it's not always about the science. A good conference will offer some scheduled events at interesting venues throughout the city, but if you find an afternoon where none of the talks appeal to you, or maybe there are several concurrent business meetings and nothing for you to attend, go be a tourist. I promise, it's good for your mental health and produces some great pictures for your Facebook or lab webpage.
After the Conference
Follow up with anyone you met. It's a week after the conference, and you're finally caught up with schoolwork and sleep. Send Friend requests to colleagues and other grad students. Maybe some of the older crowd have LinkedIn accounts. But most important, if you need to make an impression on someone who helped you, or from whom you are interested in getting a job or academic position, send a physical thank-you card. I cannot stress this enough — you can get a 20 pack for like $5 in any number of shapes, colors, and personality. As a relic of my Asian Studies days, I still have about 100 with cherry blossoms.  They're elegant, professional, and people love to receive one.  Scientists get 100 emails before breakfast, so yours, even the most beautifully crafted and well intended, can get wiped out in that wave. A physical letter is hard to miss and harder to get trashed.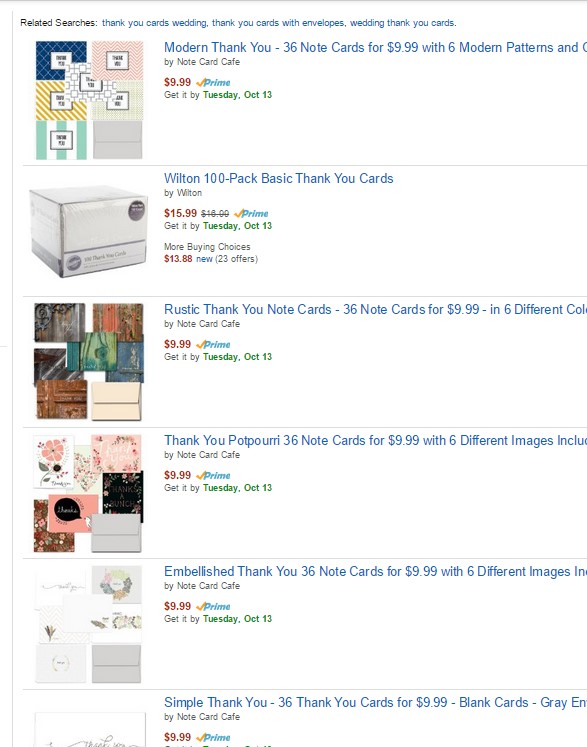 A small sample of possible cards.​ Credit: Amazon
Submit your reimbursement form. Pretty straight forward. Hope you didn't lose those receipts!
Utilize what you've learned. If you watched a really interesting talk, use Google Scholar or the Web of Science to find out if the speaker published the material. If you think it has direct applications to your work, don't be afraid to email the presenter with follow-up questions even if you didn't get a chance to introduce yourself at the meeting itself. Summarize for yourself what you accomplished and learned so if necessary you can re-tool your strategy for attending your next conference. 
Plan for your next conference. Most will be annual. Some semi-annual. Either way, you probably can't wait to do it again!
Photo, top left: Portland welcomes the American Fisheries Society. All images credit to Emily Liljestrand unless otherwise noted.
Sign up to receive email alerts about new posts to the Fellowship Experiences blog
See all posts to the Fellowship Experiences blog
The Blue Crab: Callinectes Sapidus
An essential resource for researchers, students, and managers.  Get your copy today!