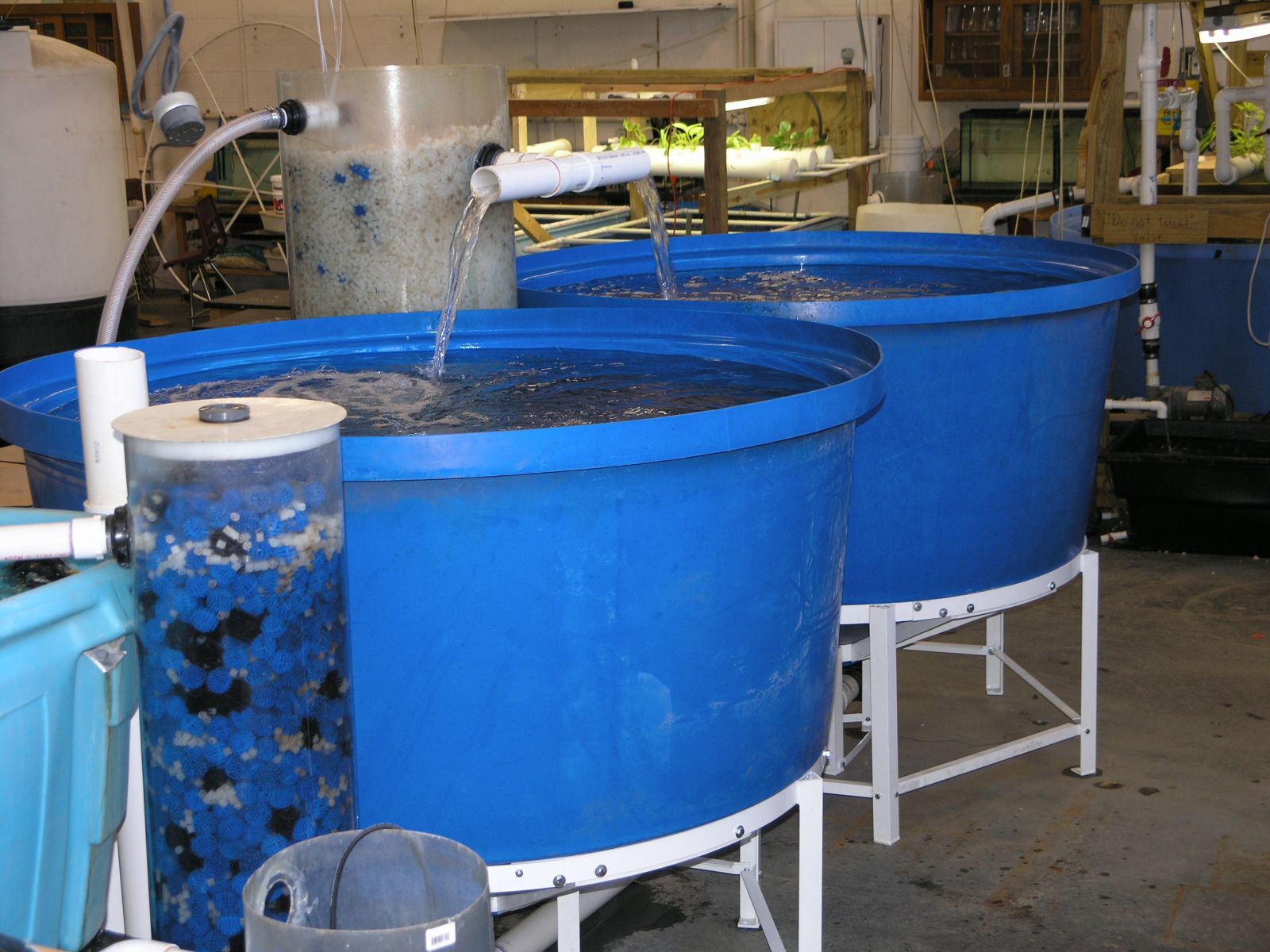 A growing number of educators in Maryland are discovering that aquaculture (fish farming) offers an effective tool for teaching science and an excellent vehicle for project-based science (PBS).
That's because aquaculture is interdisciplinary — understanding how it's done requires understanding aspects of physics (like water flow), chemistry (water quality and pH), and biology (fish and plants).
Maryland Sea Grant has developed a network of "aquaculture educators" called Aquaculture in Action. It's based on a model program that began with Carroll County Public Schools in 1997. Now these programs have spread to 36 schools in 12 Maryland counties (see a complete list of Aquaculture in Action participating schools). We encourage you to inquire if you are interested in joining the network!
The Aquaculture in Action program consists of some fundamental elements that are key to its success:
One-week workshops: The workshops support teachers with an instructional guide, materials, and equipment for the construction of a 260-gallon recirculating aquaculture system.

A web portal: This gives teachers and students the ability to enter project data related to their research in the classroom and share information and ideas with those at other schools.

Support by Maryland Sea Grant and its partners throughout the school year: This includes help to obtain native fish for culture and release of fish in coordination with MD-DNR at the end of the school year at approved locations in Maryland.

Current support from the NOAA Chesapeake Bay Office B-WET program is supporting the addition of new schools from Baltimore City, Harford County, Baltimore County and Allegany County public schools.  Additionally, this support will help reintroduce native species like yellow perch and shad in the classroom with support from MD-DNR and the Institute of Marine and Environmental Technology (IMET) in Baltimore.
---
Maryland Sea Grant Personnel

For more information, contact:
Assistant Director for Education
---
Articles and Resources for Aquaculture Education
Aquaculture education projects at participating schools: See details of projects. For example, Westminster High School is raising clownfish, a colorful tropical species displayed in aquariums (for more information, download the article).
"Problem-Solving Science Teaching." This Maryland Sea Grant video provides an introduction to Aquaculture in Action. Students learn to tackle and solve a slew of research questions and technical problems, ranging from water quality to food supply to fish disease.
"The Fishman Cometh": Article about Aquaculture in Action in Chesapeake Quarterly, Maryland Sea Grant's magazine.
"New Recirculating Aquaculture Technology Comes To Carroll County": South Carroll High School set up a new type of recirculating, anaerobic process using the Anammox process. The system was designed to reduce or eliminate the need for water changes and the mortality of the fish in the system.
See a photo gallery of an Aquaculture in Action workshop showing teachers and the fish tanks used in aquaculture education.
Finfish Aquaculture Workbook Series: Maryland Sea Grant fact sheets.
Aquaculture publications from Maryland Sea Grant
Northeastern Regional Aquaculture Center
Raising Horseshoe Crabs in the Classroom, Maryland Department of Natural Resources
ALERN: ALabama Education in aquatic sciences, Aquaculture, Recreational fisheries and Natural resource conservation.
Partners in Aquaculture in Action
Carroll County Public Schools
Center for a Livable Future Aquaponics Project
Chesapeake Bay Trust
Horn Point Laboratory, University of Maryland Center for Environmental Science
Institute of Marine and Environmental Technology, University of Maryland Center for Environmental Science
Maryland Department of Juvenile Services
Maryland Department of Natural Resources
Maryland Sea Grant