Teaching Science on TV: A Search for Salamanders
Adam Frederick
•
April 29, 2016
"Aqua Kids" Episode Highlights Importance of Spotted Salamander as Indicator Species, Teaching Tool
Spring in the northeastern United States brings many pleasures for those of us who enjoy warmer temperatures and longer daylight hours. For naturalists, herpetologists, and nature lovers, this is a peak time of year for refreshing rainfall, the sights and fragrance of early blooms, and trips to springtime pools.
Also called "vernal" pools, these temporary bodies of water are formed by snowmelt and rain in forests, along roadsides, and near coastal areas. Some people look at these pools and see only large puddles. Yet, the well informed know that nighttime visits to them yield a veritable hotspot of life. These pools—or wicked big puddles as our northern friends term them — provide opportunities to witness events that only happen for a few days to weeks, depending upon the weather. The emergence of spring peepers and wood frogs after the snowmelt are two of the most common, and very audible, harbingers of the annual "race to mate."
Recently I got the opportunity to share this unusual ecosystem with a much wider audience. For the past 12 years, I have worked with the Aqua Kids syndicated TV show and its producer, George Stover.  The show describes environmental and marine science for school students. A number of years ago, George contacted me about appearing in an episode of Aqua Kids. It was a natural fit for me in my role as an education specialist for Maryland Sea Grant, and I have found real pleasure in working with the Aqua Kids program.  It provides another vehicle for reaching the informal education audience, and most important it is fun and informative.
Aqua Kids 2015-12 Salamanders - Indicator Species from Adventure Productions on Vimeo.
George and I talked many times about how to illustrate for television audiences examples of field research that can inform conservation measures. I ended up appearing as a guest scientist in several episodes of the show that focused on salamanders, water quality, and the importance of a healthy watershed.
Then in 2011, I approached George about a unique idea for a new Aqua Kids episode about salamanders — in particular, the spotted salamander.  The idea came about from my numerous treks to the Frederick Municipal Forest — both day and night for the last 20-plus years — and locating vernal pools where all the amphibious springtime magic happens. During this span, I have observed annual migrations of the spotted salamander and invited interested school educators to observe them on cool rainy nights.
This particular species (Ambystoma maculatum) is found from Maine to Georgia and parts of the Midwest, but the animals are difficult to see as they are strictly nocturnal. After mating season, in spring, they spend most of their time underground in the quiet confines of small mammal burrows and tunnels.
George agreed to produce an episode about this salamander. In the episode, I took three students and the on-screen host to vernal pools in the Frederick Municipal Forest, just north of Frederick, Maryland, and to a natural spring or seep in nearby Gambrill State Park. One of the points I made is that salamanders are an "indicator species" whose presence and abundance reveals the water quality and other conditions of the ecosystem in which they live. In recent years, salamanders and other amphibians have been in decline worldwide, a sign of stress on the environment.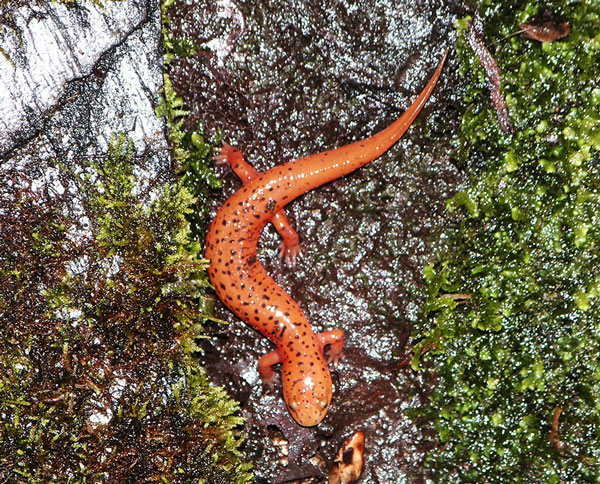 Northern red salamanders are also found in Maryland forests. They make their home in cool clean natural springs. Their beautiful red color and black flecks are stunning. Credit: Adam Frederick
Watching the crew shoot an episode of Aqua Kids was a real learning experience for me. Behind the scenes, we (George and the other crew members) would go over the main points an episode is trying to teach the audience and then bring together as many of the natural sights and sounds in the field as possible that help to explain that message. When you are in the field with a crew and cameras, just about anything can happen so you need to be prepared.  Once we filmed an episode about salamanders and watersheds in Gambrill State Park between thunderstorms and downpours and had a complete blast! It actually was very helpful since the salamanders love the rain. 
What I find so enjoyable about participating in Aqua Kids is the flexibility and adaptability of the young performers and technical crew and their patience and good humor with taking and retaking (and retaking!) a scene. Out-takes would be fun to watch for sure since you naturally screw up lines. Once a few people started laughing, it could take a while to settle everyone down. As an educator I would highly recommend the experience since it provides challenges that you can't anticipate, coupled with the editorial work of providing the correct information.
You can watch the Aqua Kids episode about salamanders above. I hope you enjoy it and consider spending more time visiting your local forest this spring and at other times of the year to see the natural wonders there. You can also learn more about spotted salamanders in a children's book I coauthored about them.
---
Photo, top: A spotted salamander makes the annual migration to a vernal pool in Frederick Municipal Forest, in Frederick, Maryland. Hundreds of these salamanders will congregate there over a period of a few days. Credit: Adam Frederick
Read more about Adam Frederick's work in K-12 education.
In 2016, this episode of Aqua Kids won a Telly Award for excellence in television programming.
Aqua Kids is broadcast on these local stations:
Baltimore, WBFF-DT, 11 a.m. Saturdays
Washington, DC [Hagerstown], WJAL-DT, 7:30 a.m. Saturdays
Sign up to receive email alerts about new posts to the On the Bay blog.
See all posts to the On the Bay blog.
The Blue Crab: Callinectes Sapidus
An essential resource for researchers, students, and managers.  Get your copy today!