Stormwater Saviors: How These Volunteers Are Becoming Master Watershed Stewards
Daniel Pendick
•
August 8, 2016
This is the first of three posts about a group of Maryland residents who were admitted to the 2015-2016 Cecil County Watershed Stewards Academy. They are only the second set of participants in the new program.
Maryland now has five Watershed Stewards Academy programs spread around the state. These in-depth "train the trainer" programs prepare volunteers — ordinary people who may be your neighbors — to help their communities improve management of stormwater runoff, which carries pollutants into local waterways and the Chesapeake Bay beyond.
People who complete the academy training are certified as Master Watershed Stewards, which means they have the tools to begin working in their communities. But becoming a Master Watershed Steward is no small feat.
The total length of the training program varies, but all five academies in the state require 45 to 60 hours of weekly classes and fieldwork. Add to all this several months of independent work to plan, fund, and install rain gardens, conservation landscaping, and other "best management practices" to better manage stormwater and improve water quality.
Throughout the extended training, some stewards need to juggle both careers and families. "It's a major commitment on their part to do their jobs and then come in and learn about managing stormwater in their communities," says Eric Buehl, a watershed restoration specialist with Maryland Sea Grant Extension
Buehl helps to manage and teach the Cecil County Watershed Stewards Academy with fellow watershed specialist Jennifer Dindinger. Marshall McSorley — an inspector with the Sediment and Stormwater Branch of the Cecil County Department of Public Works and the coordinator of the county's Watershed Stewards Academy — pitches in to help with classroom training and fieldwork, both of which are required to complete the course.
What type of person is willing to go through all this to become a Master Watershed Steward? And what motivates them to stick it out to the end?
To find out, I've been following the current group of participants in the Cecil County training program. We first met in February, about five months after their training began. When I tagged along on a field trip, the ground was still frozen. That day the group visited three locations in Cecil County where the stewards were challenged to identify opportunities to remediate stormwater problems.
As the morning began, the group and I shared coffee and donuts at the Cecil County Administration Office in Elkton. I knew the volunteers only as a list of eight names in my notebook: Brian, Donna, Janine, Jason, John, Jordane, Kathy, and Randy. But over the course of the day, I discovered more about them and their motivations.
The trainee's backgrounds and interests are diverse. The group included a mid-career civil engineer, an environmental science student, a town clerk, a retired medical research worker, the manager of Elkton's drinking water and wastewater facilities, and a mechanic at the wastewater treatment plant.
But the trainees do share an essential qualification. "When we interviewed them as applicants, they were all interested in learning how to help clean up the Chesapeake Bay," Buehl says. "They were concerned about the health of the Bay and wanted to do something to help."
A passion for improving water quality drew them to the academy, but what would keep them in? It turns out that determination — not only inspiration — is the key to the success of stewards in the Cecil program. "The biggest challenge is the long time commitment, but we have to be fairly strict about attendance," McSorley says. "We expect the participants to miss no more than two sessions."
The classroom sessions are held on weeknights. Each steward pays $150 in tuition to help defray the cost of the materials and supplies, such as handouts and lunches, needed to teach the course and conduct fieldwork.
Trainees typically enter Maryland's watershed steward academies with some existing knowledge about stormwater issues. They generally know that poorly managed runoff carries nutrients into the Chesapeake Bay, fueling excessive algae that creates low-oxygen dead zones. To prevent that, best management practices slow down and soak up stormwater runoff before it can flow into waterways and find its way to the Bay.
But trainees also start with important knowledge gaps. If not, then why bother signing up? The curriculum is designed to fill those gaps — but only in enough detail to get the stewards started. "We don't get into the weeds with everything," McSorley explains.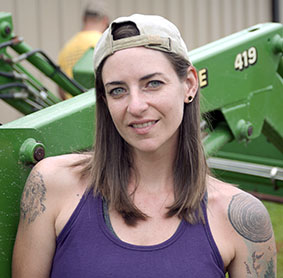 Jordane Wiseman. Photo: Daniel Pendick.
Jordane Wiseman, a recent graduate of Cecil College's environmental science program, found out about the WSA in a local paper, the Cecil Whig, and says she was "thrilled to find out Cecil County was doing something so environmentally progressive."
She started the training with extensive familiarity with Maryland's native plants, which are used in rain gardens and other small-scale best management practices for capturing and cleaning stormwater. Wiseman works part time at the Mt. Cuba Center near Wilmington, Delaware. The non-profit center is dedicated to restoring and preserving the native habitat of the East Coast's Piedmont region — the plateau between the Appalachians and the coastal plain. Wiseman assists the horticulturists that tend Mt. Cuba's native plantings. "The condensed version is I dig in the dirt," she says.
Knowing about native plants — like the soil, light, and drainage that different species need to thrive — is essential to building effective rain gardens. Native plantings also beautify communities and provide an opportunity to educate Marylanders about Bay-friendly land development and stewardship.
But Wiseman needed real-world experience in the day-to-day work of watershed restoration, like planning, funding, and building rain gardens and other strategies to manage stormwater better.
 "I'm familiar with visualizing a landscape and what it could be or ought to be," Wiseman says, "but I wouldn't have had a clue about where to begin. I wanted the hands-on experience so I would know how to go into these spaces and improve them."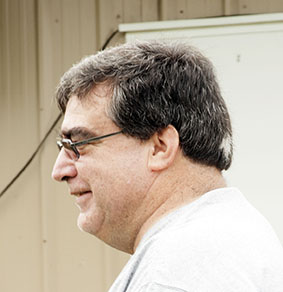 John Gonzalez.

Photo: Daniel Pendick
Other trainees brought different expertise. The knowledge about stormwater management that John Gonzalez, the civil engineer, brought into the academy was in some ways the converse of Wiseman's. From his work, Gonzalez knew a lot about how to design and build things. He is a mid-career civil engineer at Landmark Science & Engineering in Havre de Grace, Maryland. Among many other things, Landmark has built artificial wetlands and golf courses that minimize environmental impacts. However, Gonzalez knew very little about the role of plants in stormwater management.
In March, after 22 weeks of classes and gap-filling, the stewards got their first chance to apply their training. After a lot of group study and planning, they chose a site for their group project: the Fair Hill Natural Resources Management Area, about seven miles north of Elkton. And in June, the trainees excavated, shoveled, raked, planted, and mulched their way to creating a large rain garden to soak up a large portion of the runoff from half of the broad metal roof of the Edward L. Walls Activity Hall.
Before the program winds up in December 2016, the trainees next have to complete their capstone projects: stormwater projects in their own communities. The chance to step into that new leadership role inspires Wiseman. "Everything we learn here is going to spread through so many parts of the community and reach so many groups of people," she says. "It will make it so much more effective."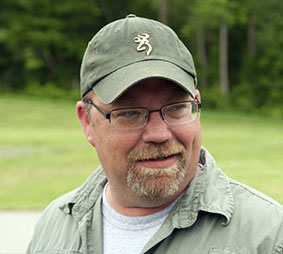 Jason Taylor.
Photo: Daniel 

Pendick
Jason Taylor and his teammate on their capstone project, Randy Pritchett, are considering a project to take advantage of their current positions at Elkton's wastewater treatment plant — Taylor, the manager, and Pritchett, the mechanic. Taylor thinks building a small rain garden there could really enhance the tours he already gives to local schoolchildren.
He will especially enjoy sharing his newfound appreciation for Maryland's native plants. His grandmother could name every native plant she saw, and Taylor's academy experience has inspired him to restore that family tradition.
 "Never in my wildest dreams did I expect to learn so much about native plants," he says. "It really caught my interest and opened a window — a thirst for knowledge, you might say."
When Taylor finishes the training and becomes a Master Watershed Steward, his improved understanding of native plants will become more than just a new interest; it will be an important tool to achieve his personal goal of leaving the Chesapeake region in better condition for the next generation. "I want to leave a legacy behind for my children and their children," Taylor says.  "I believe every one of us has a part to play in leaving it better than we found it. It might sound like cliché but I really believe that."
Photo, top left: Watershed Steward Academy trainee Randy Pritchett (foreground) lays down mulch in a new rain garden designed and built by the 2015-2016 participants in the Cecil County Watershed Stewards Academy. Credit: Daniel Pendick
---
About Maryland's Watershed Stewards Academy Program
Read more about the Watershed Stewards Academies here.
Around Maryland, the watershed steward academies are sponsored, funded, and taught by a variety of organizations and individuals. The details of the curricula vary, but all meet minimum standards to qualify as a Master Watershed Steward. Besides helping to start new WSAs and teach the courses, watershed specialists with Maryland Sea Grant Extension help organizers apply for grants from various sources, including the Chesapeake Bay Trust and individual and corporate donors, to fund the programs.
Cecil WSA contact information:
Eric Helm Buehl
Watershed Restoration Specialist
University of Maryland Sea Grant Extension
ebuehl@umd.edu
Jennifer Dindinger
Watershed Restoration Specialist
University of Maryland Sea Grant Extension
jdinding@umd.edu
Marshall McSorley
Cecil County WSA Coordinator
mmcsorley@ccgov.org
Sign up to receive email alerts about new posts to the On the Bay blog.
See all posts to the On the Bay blog.
The Blue Crab: Callinectes Sapidus
An essential resource for researchers, students, and managers.  Get your copy today!