Out and About on the Chesapeake Bay: We're Not in Florida Anymore!
Taryn Sudol
•
March 5, 2018
I unrolled a map of the Chesapeake Bay, pinned it to the wall, and started pressing blue dots throughout it. It's a big map and takes up the largest wall space I have in my cubicle at Maryland Sea Grant's College Park office. 
My dots mark the Sentinel Sites in the Chesapeake Bay. These locations span several different research institutions. They all capture long-term ecological data to track the health of coastal wetlands throughout the bay. They are spaced out in a way to give us a complete picture of the watershed's ecosystem. Many are in locations we've been measuring for decades; some are in places that are newer. They include tidal spots as well as places further upstream, sites prone to erosion and flooding and those that see less of it, towns that struggle with subsidence and places that are more focused on development pressure. 
I am the new coordinator for the Chesapeake Bay Sentinel Site Cooperative, which is a partnership of scientists and stakeholders that supports resiliency to sea level rise in coastal environments. 
This map with its blue dots ought to feel more like home than my increasingly cluttered cubicle, but all these roads, towns, rivers, and inlets are foreign and overwhelming because I'm from Florida. The water views are familiar, but the names are not. What's a Choptank? How do you say Poquoson? 
I need to know what's happening to coastal wetlands in the Chesapeake Bay. What do all these dots represent? I won't really know by staying at my desk, looking at a map. I have to see the Bay and meet the scientists. A few weeks after settling in, it was time for me to hit the road and get my feet wet.
On a Tuesday morning I left the District of Columbia and headed south to the University of Virginia, where Linda Blum, a wetlands ecologist, teaches environmental science. To reach Charlottesville, a lovely mountainous area several hundred miles from the Chesapeake Bay, I drove by Civil War battlefields and presidential estates. The history in Virginia is long and deep. Linda's professional history is long and deep too. She monitors wetlands with the Virginia Coastal Reserve Long Term Ecological Reserve. They have some of the longest running wetlands data in the nation. 
From Charlottesville, I went to Richmond and sure enough you don't have to look far before you see some landmark that Thomas Jefferson had a hand in. Shep Moon is a coastal planner for Virginia's Coastal Zone Management Program. This extensive program covers shoreline protection to aquaculture to ecotourism. The research from the sentinel sites will inform him which marshes are best to protect and restore.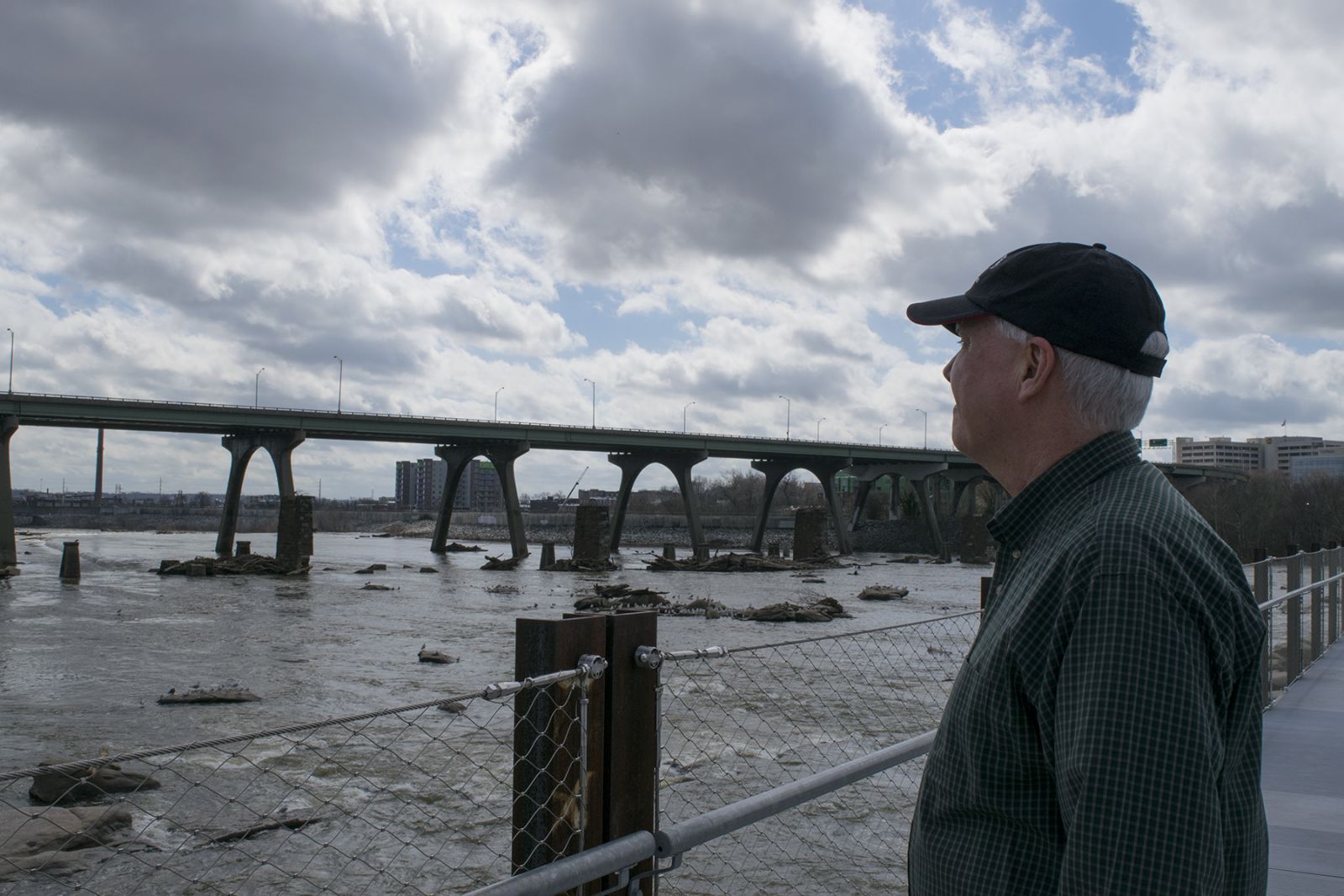 Shep Moon overlooking the James River in Richmond, Virginia. Photograph, Taryn Sudol
Further downstream I reached Gloucester, home to the Virginia Institute of Marine Science and the Chesapeake Bay National Estuarine Research Reserve in Virginia. I met with Willy Reay and Scott Lerberg, wetland ecologists who know the York River well. Their reserve consists of four separate sites, with each marsh reacting differently to a variety of threats. While they've worked on this land a long time, this dynamic system always leaves more to explore and new questions to answer. 
Next I visited Michelle Covi with Virginia Sea Grant at Old Dominium University in Norfolk. Michelle works with multiple sectors in the community to increase coastal resiliency. A short drive-by tour already showed me Norfolk's vulnerability to rising sea levels. Along one sidewalk there's a distinct line between grass and sand. That's where it floods and the grass can't survive, Michelle told me. Later I crossed the epic Chesapeake Bay Bridge and Tunnel to reach Cape Charles, where Michelle was presenting at a town council. Cape Charles is right on the bay. It has cute, multi-colored, shiplap houses and streets named after fruits. In 100 years, a significant chunk of the historic district is predicted to be underwater. For a town as timeless as Cape Charles, 100 years doesn't seem so far away.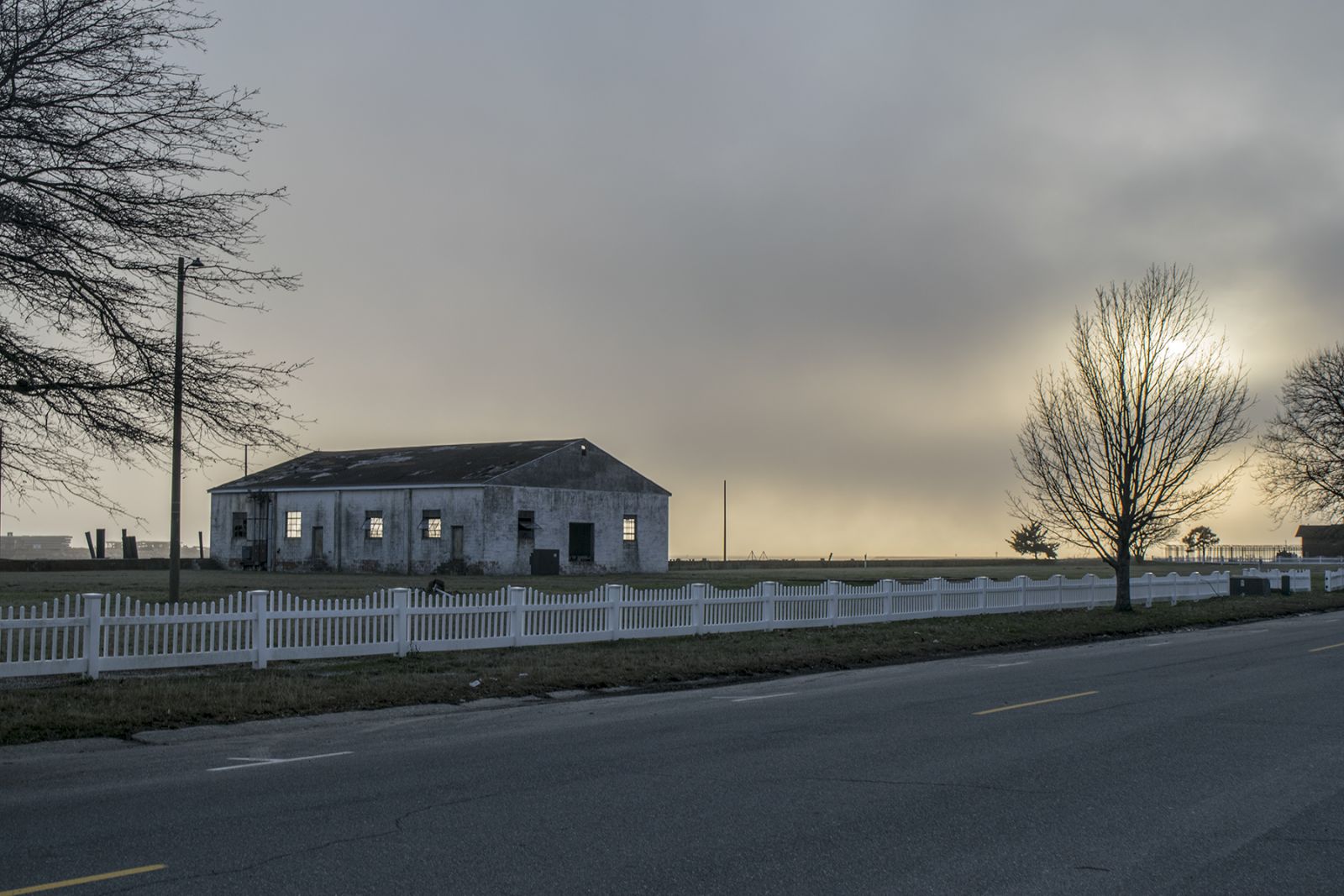 Cape Charles. Photograph, Taryn Sudol
To round out the week, I traveled up the Delmarva Peninsula to reach Assateague National Seashore. It's not part of the Chesapeake Bay watershed but it is a barrier island with interior marshes. Neil Winn, the GIS specialist, is conducting sophisticated measurements to see how the landscape is changing laterally and vertically over time. I was excited to hang out on the beach with wild horses, but the weather was rainy, and miserable. Luckily, Neil was able to show me the marshes, uplands, and beach from the luxury of a 4-wheel drive truck!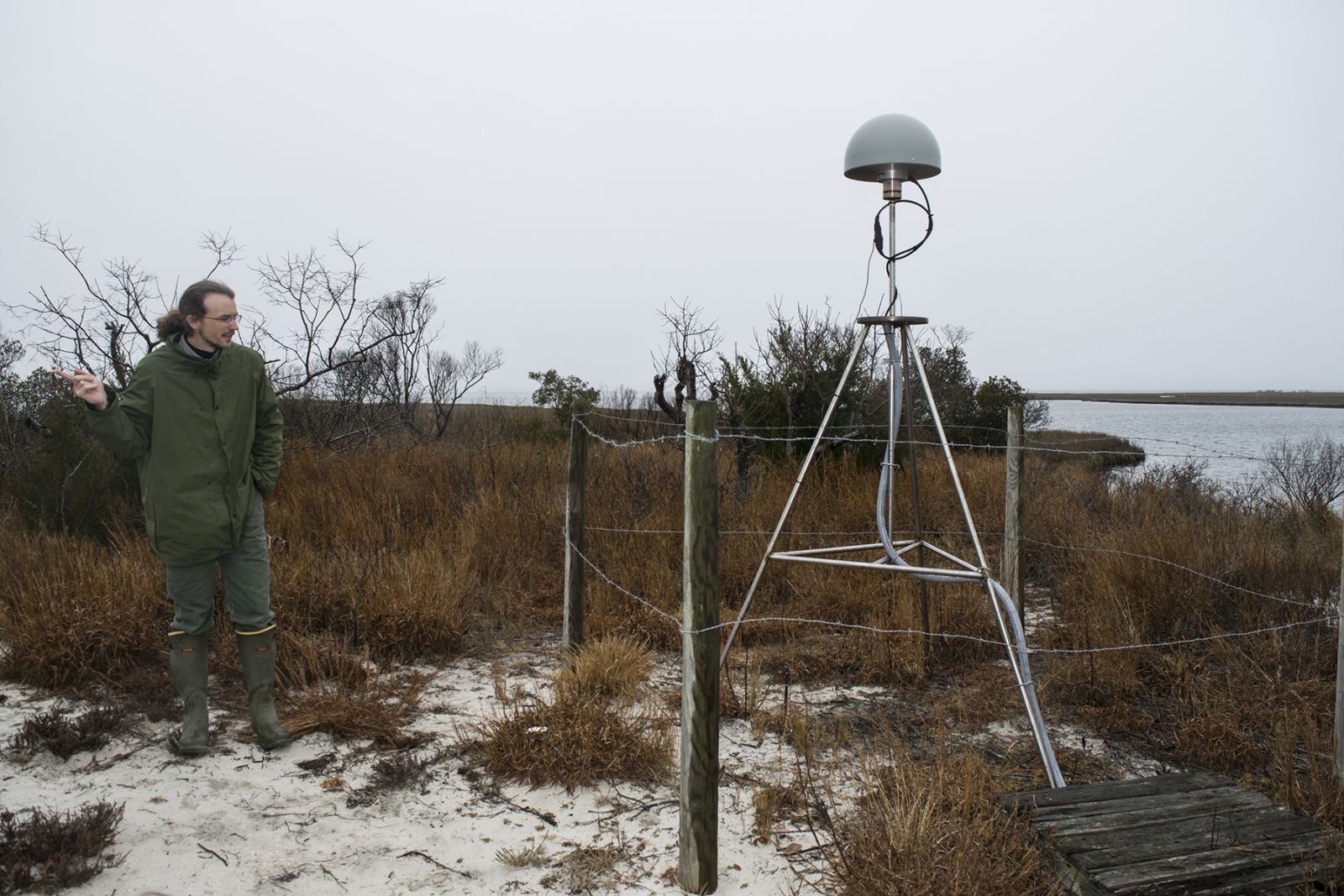 GIS specialist Neil Winn, next to GNSS CORS station in Assateague, Maryland. Photograph, Taryn Sudol
I was thrilled to talk to so many smart, passionate, and kind people on my road trip. Each of my partners is quick in their curiosity and thoughtful in their replies. At every location I wanted to stay longer and discover more secrets about the Bay. On the journey back to College Park, I knew that the adventures lay beyond the main road. I am itching to return for more conversations and to watch the marshes react to the sea and the rest of the environment. Turns out I was saying Gloucester wrong, but I know better now! I've already learned so much about the landscape and people. My big map is only going to grow richer in detail over time.
Photo, top: Glouster, Virginia. Photograph, Taryn Sudol
Sign up to receive email alerts about new posts to the On the Bay blog.
See all posts to the On the Bay blog.
The Blue Crab: Callinectes Sapidus
An essential resource for researchers, students, and managers.  Get your copy today!