On the Hard: Prepping a Crab Boat
Michael W. Fincham
•
July 19, 2017
It happens every year for every crab boat: the haul out, the scraping and sanding, the painting and cleaning. For all that work, a crab boat has to go "on the hard" for a couple weeks. Especially if the boat is wood, and the captain is Roger Morris.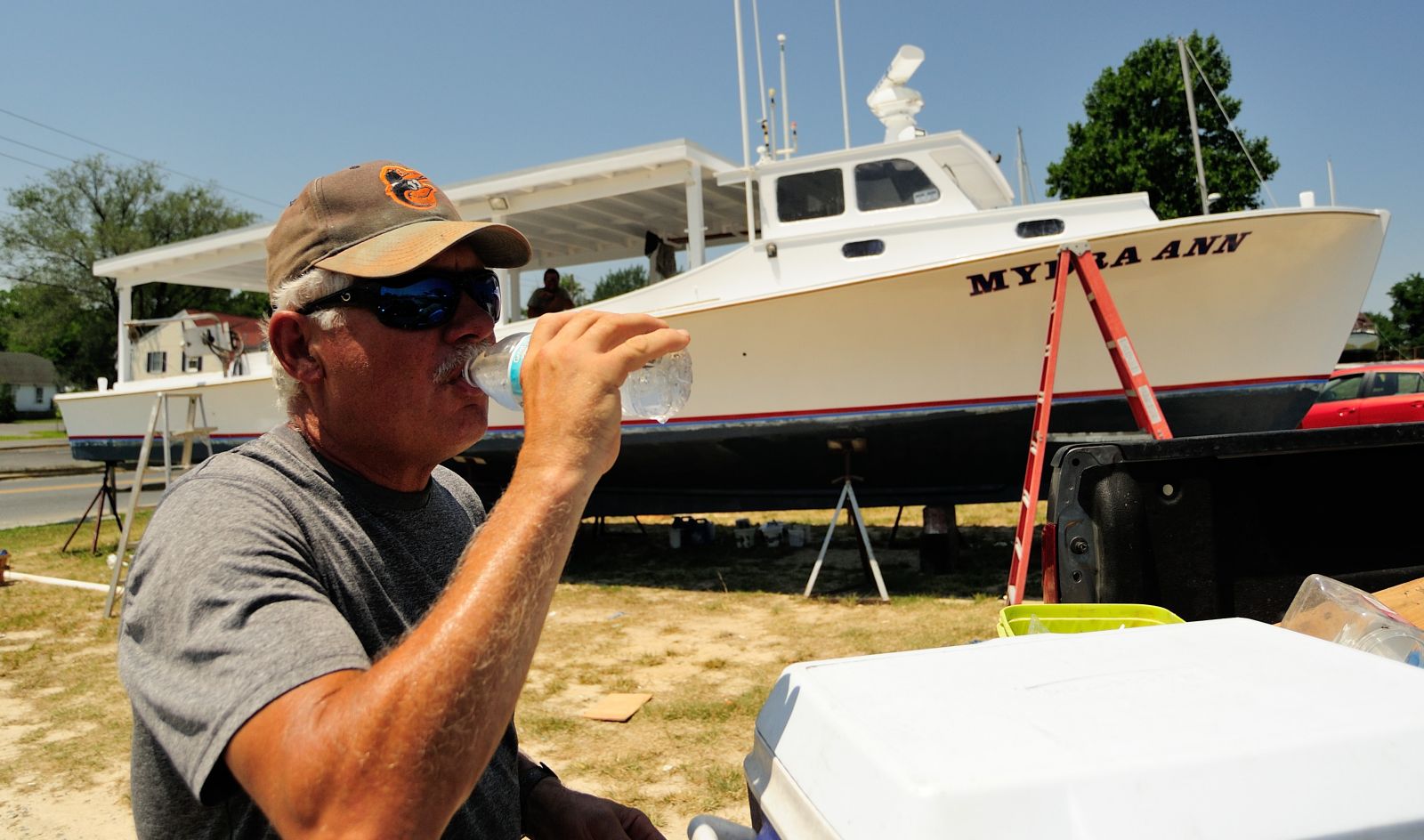 Spring cleaning. Roger Morris owns a busy workboat that gets beat up all year round. Come winter, an oyster dredge comes slamming over the stern as Morris uses his boat to run the winter blue crab survey for the state of Maryland. Late spring through fall, crab pots come banging and scraping over the side. And fouling organisms start clinging to the hull. Time to scrape and sand and paint.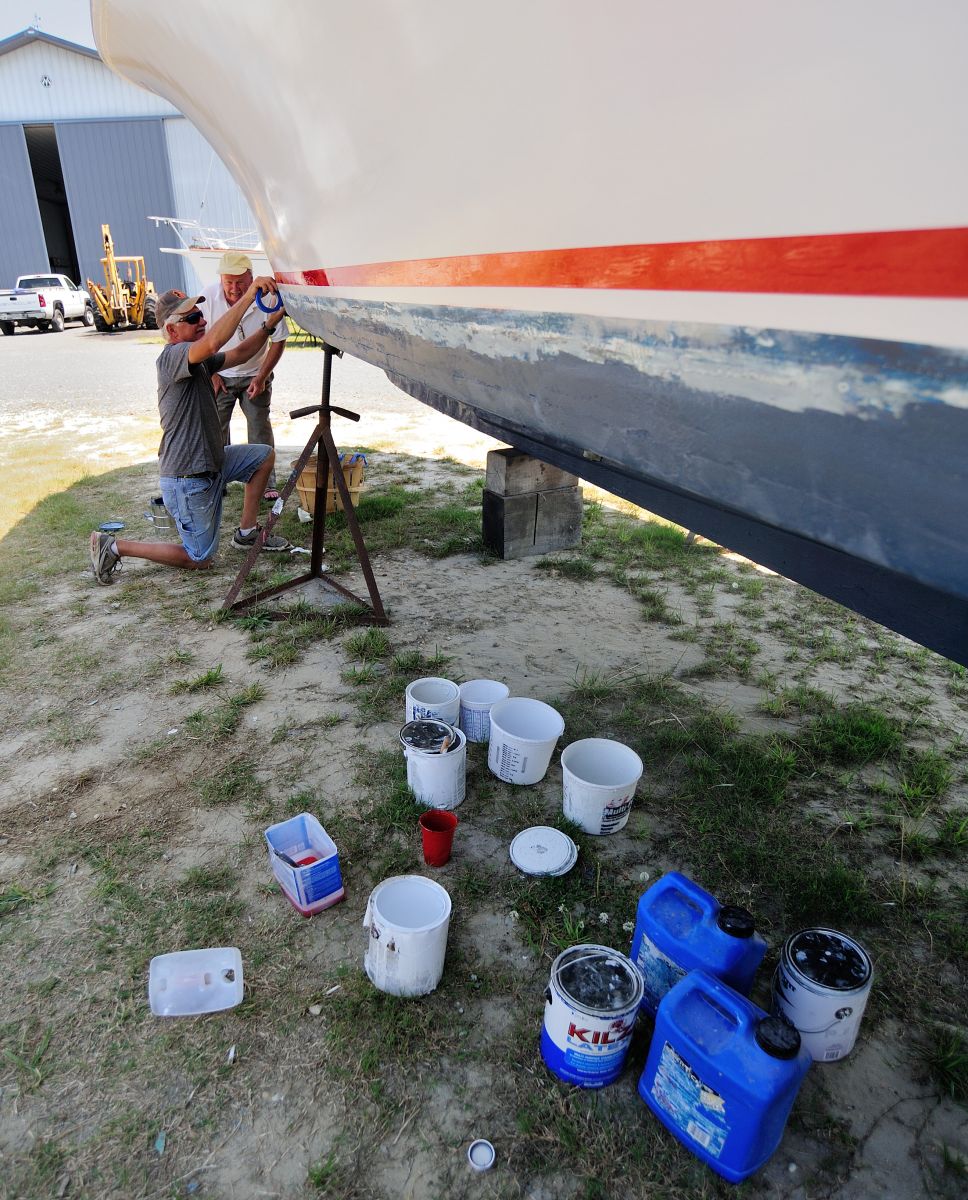 For the love of wood. Wooden workboats take more maintenance, more scraping and sanding, than fiberglass — which is why more watermen have gone to fiberglass in recent years. Morris is old school, however. He likes to put his trust in a wooden boat, in this case, a classic Chesapeake Bay "deadrise." It's heavy, long, and narrow with a sharp bow for slicing through storm waves. This 45-footer was launched in 1984 and treated well ever since -- with a lot of work and a lot of love. "I wouldn't want to go out there with something I didn't trust, " he says. "I could go to England with this one."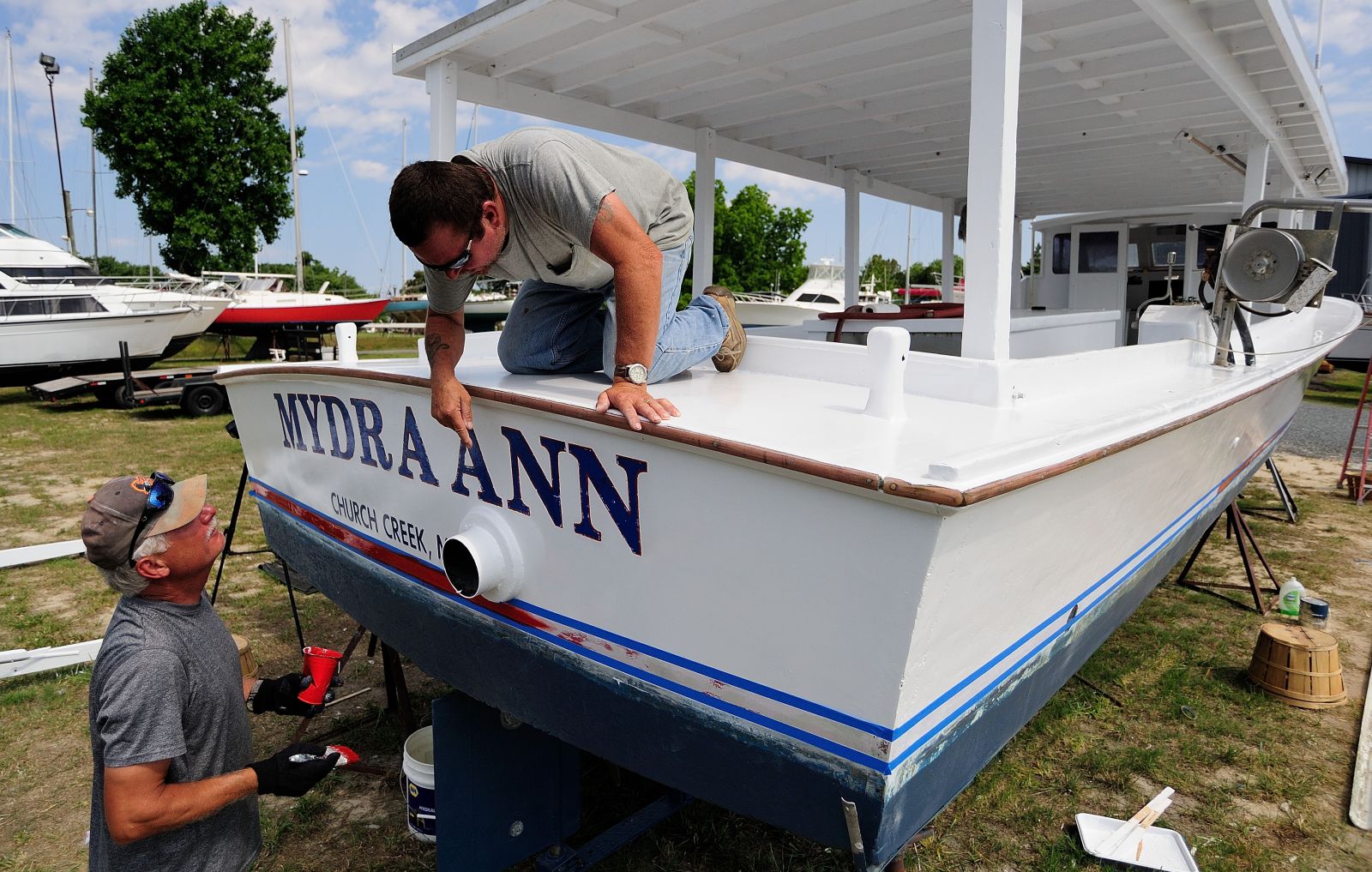 The name game. Watermen usually name their boats after the women in their lives. And Roger Morris in this way also is old school. The Mydra Ann honors three of the women in his life: his grandmother, his wife, and his daughter. Each has Myrdra or Ann as a first or middle name.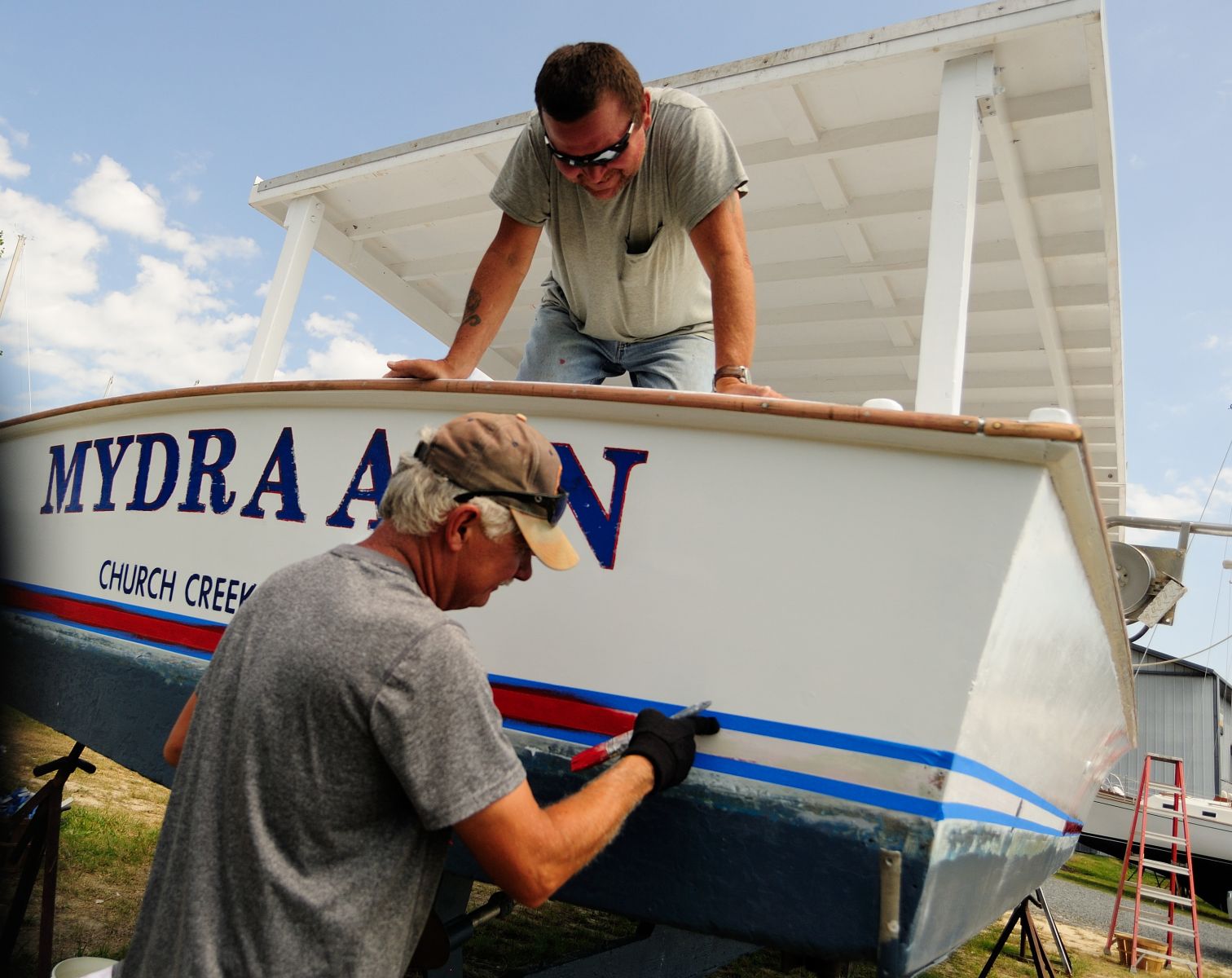 Lipstick on a lady.  Another great love in a waterman's life is, of course, his boat. He calls her "she," and he spends more time with her than with anybody else, except maybe his first mate, Bobby "Doodle" Patterson. And early every year he spends a lot of time time trying to make the Mydra Ann look beautiful. "You can put make up on her," he says, "and she'll look better sometimes."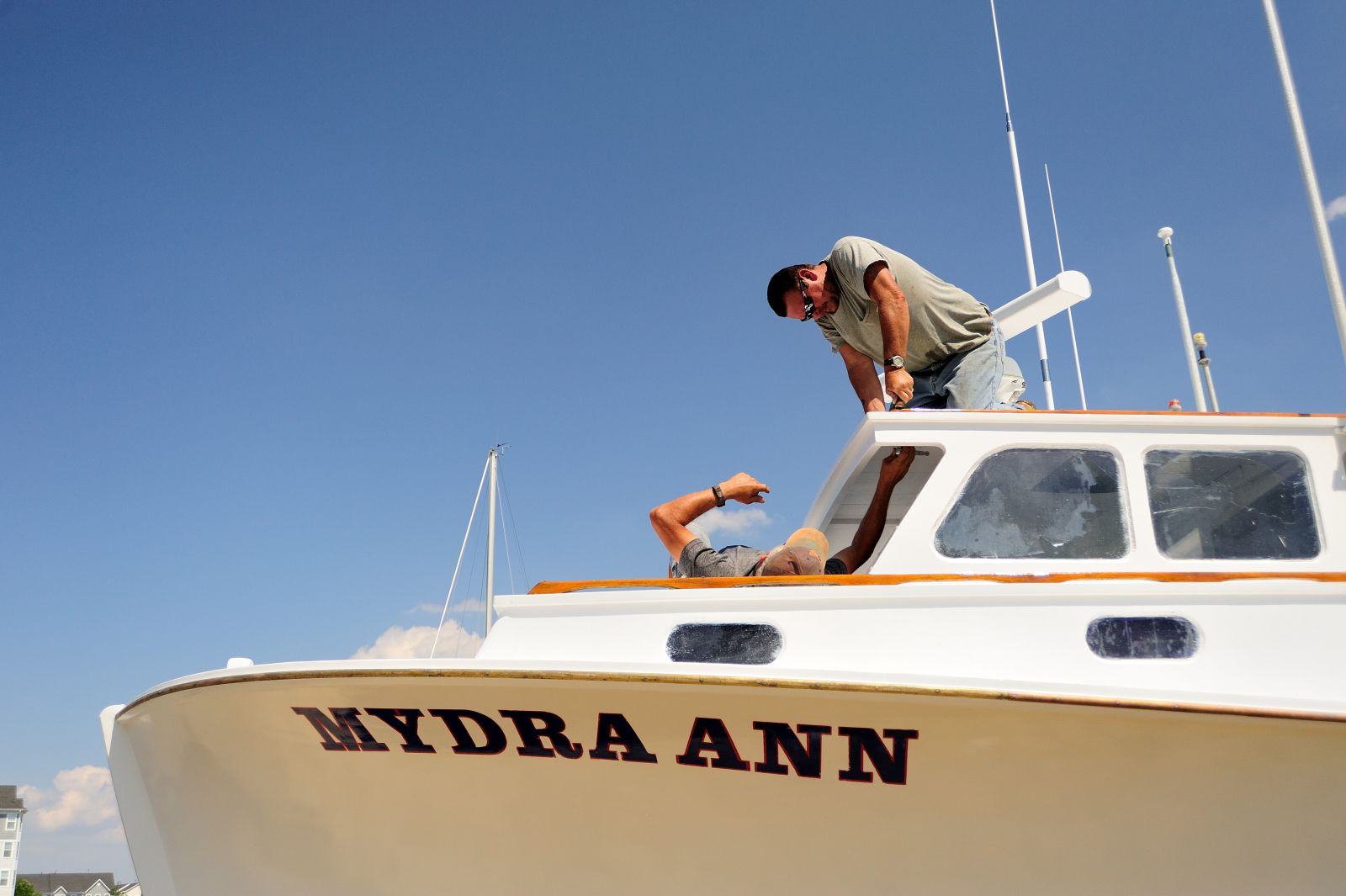 The hard work of brightwork. A workboat is not a yacht, but it still carries some pretty brightwork, exposed metal or varnished wood trim that highlight the classic lines of the boat's cabin and give a waterman something to hold on to along the front side of the boat.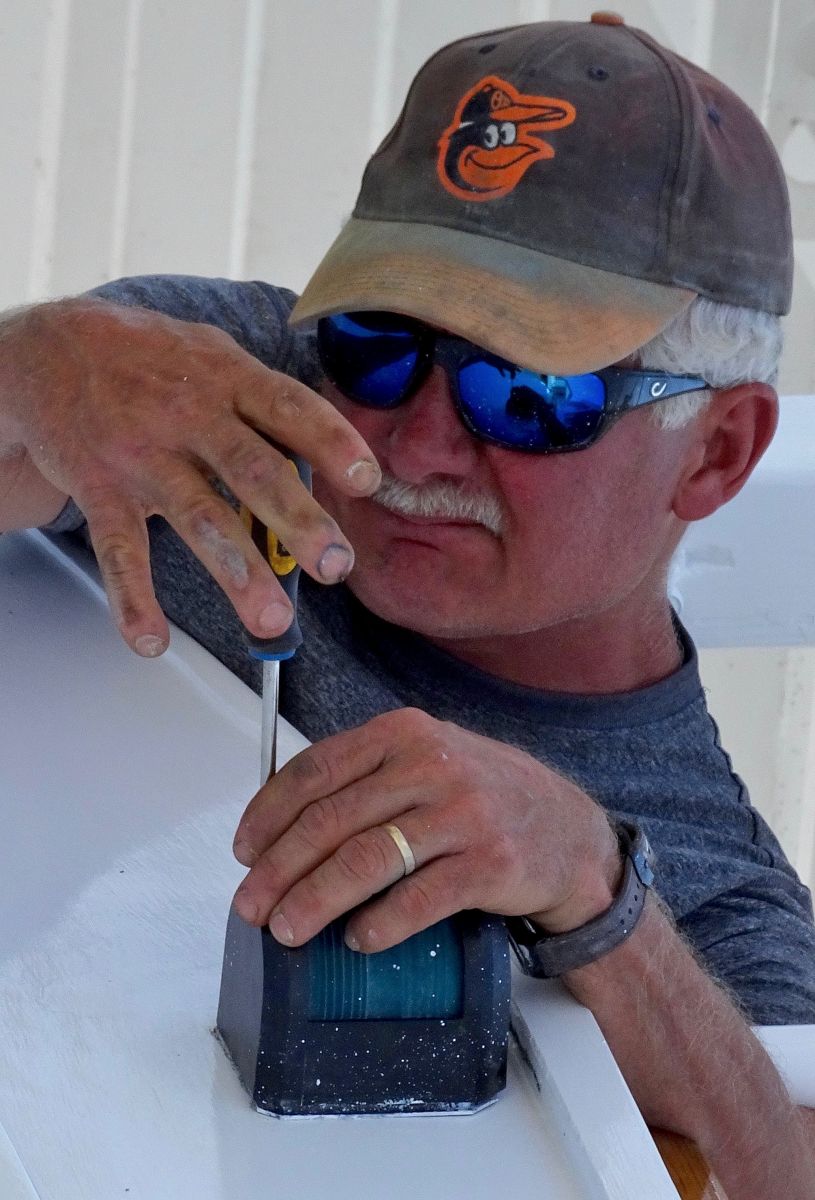 A Last Step.  Launch time is close when the running lights (red for port, green for starboard) go back in place up near the bow. Photo by Michael Tynan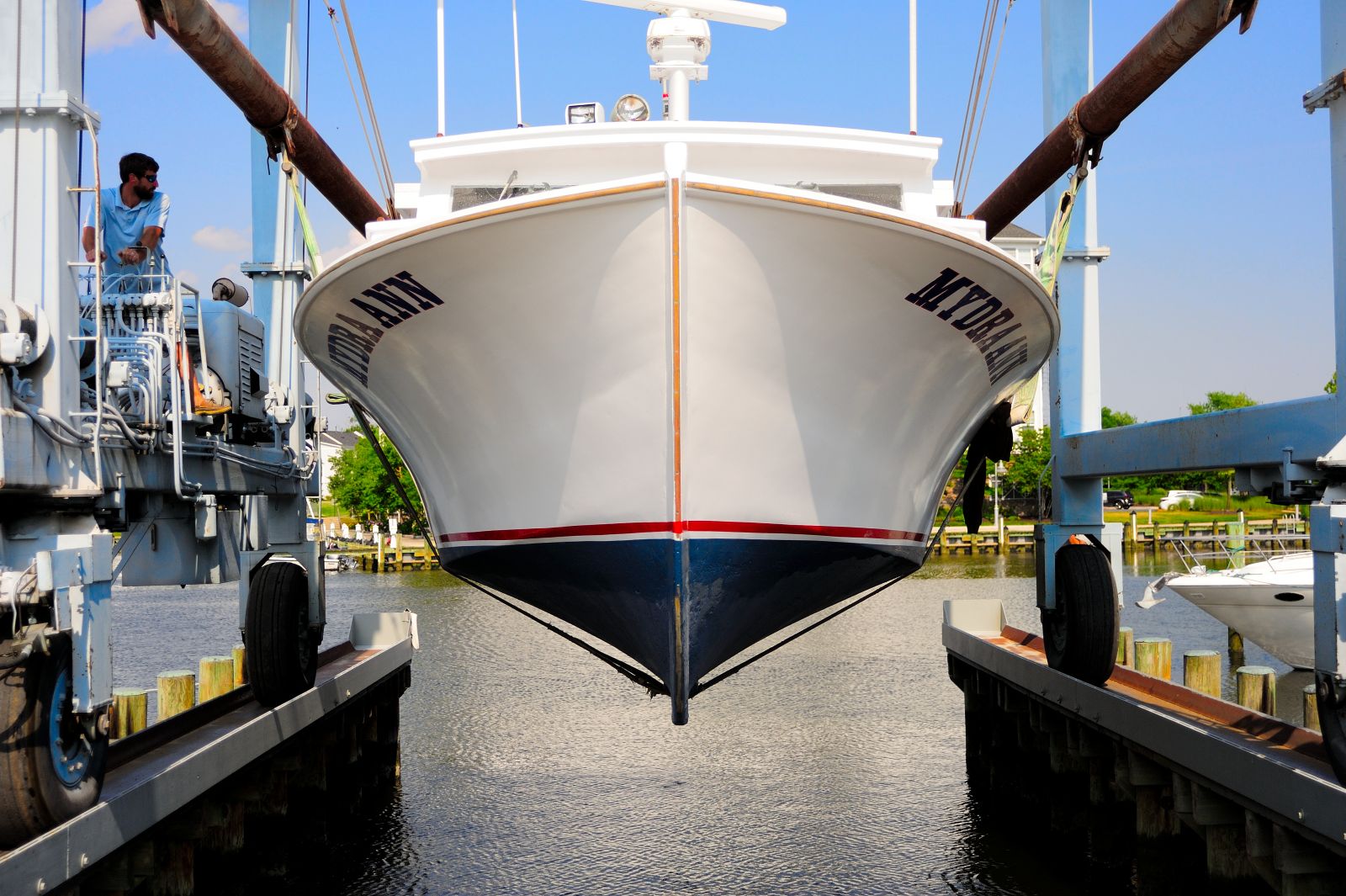 Launch time. The Mydra Ann leaves the hard for her natural place in a brackish water Chesapeake Bay. The man lowering Roger's workboat is Roger's son-in-law, Jimmy Wheatley.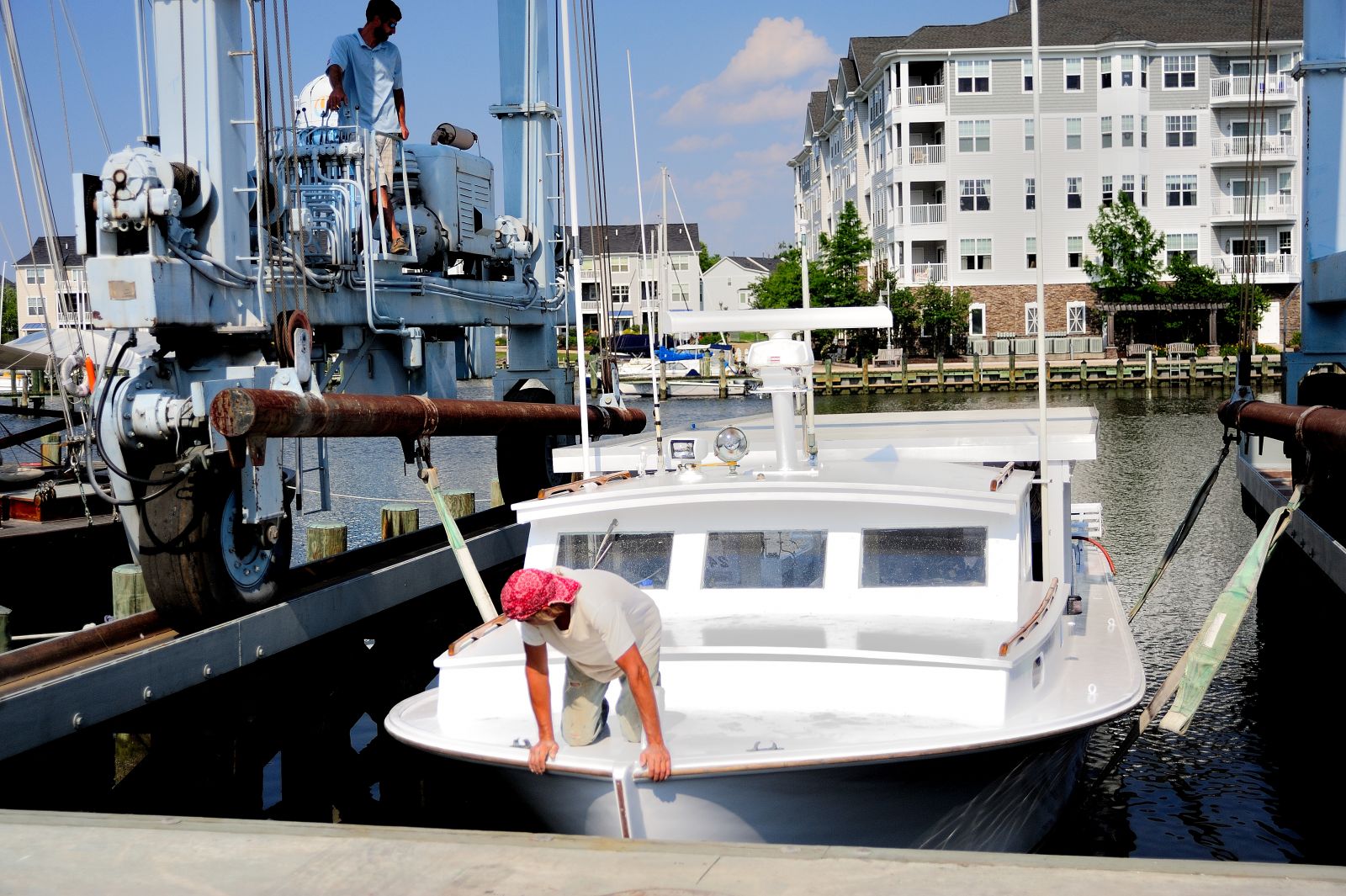 Float time. Jimmy Wheatley on the lift and Frank Mand on the bow check alignment as the Mydra Ann settles in place and her wooden planking starts swelling and sealing her seams.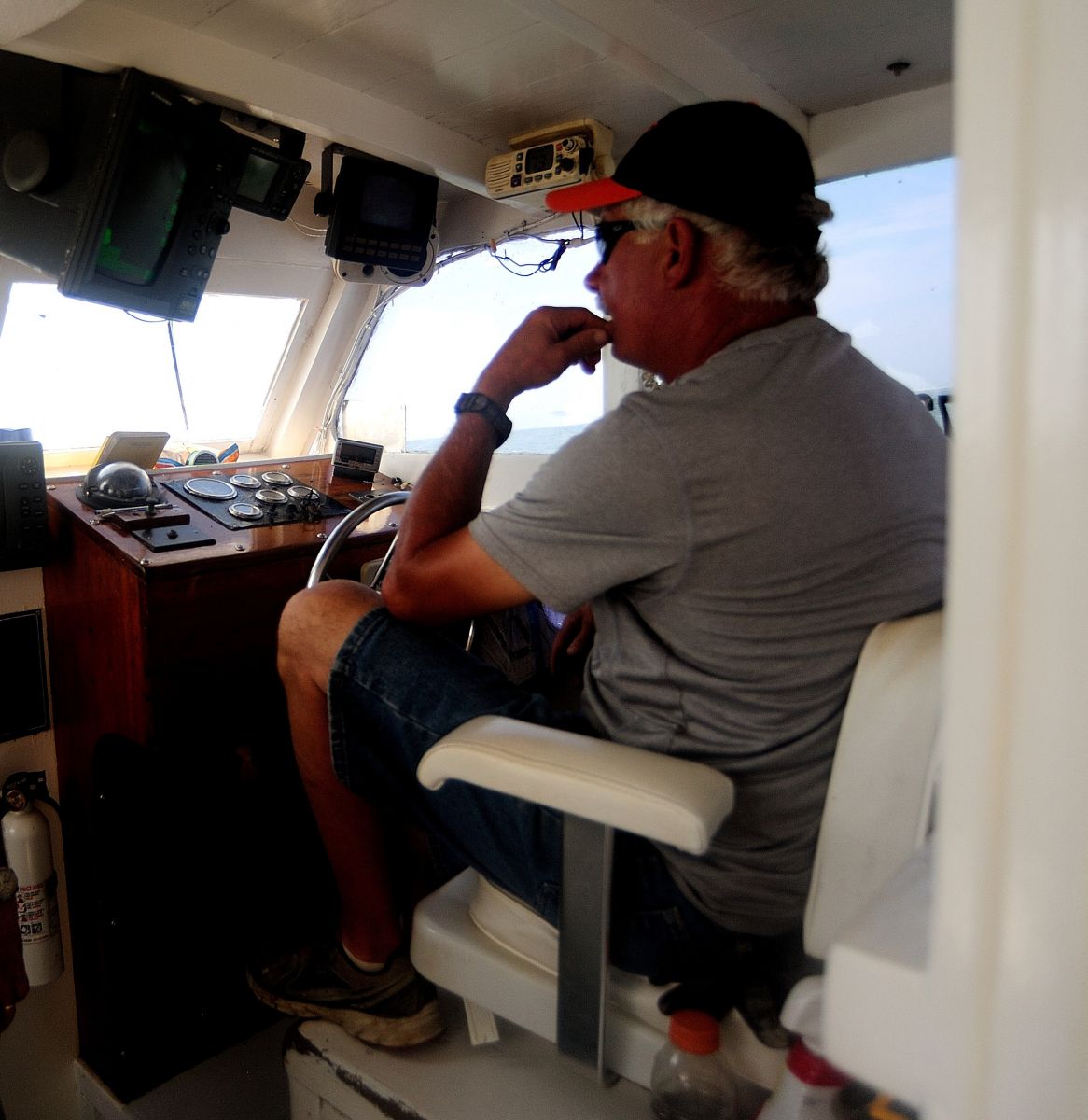 Heading home. The captain of the Mydra Ann settles in his natural place: behind the wheel. He could drive his wooden lady to England if he wanted, but he's headed now for his home port in Wingate, Maryland.
The road home.  The Mydra Ann slides out of Cambridge Creek and then runs east down the Choptank River and south down the mainstem of the Chesapeake. Next comes a takes a slight left and a long final race down the Honga River to Powley's Marina along the lonely lower reaches of Maryland's Eastern Shore.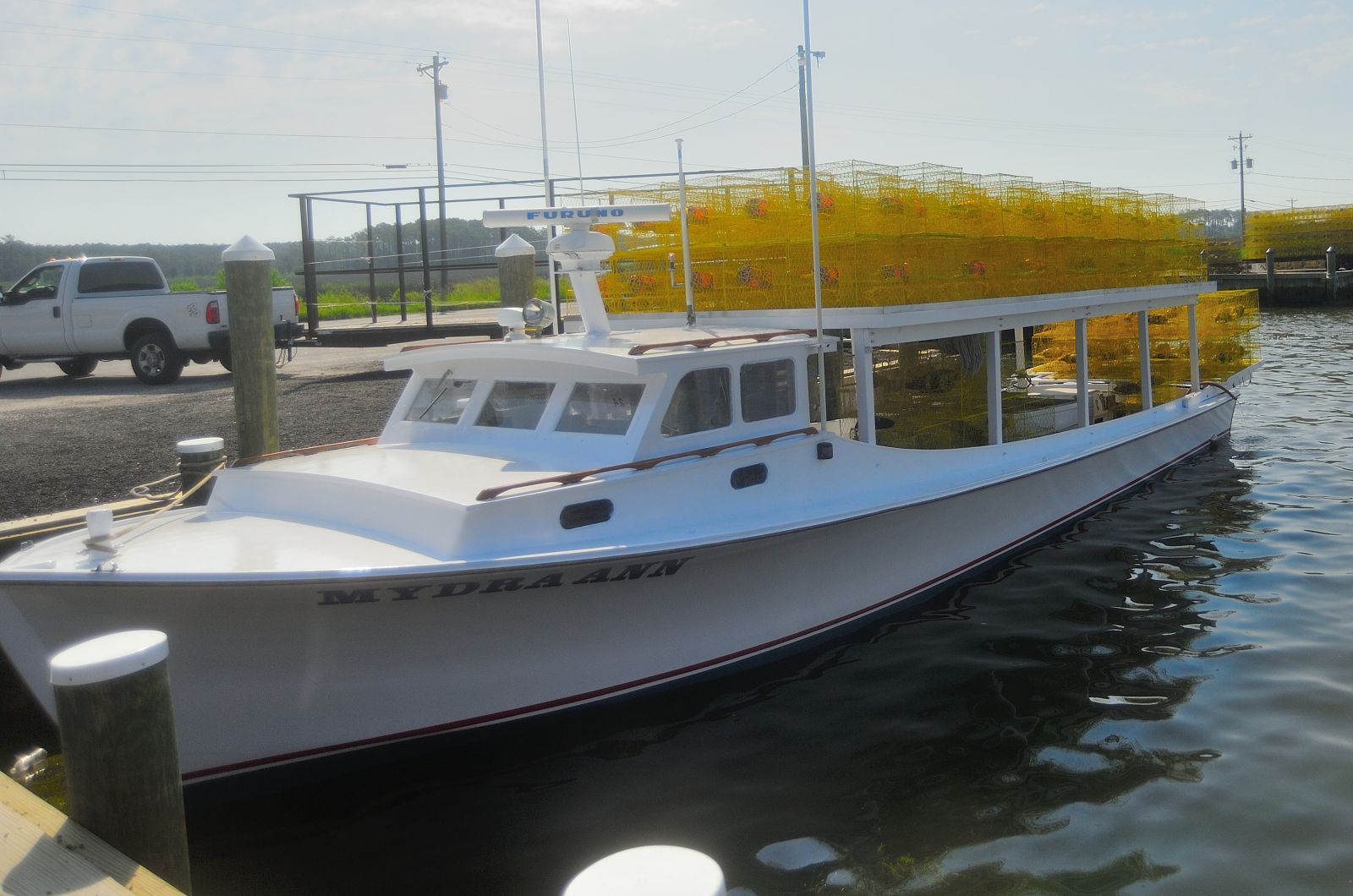 Loaded for crab. Her small cabin holds three crew, her long cockpit holds dozens of pots, her cockpit cover holds 100 or more pots -- and creates shade from the sun. She'll make enough trips to haul 900 crab pots out on the Bay this year and from now until late November, she'll haul back blue crabs six days of the week -- some 50 bushels on a decent day. Back on the job, the lady named Mydra Ann won't look this good again until she goes on the hard once more at the start of next year's crab season.
Sign up to receive email alerts about new posts to the On the Bay blog.
See all posts to the On the Bay blog.
The Blue Crab: Callinectes Sapidus
An essential resource for researchers, students, and managers.  Get your copy today!