Campaign Warns Anglers That Live Bait Worm Trade Carries Invasive Species
Jeffrey Brainard
•
May 4, 2015
As the summer fishing season arrives, many recreational anglers will try to land their favored game fish using a special kind of bait: live blood worms. Wholesalers in Maine ship the slimy, wiggly creatures across the United States packed in locally harvested seaweed to keep them alive in transit.
While fishers in many states welcome the worms' arrival, most don't realize that, if we handle this packaging carelessly, the seaweed may introduce unwelcome alien invaders that can disrupt coastal waters far from Maine. A helpful solution: fishers should dispose of this seaweed in the trash, not by dropping into the Chesapeake Bay or other local waterways.
Hidden in the seaweed (a type of algae known as wormweed) are live animals not native to other states where the shipments go. These species — such as European green crabs, snails (rough periwinkles), and mites — are already suspected of spreading in California after being transported there through the live bait trade. Once established in a new environment, invasive species can create a nuisance, change the local ecosystem, and harm local fisheries.
Recreational anglers use the blood worms to catch prized fish like striped bass, croaker, and drum. A single worm sells for about a dollar, a price willingly paid by fishers who say they work better than artificial lures.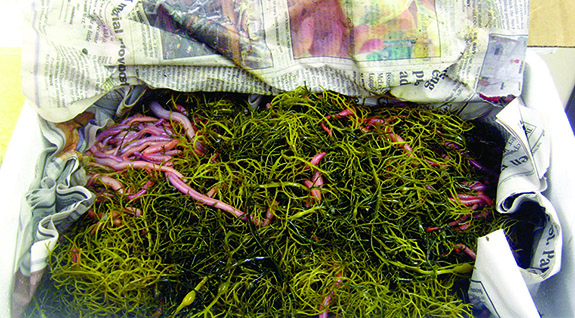 Live blood worms are harvested in Maine and packed in wormweed. Credit: Monaca Noble, Smithsonian Environmental Research Center
Invasion can begin, however, when fishers toss unused worms and their packaging into coastal waterways after a day of fishing.
Maryland Sea Grant and partners in the Mid-Atlantic region tried to reduce this risk by creating an ambitious research and education project, the first such project on this scale. Partners included anthropologists at the University of Maryland, College Park; biologists from the Smithsonian Environmental Research Center in Maryland; and Sea Grant programs in Delaware, Maryland, New Jersey, North Carolina, Pennsylvania, and Virginia.
First, the biologists identified species in the wormweed packaging material and discovered that critters lived in the weeds for weeks in shipments sold around the country.
That was worrisome, so the social scientists and the rest of the team developed a public educational messaging campaign to warn about the threat to Mid-Atlantic fisheries posed by the bait packaging material. In 2014 the researchers tested the message on an influential audience: bait shop owners and their fishing customers.  Sea Grant Extension specialists met and worked with bait shop owners to craft informational brochures, posters, and other materials. The message: fishers should safely dispose of unused live bait and its packaging in the trash. The campaign's slogan was "Protect Our Fisheries – Trash Unused Worms and Packaging."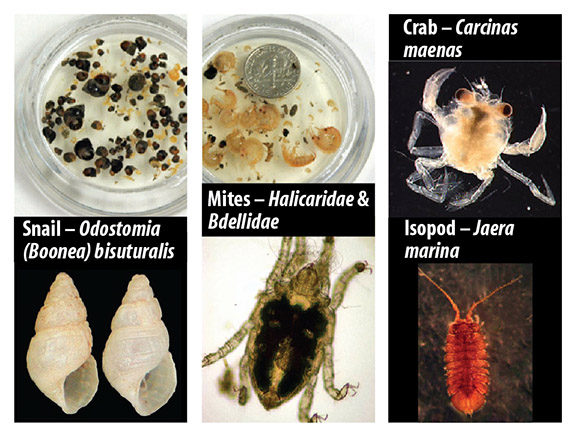 Some of the invasive species that have been found in bait worm packaging materials: snails (left); mites (middle); crabs (right, top); and isopods, which are a kind of crustacean (right, bottom). Credit: Wikimedia Commons
The team produced and distributed materials bearing this message to 13 bait shops across the Mid-Atlantic. Shop owners displayed posters and handed out magnets, brochures, and stickers to thousands of anglers.
This pilot messaging campaign was limited in scope, but the Extension agents found that the materials were popular and distributed quickly. Most bait shop owners and anglers admitted that they were not previously aware of the issue – many viewed throwing away the worms and packaging in local waterways as a "natural" means of disposal. But after reviewing the educational materials, many owners and anglers expressed their concern about the potential problem of invasive species and their willingness to help. The bait shop owners were enthusiastic about receiving the informational materials and requested more copies to distribute.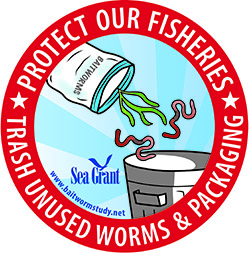 "This pilot study has provided a wealth of information that could be used to implement a larger-scale intervention study to help reduce the risk of introducing invasive species through the live bait trade," says Fredrika C. Moser, director of Maryland Sea Grant and principal investigator on the project.
For more information on this integrated natural and social science research and outreach project go to the project's webpage: www.baitwormstudy.net And thanks for disposing of unused bait and packaging properly.
Top photo, credit: Chelsea Carter, Virginia Institute of Marine Science
Sign up to receive email alerts about new posts to the On the Bay blog.
See all posts to the On the Bay blog.
The Blue Crab: Callinectes Sapidus
An essential resource for researchers, students, and managers.  Get your copy today!