Building capacity—and experience—through my time with Maryland Sea Grant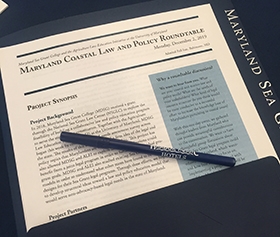 Eva May
•
February 20, 2020
It's 9 a.m. in Baltimore, I've had too much coffee, and I'm nervous. I walk up to the podium, and with encouraging nods from my colleagues, give a brief—and I mean brief—introductory spiel about a project I've spent the better part of a year working on. I look around, seeing largely unfamiliar faces from local government offices, nonprofit organizations, and academic institutions. My voice cracks mid-speech, and I hide my jittery hands behind my back as I finish running through how and why our team worked on a grant that gave us funds to explore options for building legal capacity within our program.
So, how did I get here?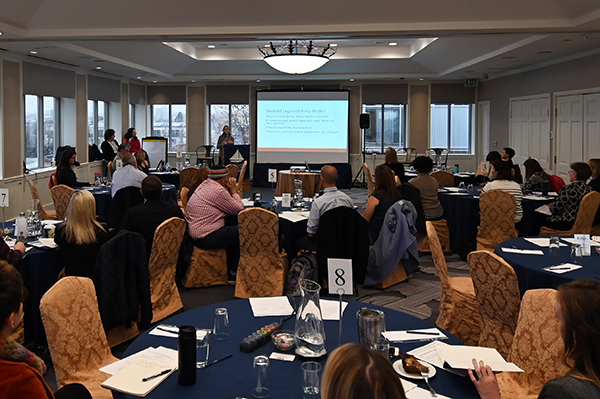 Eva May speaks at the opening of the Maryland Coastal Law and Policy Roundtable, which brought together a diverse group of thought leaders at the Admiral Fell Inn in Baltimore, Maryland. Photo credit: MDSG / Tossey
When our director approached me early last year and asked if I had any interest in working on a new grant we'd recently been awarded, I was simultaneously excited at the prospect of a challenging opportunity and a bit doubtful in my own abilities. Playing a critical role in carrying out a year-long grant whose focus—law—was an area I had almost no experience in seemed daunting, but I knew that the experience of doing so would help me grow and allow me the chance to learn about another aspect of environmental management. 
For a long time, my work within this field focused primarily on the natural environment and its ecosystem processes, rather than the human dimensions that impact them. However, in my position with Maryland Sea Grant, I have become increasingly involved in efforts directed toward exploring how humans work with and affect the ecosystems they often rely on for resources. This has brought me closer to the groups of people who interact with Maryland's coasts the most, from those working on the water on the Eastern Shore to waterfront homeowners in Annapolis. While I have been involved in efforts across all of Sea Grant's target areas, my work over the past year with this legal grant's team has been especially centered around the side of coastal management that focuses on people. 
While other Sea Grant state programs have legal resources in place already, Maryland Sea Grant had not seriously approached this topic until the decision was made in 2018 to apply for a small grant from the National Sea Grant Law Center. The goals of this grant were primarily to address if a need existed for Maryland Sea Grant to develop this resource and, if so, how best to approach doing so. Existing Sea Grant legal programs have performed work around issues like coastal resilience in small communities impacted by sea level rise, navigating aquaculture regulations, and resolving water bottom access conflicts. We saw an opportunity in Maryland to address issues similar to these and quickly got to work.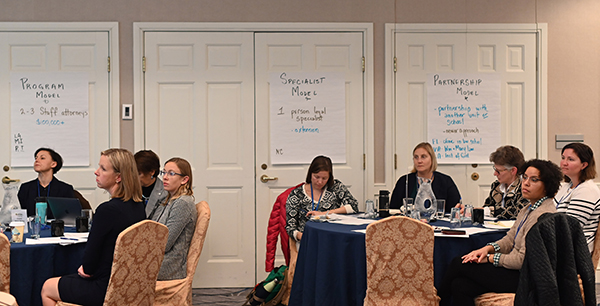 The group spent the day discussing mechanisms for a Maryland Sea Grant legal and policy education model to identify and address priority coastal and land use issues. Photo credit: MDSG / Tossey
As we began our grant process with a stakeholder needs assessment survey, it dawned on me how this project truly highlights the intersection of people and the environment. We found that each of the potential subjects stakeholders wanted legal help which focused on the human dimension first, and the environmental dimension second, but both subjects are crucial to the functionality of what we are proposing to build. As I went through processes required for working with people—Internal Review Board trainings, learning to communicate without scientific jargon, and more—I considered how new, and yet also familiar, this was for me. I was used to working with animals, plants, and ecosystems in laboratories and outdoor field sites rather than with people who use them. However, laboratories require training, just like creating and disseminating surveys for people does, and there is a strategic approach toward communicating amongst academics and scientists as well.  
While my previous work often placed me in the less social areas of environmental work—i.e. working more with specimens than people—my position with Maryland Sea Grant has thrown me into the thick of professional networking. I've attended meetings with coworkers and community leaders, visited Congressional offices to speak about Sea Grant's crucial role in the state, and networked more in the past year and a half than I ever did as an undergraduate student. Though not introverted, I am not always a social butterfly, and constant collaborations, discussions, and small talks with others from across different fields took some getting used to. However, I now feel infinitely more comfortable working with people in order to make progress on environmental management issues, and I've learned how important person-to-person conversations are in this arena.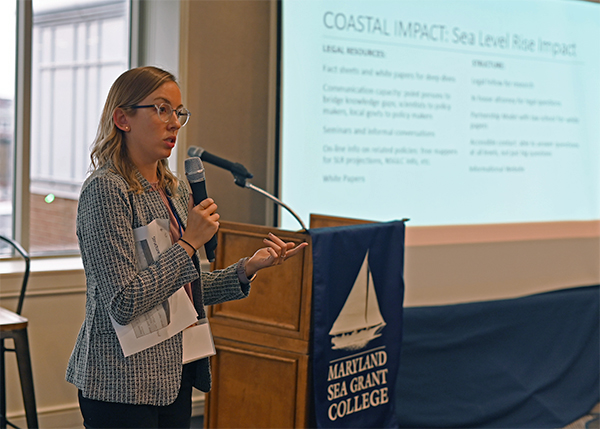 Eva May reports out on her group's ideas on sea level rise impacts at the close of the roundtable meeting. Photo credit: MDSG / Tossey
I have grown as a conservationist, an employee, and a person from working on this legal project and other initiatives at Sea Grant, and I am so grateful for the opportunity to have been a part of the groundwork laid by this grant's team. By the end of our roundtable meeting in Baltimore, I was selected by my group, which discussed sea level rise, to report out on our ideas for best resource distribution and institutional structure ideas for a Maryland Sea Grant legal program. Despite my rocky morning start, I stood up confidently, without a hint of my earlier shaky nerves, and divulged the details of our discussions.
With this final meeting now wrapped up, our team is focused on writing our final report and applying for a second grant from the National Sea Grant Legal Center, and I am very excited to continue to see where this work takes us and what we can do for our coastal stakeholders.
​Photo, top left: The roundtable event was focused on developing structural ideas toward a law and policy education model that would serve non-advocacy-based legal needs in Maryland. Photo credit: MDSG / Tossey
Sign up to receive email alerts about new posts to the On the Bay blog.
See all posts to the On the Bay blog.
The Blue Crab: Callinectes Sapidus
An essential resource for researchers, students, and managers.  Get your copy today!