Emily Russ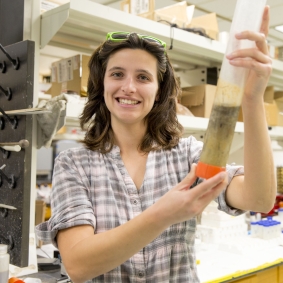 Fellowship institution:
U.S. Army Corps of Engineers
Emily Russ will be working with the U.S. Army Corps of Engineers in the Engineer Research and Development Center as an Advisor to the Technical Director. She will be working on topics ranging from marine transportation to hurricane resilience.
Russ obtained her bachelor's degree in marine and coastal resources from North Carolina State University. She then continued into a master's program where she received a degree in earth science, with a focus in coastal geomorphology, and a certificate in GIS. She is recently defended her Ph.D. at the University of Maryland Center for Environmental Science, Horn Point Laboratory (HPL), where her research examined sediment transport connectivity between the lower Susquehanna River and upper Chesapeake Bay. While at HPL, she discovered a passion for promoting coastal resilience through outreach education. During her free time, Russ enjoys baking, hiking, and playing ultimate Frisbee.
The Blue Crab: Callinectes Sapidus
An essential resource for researchers, students, and managers.  Get your copy today!