Katie Hornick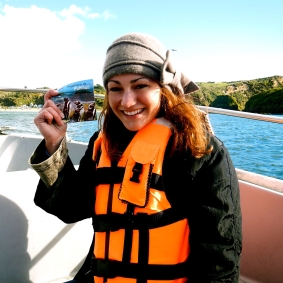 Fellowship institution:
Horn Point Laboratory, University of Maryland Center for Environmental Science
Advisor:
Louis Plough
Katie Hornick is a Ph.D. student in the Marine Estuarine Environmental Sciences (MEES) graduate program through the University of Maryland, College Park and the University of Maryland Center for Environmental Science (UMCES). She receives her pearls of wisdom from Dr. Louis Plough at UMCES Horn Point Laboratory, where she studies population genetics of eastern oyster restoration. Katie received a Bachelor of Science in natural sciences from Loyola Marymount University in 2012. After graduating from Loyola Marymount University, Katie spent a year and a half in Puerto Montt, Chile, flexing her mental muscles while studying the effect of salmon aquaculture on microbial diversity and community composition of sediments. In her spare time, Katie enjoys making jewelry, kayaking, hiking, and spending time with her pug, Oliver. 
The Blue Crab: Callinectes Sapidus
An essential resource for researchers, students, and managers.  Get your copy today!