Drew Hobbs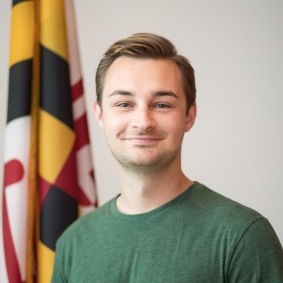 Fellowship institution:
Chesapeake Biological Laboratory, University of Maryland Center for Environmental Science
Advisor:
Jeremy Testa
Drew Hobbs is a master's student in the University of Maryland's Marine Estuarine Environmental Sciences graduate program. He works under Dr. Jeremy Testa at the Chesapeake Biological Laboratory and collaborates with Dr. Lora Harris, Dr. Laura Lapham, and Dr. Andrew Heyes. He is studying the effects of oxygen controls on three Patapsco River tributaries in order to understand how varying oxygen levels affect biogeochemical cycling of nitrogen within these aquatic systems. Drew majored in environmental studies, with minors in chemistry and computer science while attending Washington College. In his spare time, Drew likes to exercise, hike, kayak, and keep up to speed with comic books and films.
The Blue Crab: Callinectes Sapidus
An essential resource for researchers, students, and managers.  Get your copy today!