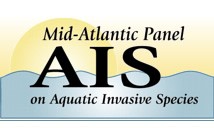 The Mid-Atlantic Panel on Aquatic Invasive Species (MAP) is offering a limited Grants Competition to encourage interested groups and individuals to submit proposals for possible funding.  
Download the full solicitation.
Important Due Dates
Proposal must be submitted as one PDF file to MAP-Proposals@mdsg.umd.edu by March 25, 2016 at 5:00 pm. Proposals not adhering to the solicitation guidance will be returned without review.
Program Synopsis
In 2016, the MAP is offering a limited Grants Competition to encourage interested groups and individuals to submit proposals for possible funding. We encourage broad participation from groups and individuals concerned about AIS issues in the mid-Atlantic region. A proposal submission must address an AIS problem and it is highly recommended to consider the program priorities as summarized below. Further clarification can be found in the full solicitation.
Program priorities: The following elements are of high priority to the MAP and should be considered in the preparation of proposals:
Activities that will increase public understanding of and compliance with the prevention and control of AIS
Clear description of proposed actions, products, and other deliverables
Relevance to the mission and priorities of MAP
Regional significance
Leveraging of other funding sources
The MAP membership identified the following activities as high priorities for 2016. This is not an exclusive list, and it is in no particular order.  Projects that address other AIS management topics will also be considered.
Develop outreach and educational materials for classrooms and specific populations (K-Gray) to prevent the introduction and spread of AIS. 
Conduct research on AIS issues in the region such as prevention, early detection, rapid response, emerging invasions, and how climate change may influence AIS. 
Conduct innovative approaches to AIS control/eradication, or control/eradicate a high priority AIS population. 
Continue to develop vector management strategies for states and the region.
Encourage states to implement AIS management plans.
Eligibility and Proposal Process
Any individuals in federal, state, provincial or local agencies, institutions of higher education, commercial or non-profit organizations, professional, lake, landowner, watershed, tribes, and international organizations are eligible for funding as investigators or cooperators.
Selection Process
All proposals will be screened to determine eligibility and whether projects address program priorities. 
All proposals will be reviewed by expert reviewers, which may include MAP members or other experts in the field.  Proposals will be evaluated and ranked according to:


Technical merit and feasibility
Relevance to MAP mission and priorities
Outreach and impact potential
Applicants' knowledge of the field and previous contributions

At the Spring MAP meeting, the Panel will assess and revise the rankings as appropriate. 
Based on available funds and requested funding support, the highest ranked project(s) will receive funding.
Announcement of awards is expected by July 2016.  Projects must be completed within two years of the start date.
Projects selected for funding will be required to work with the Maryland Sea Grant business office to complete final budget sheets and budget justifications following funding guidance from the Panel.
Consultation
Before submitting a proposal, applicants are encouraged to discuss proposals with their respective MAP state representative.  The MAP membership directory can be found at http://www.midatlanticpanel.org/members/panel.htm.
Contacts
Ray Fernald, Chair
ray.fernald@dgif.virginia.gov
804-367-8364
Mike Allen, Vice Chair
mallen@mdsg.umd.edu
301-405-6372