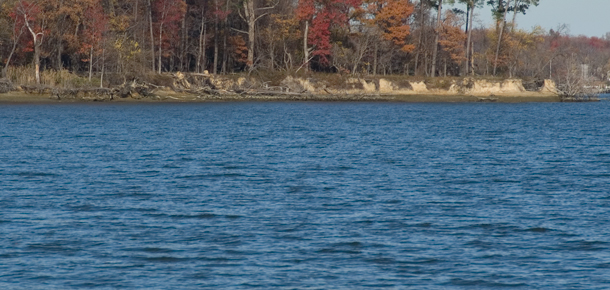 Clean water is one of the Chesapeake Bay region's most important resources. The Bay watershed's many freshwater rivers and streams provide drinking water for people and habitats for animals and plants.
At the same time, many of those same waterways have been plagued by recurring problems. Those include:
Excess nutrients like nitrogen and phosphorus flowing from farms, towns, and sewage treatment plants have degraded water quality in the Bay and its tributaries.
Harmful algal blooms have become more common and can sicken fish and people.
The erosion of stream banks can muddy local waters and the Bay.
Other toxins, such as heavy metals and hydrocarbons, can build up in certain "hotspots."
What Extension Can Do For You
Maryland Sea Grant Extension's specialists work with local governments, community groups, and citizens to help improve water quality on the local level and in the Bay. Among our projects:
Watershed restoration: Managing stormwater, restoring natural habitats
We work to help Marylanders install green design projects — like stream restoration projects and rain gardens — that are based on sound practices.
These measures can manage the flow of stormwater locally by soaking up water (to limit flooding) and treating it (to remove pollutants).
We also work to help groups and communities restore natural habitats that can help to improve water quality Bay-wide. Those include wetlands, streams, and forest "buffers," or trees planted along a waterway.
We help communities and individuals find technical assistance and funding to support their watershed restoration activities. For more information on sources of funding for water quality improvement projects, check out our Maryland Watershed Restoration Assistance Directory.
For more information, contact the watershed specialist in your region.
Resources
From My Backyard to Our Bay: A Dorchester County Homeowner's Guide: Actions to Improve the Water Quality of the Chesapeake Bay. This booklet was created through a partnership with Dorchester and Talbot County Master Gardeners, Dorchester Citizens for Planned Growth, the League of Women Voters, and UME Sea Grant Extension. It's full of great tips for low cost and manageable practices to do on your own property. Access the electronic version here or pick up a hard copy at the Dorchester Extension office.
---
Maryland Sea Grant Extension Watershed Specialists, by Region

Northern Maryland
(Baltimore, Carroll, and Harford Counties and Baltimore City)

Central Maryland
(Frederick, Howard, and Montgomery Counties)

Southern Maryland
(Anne Arundel, Calvert, Charles, Prince George's, and St. Mary's Counties)

Mid and Upper Eastern Shore
(Caroline, Cecil, Kent, Queen Anne's, and Talbot Counties)

Lower Eastern Shore
(Dorchester, Somerset, Wicomico, and Worcester Counties)
---
Water quality improvement: Native plants, stormwater management
For more information, contact Maryland Sea Grant Extension's specialist for water quality, Dan Terlizzi
Dredging: In addition to these Extension efforts, Maryland Sea Grant completed a major analysis of innovative reuse of contaminated sediments dredged from the navigational channels in Baltimore Harbor. New methods were sought because a recent law prohibits the disposal of any dredged material into the Bay's open waters.