The Mid-Atlantic Sea Grant institutions (Delaware, Maryland, New Jersey, and Virginia) are soliciting proposals for our next two-year funding cycle: February 1, 2016-January 31, 2018.
Download the Pre-proposal RFP or the Full Proposal Guidance.
Submit your proposal here.
Regional Research Due Dates
Pre-proposals: February 4, 2015, 5:00 PM EST
Full proposals: July 1, 2015 at 5:00 PM EDT
Regional Sea Grant RFP Summary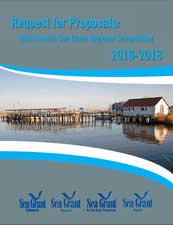 The Mid-Atlantic Sea Grant programs are jointly releasing this request for proposals for collaborative and integrative research across the region that supports the Sea Grant mission. The participating state programs are Delaware, Maryland, New Jersey, and Virginia. Projects must be of regional scope and include investigators from every state. Proposals should address coastal resilience to sea level rise and/or coastal flooding in the region, including but not limited to ecological, physical, economic, and/or social dimensions. Successful proposals will have a cross disciplinary team of partners, demonstrate a high degree of integration, and provide clear mechanisms for regional interaction and coordination. One project totaling up to $560,000 in Sea Grant fund is expected to be funded (up to $70,000 per year for two years in each of the four states). 50% non-federal cost match is required for each proposal ($1 match for every $2 of Sea Grant funding). Research teams are requested to contact their respective Sea Grant program directors to discuss ideas and regional relevance prior to submitting a pre-proposal.
The regional RFP has different deadlines and procedures from individual state competitions. Maryland Sea Grant will coordinate the regional research proposal solicitation effort.
Process and Review
To participate in a regional research proposal, Principal Investigators (PIs) and Co-PIs must be affiliated with an academic institution, non-profit, or research laboratory in Delaware, Maryland (or the District of Columbia), New Jersey, or Virginia. For each project, at least one PI/Co-PI is required from each state.​ The full proposal deadline is July 1, 2015 at 5:00 PM EDT. Pre-proposals undergo an extensive review and a subgroup of those is encouraged for submission as full proposals. Pre-proposals not encouraged forward may still be submitted as full proposals at the PI's discretion. Full proposals are reviewed external peer reviewers, an outreach panel, and a technical review panel. PIs must have submitted a pre-proposal to submit a full proposal.
Links
Program and Administrative Contacts
Fredrika Moser, Director, Maryland Sea Grant
Michael Allen, Assistant Director for Research, Maryland Sea Grant
Maryland Sea Grant
4321 Hartwick Rd Suite 300
College Park, MD 20740
Phone: 301-405-7500
Fax: 301-405-5780
State Sea Grant Contacts
Jennifer Merrill, Delaware Sea Grant
Peter Rowe, New Jersey Sea Grant Consortium
Susan Park, Virginia Sea Grant